Paul Bunyan For Obamacare: 'Doofus' The Face Of $9M Campaign For MNsure, Minnesota's Healthcare Exchange [VIDEO]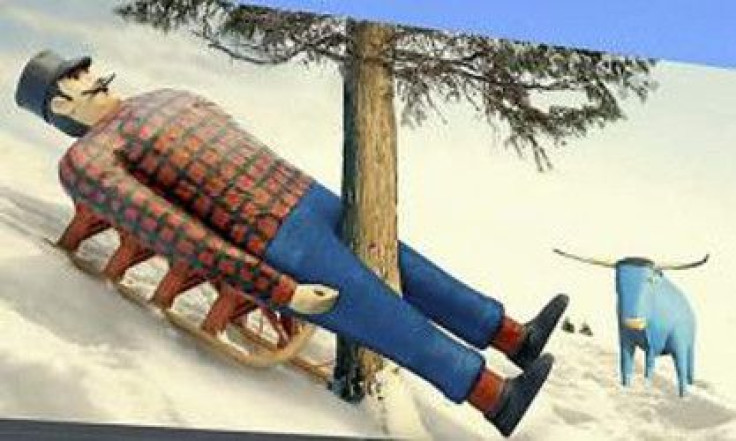 Paul Bunyan and Babe the Blue Ox are the new faces of Obamacare, as officials in Minnesota use the mythical characters to raise awareness about enrollment in the state's healthcare exchanges.
"The goal of this campaign is to reach all Minnesotans in a dynamic and memorable way," said April Todd-Malmlov, executive director of MNSure, the state's health insurance exchange. "Our research indicates that the message and Paul and Babe resonate with all communities and populations across the state."
The ads debuted this week and show Bunyan water skiing into trees and mistakenly hitting his knee with his ax. The ads aim to show that if Bunyan needs health insurance, so does every other person in Minnesota. The placements seem fun and light-hearted, but some say that they are in bad taste, as Paul Bunyan and Babe are iconic figures in the state.
"To have him be a doofus, it doesn't make sense for us," Mayor Rita Albrecht, of Bemidji, Minn., said in an interview Monday morning. "We kind of think of Paul as stately and handsome and representing a proud era of timber production in our community."
But the state's governor disagrees with Albrecht.
"I know they're very proud of Paul and Babe, and rightfully so," said Gov. Mark Dayton. "I don't think the effort was intended with any disrespect. I hope people will pay attention so we can get people...signed up."
The ads will also be featured on billboards and radio spots statewide. MNsure, like other state-run healthcare marketplaces under the Affordable Care Act, will begin enrolling participants on October 1.
For more information on the Affordable Care Act and how you can sign up for coverage, visit HealthCare.gov.
Published by Medicaldaily.com