Paul Karanson, 'Papa Smurf' Turned Blue By Colloidal Silver, Dies: Will His Story Inspire New Research In Alternative Medicine?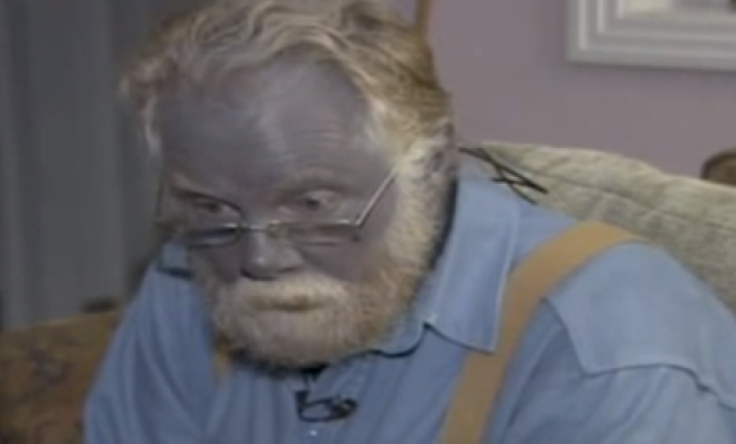 Paul Karanson, the world famous "blue man," has died. Shortly after being hospitalized for a heart attack, the 62-year-old passed away while undergoing pneumonia treatment. According to his estranged wife, he had a history of cardiovascular disease.
Karanson rose to internet fame after a series of interviews in 2008. Speaking to ABC News, the Oregon resident said that his curious metamorphosis unfolded over several months, and that he didn't notice his bluish hue until an old friend pointed it out.
"And he looks at me and he says, 'What have you got on your face?' 'I don't have anything on my face!'" Karason said, recalling the surreal conversation the two had had ten years earlier. "He says, 'Well, it looks like you've got camouflage makeup on or something.' And by golly, he came in and he was very fair-skinned, as I used to be. And that's when it hit me."
Doctors eventually diagnosed him with argyria, a rare type of silver poisoning. According to Karanson, the symptoms were brought on by a colloidal silver remedy he had purchased through an ad in a new-age magazine. While the concoction made his original health complications subside, it gradually turned him into an uncanny approximation of the Belgian cartoon character Papa Smurf.
"The acid reflux problem I'd been having just went away completely," he said. "I had arthritis in my shoulders so bad I couldn't pull a T-shirt off. And the next thing I knew, it was just gone."
Karanson's story exemplifies the ongoing public debate about alternative medicine and home remedies. Although his daily 10-ounce silver colloidal shake appears to have helped, it nevertheless brought with it a slew of side effects. Many health officials argue that such side effects could be avoided if more comprehensive regulations were in place.
"Some of these adverse drug reactions are preventable," Mayo Clinic physician Ashad Jahangir said, speaking to MedPage Today. "Simple things like taking a good history or giving that history and discussing these issues, probably we can avoid [such reactions]."
Unfortunately, tighter regulations would likely come to the detriment of the remedies' "natural" and "holistic" reputation. For this reason, an alignment with official pharmaceutical standards may cause proponents of alternative medicine to move away from the product. After all, that treatment can no longer be considered "alternative."
Published by Medicaldaily.com