Paul Oliver, Ex-NFL Chargers Safety, Commits Suicide With Self-Inflicted Gunshot Wound At 29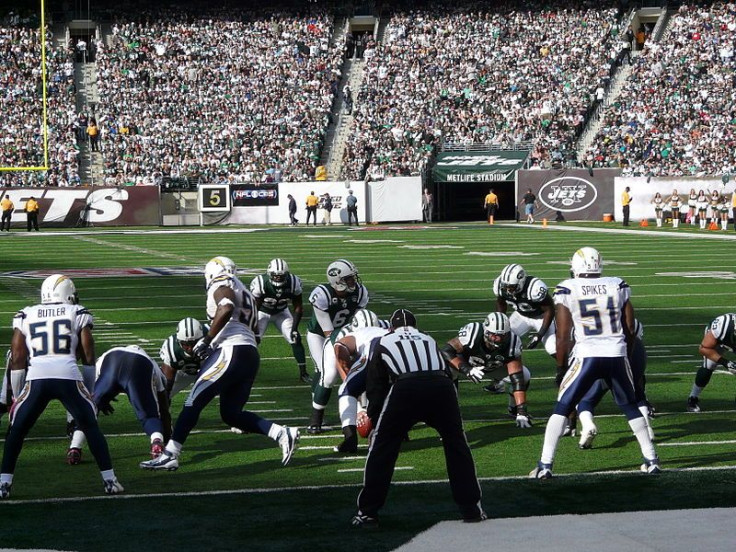 The National Football League community is mourning the loss of ex-Chargers safety, Paul Oliver, who committed suicide at age 29. Oliver's body was found on Tuesday night at about 6:40 p.m. at the bottom of the stairs in his home in Marietta, GA, after a family member called 911, said Sgt. Dana Pierce, Cobb County police spokesman. Oliver's wife, Chelsea Oliver, and his two kids witnessed the incident according to the police report. The Cobb County medical examiner ruled his death as a suicide by a handgun on Wednesday, CNN reports.
The news of the former NFL player's death sent shockwaves through the football communities he has touched the most. Oliver played for the San Diego Chargers from 2007 to 2011, and is remembered by fans for his best season in 2011, when he started eight times and had 62 tackles. The Chargers team offered their deepest sympathies and condolences to the Oliver family ESPN reports, in the following statement: "Everyone in the Chargers family is sad today after hearing the news about Paul. He was part of our family for five years. At just 29 years old, he still had a lifetime in front of him. Right now all of our thoughts and prayers are with his family during this most difficult time."
The Oliver family confirmed the passing of the ex-NFL player on Wednesday in a statement: "We appreciate all the thoughts and prayers," the statement read, Union-Tribune San Diego reports. "We request privacy in the wake of this tragic loss."
Eric Weddle, Chargers safety and Oliver's former teammate used words such has "charismatic, funny but also quiet and reserved" to describe the ex-Charger. Weddle affirmed that Oliver never said a bad word to anyone and was just a "good genuine guy."
"From the moment he got here, he was up front. Loved the game. You could always count on him," Weddle told U-T San Diego.
Oliver was a 2007 fourth-round supplemental draft pick out of Georgia after he was ruled academically ineligible his senior year. The University of Georgia Bulldogs coach, Mark Richt called the death of the former star "a very sad day."
The circumstances of the player's suicide still do not remain clear. This incident is the latest in a string of suicides committed by former NFL players — many of whom have been found, in autopsies, to have suffered brain injuries. Junior Seau, a former star NFL linebacker who last played for the New England Patriots, committed suicide at 43 in May of 2012. After an autopsy was done by the National Institutes of Health, it was found that he suffered from chronic traumatic encephalopathy (CTE), a brain disease found in athletes with a history of repeated concussions. There were similar findings in the suicides of Ray Easterlind and Dave Duerson, two other former NFL players. An autopsy has not yet been performed on Oliver, and it is not clear if there will be one.
In response to the string of suicides among former NFL players, NFL Life Line was launched as a crisis support line for players, former player and their families which operates independently from the league and keeps calls confidential. "There is no higher priority for the National Football League than the health and wellness of our players," stated NFL Commissioner Roger Goodell at the time the program was launched in 2012.
Published by Medicaldaily.com