Peach Recipes: 7 Kid-Friendly Ideas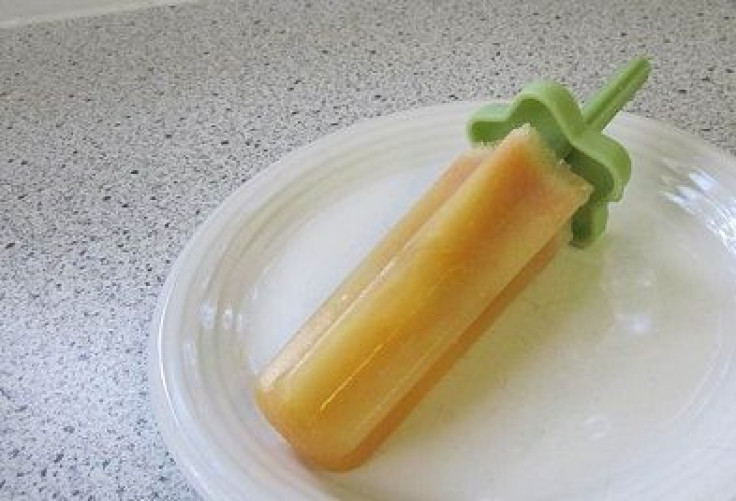 Fresh peaches are packed with vitamins. Low in calories, this sweet, tart treat makes the perfect addition to summer meals, snacks, and desserts. Learn some fun ways to eat peaches with your kids using these tasty peach recipes.
1. Chunky Peach Popsicles
Ingredients:
1 ¼ pounds ripe peaches (three to four medium), halved and pitted
Juice from one lemon
¼ cup freshly-squeezed orange juice
¼ cup sugar (or to taste)
¼ teaspoon vanilla extract
Prep:
Chop peaches in a food processor. Transfer 1 cup (keep the peaches somewhat chunky) to a medium bowl. Add the lemon juice, orange juice, and sugar to the food processor. Puree until smooth. Add to the bowl with the peaches, then stir in vanilla.
Divide the mixture among twelve 2-oz or eight 3-oz freezer-pop molds (or small paper cups). Freeze until beginning to set (about 1 hour). Insert frozen treat sticks into molds and freeze until completely firm (one hour more).
Recipe courtesy of EatingWell.
2. Dairy-Free Peach Smoothie
Ingredients:
2-3 fresh peaches, pitted, and roughly cut
1 banana
3 cups vanilla almond or rice milk
1 Tablespoon Chia seeds
¼ cup ice
(optional) frozen strawberries or raspberries, or handful of spinach
Prep: Blend all ingredients in a blender until smooth.
Recipe courtesy of positivelymommy.com.
3. Grilled Peaches with Brown Sugar
Ingredients:
Fresh peaches, pitted and halved
Brown sugar, as needed, to taste
Cinnamon, as needed, to taste
Olive oil, as needed
Prep:
Place peaches in a bowl. Drizzle with olive oil and sprinkle with cinnamon. Let sit at room temperature for about an hour. Preheat grill.
Grill peaches, cut side down, over medium heat for about 5 minutes or until the peaches have grill marks and starts to soften. Flip peaches to other side, sprinkle grilled side with brown sugar. Grill for an additional 5 minutes, or until sugar melts and peaches are tender.
Recipe courtesy of MacaroniKid.
4. Fresh Peaches and Cream No-Bake Pie
Ingredients:
4-5 ripe peaches
1 lemon
8 oz cream cheese
1 Tablespoon cornstarch
1/3 cup sugar, plus an additional 2 Tablespoons (for cream cheese layer)
¼ teaspoon Almond extract
1 pie crust
Prep:
Cut and sugar the peaches, then sugar the pie crust.
To make the cream layer: use a spatula or wooden spoon to blend the softened cream cheese, almond extract, and 2 tablespoons of sugar. Once layered and spread in the pie crust, add (strained) peaches on top.
Taste and adjust sugar, as desired. In a bowl, mix 1 Tablespoon of cornstarch and 1 Tablespoon of fresh lemon juice. Whisk well, then place over medium heat. Stir steadily over the heat to thicken (will take only a few minutes). Let sit until cool. Then top the peaches with the mixture. Chill in refrigerator before serving.
Recipe courtesy of dailydishin.
5. Peach Coconut Pancakes
Ingredients:
1 cup flour
1 tsp salt
1 tsp baking soda
1 egg
1 cup coconut milk
½ cup buttermilk
2 Tablespoons butter, melted
½ cup shredded, sweetened coconut
1 peach, sliced
Vegetable oil (for frying)
Butter and syrup (for serving)
Prep:
Preheat griddle to medium heat (350) or prepare a non-stick pan with vegetable oil.
Combine the dry ingredients well in a bowl. Add the egg, coconut milk, buttermilk, and melted butter. Whisk well until all ingredients combined.
Pour batter onto hot, well-greased pan. Let cook about 30 seconds. Then add the peach slices and sprinkle some coconut. Flip when the batter bubbles. Cook for another 30 seconds, or until cakes have cooked through. Serve hot with syrup and butter, if desired.
Recipe courtesy of heatherchristo.com.
6. Oatmeal with Peaches
Ingredients:
1 cup quick oats
1 cup low-fat milk
½ teaspoon cinnamon
½ cup chopped peaches
1 teaspoon honey (optional)
Prep:
Place quick oats, milk, cinnamon, and peaches in a large, microwave safe bowl. Cook for one minute, then stir. Cook for an additional minute. Garnish oatmeal with extra peaches and a sprinkle of cinnamon. Drizzle with honey, if desired. For some extra crunch, top with nuts like almonds or walnuts.
Recipe courtesy of superhealthykids.com.
7. Fruit Salad Ice Pops
Ingredients:
1 peach, cut into ½-inch slices (1/2 cup)
2 kiwis, peeled and sliced into ¼-inch rounds
3 oz blueberries (1/2 cup)
4 oz strawberries, hulled and halved (3/4 cup)
1 ½ to 2 cups of 100 percent white-grape juice
Prep:
Arrange some of each fruit in eight 3-oz ice-pop molds; make sure pieces fit snugly. Pour enough juice into each mold to cover fruit. Insert ice-pop sticks and freeze until solid, 6 hours (or up to 2 weeks). Makes eight pops.
Recipe courtesy of MarthaStewart.com.
Watch other creative ways to get kids to eat peaches and learn how to prepare easy recipes for kids.
Published by Medicaldaily.com