Pet Therapy Widely Acknowledged Under Law, But An Ohio Town Says Veteran's Ducks Go Too Far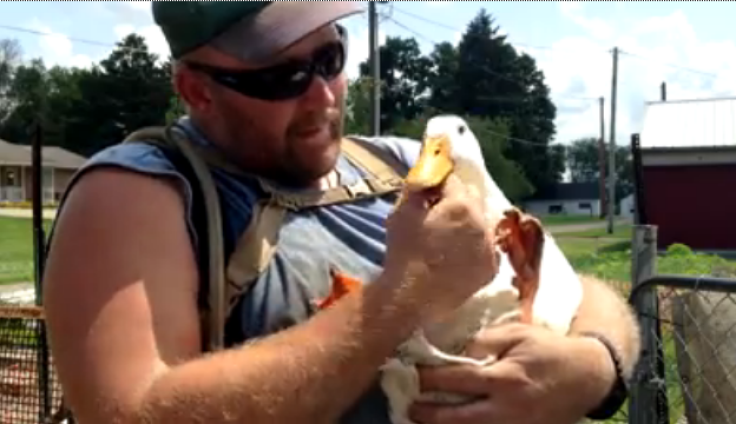 An Iraq War veteran may have to give up the 14 ducks on his property in rural Ohio. With a bad back, aching joints, and nagging depression, Darin Welker, 36, says the ducks keep him motivated and take his mind off the pain. But on Wednesday, Welker is due in municipal court for violating a city ordinance banning "fowl of any kind."
"They're quite a relaxing animal and they help comfort me in different situations," Welker told MarionStar.com in a video posted on the website. His VA therapist even recommends he keep them. The ducks "got me motivated" to get better, says Welker before turning to a duck cradled in his arms: "You like getting your chin rubbed, don't ya?"
The U.S. has come a long way on service animals. Under federal law, dogs (and only dogs) that provide services to disabled people can follow their owners virtually anywhere, living with them in any housing unit and resting under the table in any restaurant. Managers still get fussy, of course, but barring a service animal is a crime.
Emotional support animals, however, are another matter. Increasingly, people with post-traumatic stress disorder, anxiety, depression and other less-visible conditions are turning to animals for help. Still, there's no official certification or registration for these animals, usually dogs. And they are explicitly excluded from the Americans With Disabilities Act. The animals are allowed to go on planes, though, and many service-industry establishments are willing to accommodate them.
In Welker's case, he told MarionStar.com he had heard somewhere that ducks were helpful and figured it couldn't hurt. He picked up the ducklings in March and raised them in his yard. It's not clear how the police chief in West Lafayette, Ohio, heard about the ducks, and nobody's been able to reach him for comment. It's also not clear whether the city knew the ducks were therapy ducks. Welker plans to explain his situation, but if he's convicted of the misdemeanor violation, he could be fined $150.
Welker says he served for 352 days in Iraq. "I came home with a major back injury. Not a wound of any sort, just hurt. I had a large amount of depression due to pain. It just kind of escalated," he said. He had surgery in 2012, which the Department of Veterans Affairs paid for. He's got two bad knees and a bad ankle. The ducks, he says, "give me more reason to get out and move around."
Published by Medicaldaily.com