Pfizer Recalls Antidepressant Effexor XR; Pharmacist Finds Heart Med Capsule In Bottle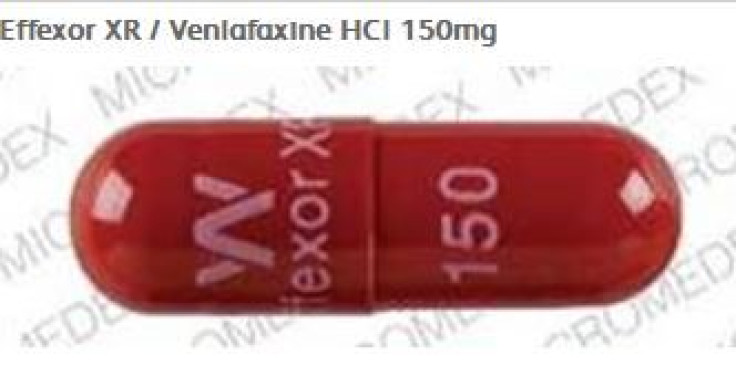 On Thursday, Pfizer announced a nationwide recall of three lots of its antidepressant Effexor XR and a generic version of the drug (Venlafaxine HCl) after a pharmacist discovered one capsule of Tikosyn, an antiarrhythmic medication, in a bottle. A capsule of Tikosyn could cause serious health consequences in a patient who is taking either the brand or generic antidepressant, the company stated in a press release, and anyone who believes they may have "mistakenly ingested a Tikosyn capsule, they should immediately contact their physician or hospital." Additionally, the company requests patients watch for signs of abnormal heartbeat and inform their physician or hospital if they feel faint or become dizzy, as well.
In a separate press release, the Food and Drug Administration (FDA) noted that the recall has been initiated with its knowledge and has requested pharmacists quarantine and return the recalled lots. Tikosyn has not been found in any other bottles, Pfizer reported. These three lots are being recalled as a precaution because they were packaged on the same line. Most patients will be able to easily tell the two drugs apart: Effexor is a dark orange, hard gelatin capsule, while Tikosyn is also a hard gelatin capsule but peach-colored.
Effexor XR is indicated for the treatment of major depressive disorder, general anxiety disorder, social anxiety disorder, and panic disorder. Recall lot numbers include Pfizer V130142 and V130140, and Greenstone V130014. Pharmacists have also been asked to contact patients who may have received one of the bottles from the recall lots.
According to the FDA, recalls of products are almost always voluntary. "It's about being as transparent as possible," stated Catherine McDermott, public affairs manager in the Division of Federal-State Relations in FDA's Office of Regulatory Affairs. Whether a recall is initiated by the company or the FDA and no matter the reason, FDA's role is to oversee a company's strategy and assess the adequacy of the recall.
Antidepressants are a popular treatment choice for people with depression. Effexor reduces symptoms of depression and other anxieties and is known as an SNRI, or serotonin-norepinephrine reuptake inhibitor. As such, it affects the levels of two naturally occurring chemicals in the brain — serotonin and norepinephrine. Doctors have been prescribing the drug to patients for more than eight years. According to the Mayo Clinic, antibiotics, antidepressants, and painkiller opioids are the most common prescriptions given to Americans; in a recent report, Mayo Clinic also found that nearly one in four women between the ages of 50 and 64 take an antidepressant, and 13 percent of the overall population are also on antidepressants.
Published by Medicaldaily.com