Philippines Greets Its 100 Millionth Citizen, While Hoping To Lower Fertility Rates
The Philippines welcomed its 100 millionth citizen on Sunday, a baby girl named Chonalyn, born shortly after midnight in a hospital in Manila. In fact, Chonalyn was just one of 100 babies who received a symbolic designation of "100,000,000th baby" in various state hospitals on Sunday, and this imprecise extravagance is suggestive of the nation's joy and dilemma. Despite ongoing economic concerns in this Southeast Asia nation, health and population commission officials showered Chonalyn with cake, infant clothes, and other gifts.
"We are faced with the challenge of providing for all 100 million Filipinos," Juan Antonio Perez III, executive director of the Commission on Population, the Philippines Department of Health, told The Associated Press. Currently, about 25 percent of Filipinos are living in poverty. A growing population means a larger workforce, Perez explained to AFP, but it also means more dependents. To address this, the Philippine government is seeking to lower the average number of children each fertile woman bears in her lifetime. From the current average of three children per woman, "we'd like to push the fertility rate down to two children per (woman's) lifetime," he told AFP.
The Philippines has one of Asia's fastest-growing populations and is already the world's 12th most populous country. To stem the tide, President Benigno Aquino III signed a 2012 law allowing government-run health centers to provide free contraceptives to everyone and particularly the poor. Due to opposition from the Roman Catholic church, enactment was delayed yet in April, the nation's Supreme Court declared the law to be constitutional, thereby granting the government the necessary right to enforce it.
In light of recent events, many see this milestone of 100 million citizens as a challenge yet also an opportunity for the Philippines. "Governments that are serious about eradicating poverty should also be serious about providing the services, supplies, information that women, men and young people need to exercise their reproductive rights," Klaus Beck, the United Nations Population Fund's Philippines representative, told AFP.
In 2050, global population may run as high as 11.1 billion, the United Nations estimates, or as low as 8.3 billion. Whether it turns out to be the high number or the low number depends on how individual governments respond to the challenge of stabilizing populations. Too many people will stretch natural resources to their limits, according to Population Connection — formerly Zero Population Growth, the American grassroots organization — and the current growth rate of over 80 million people a year added to the globe's total population intensifies food and water shortages, deforestation, and climate change. "Elevating the status of women worldwide is vital to lowering fertility rates and ultimately, stabilizing global population," the organization states on its website.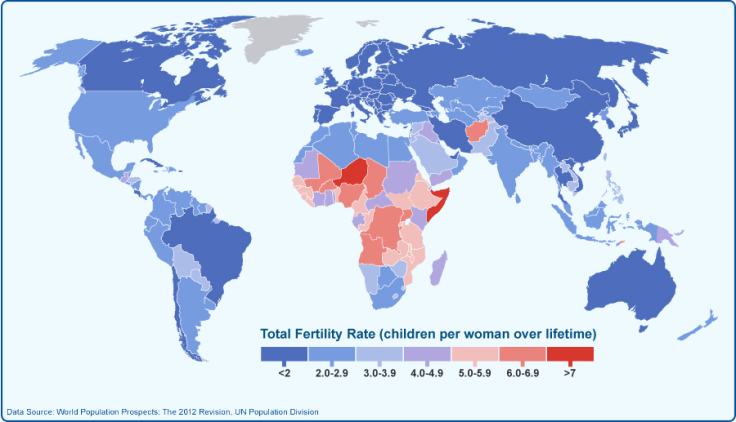 Published by Medicaldaily.com