Pinetown Accident: Out-Of-Control Truck Kills 27 People [VIDEO]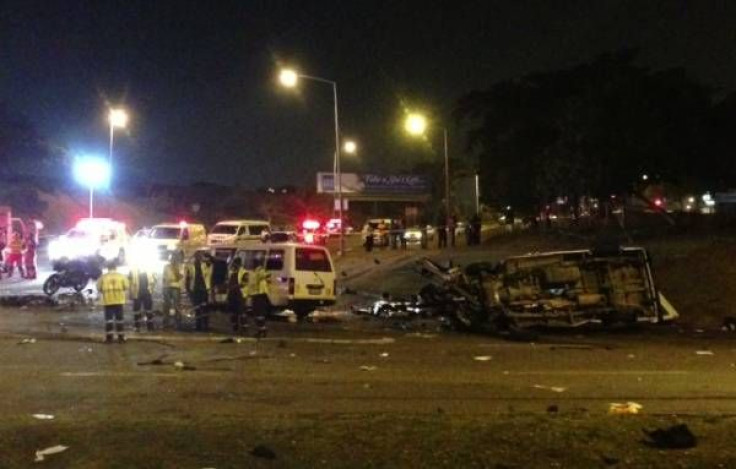 A horrifying crash in Pinetown, South Africa involving a truck has left 27 people dead and another 80 injured. The incident that occurred this past Thursday was said to have happened when the truck's braking system failed, slamming the vehicle into four minibus taxis and a car at very high speeds, Indo Asian News Service reported.
Upon further investigation by local and state authorities, the driver of the truck that caused the gruesome collision has been arrested on homicide and reckless driving charges.
"He has been charged with culpable homicide, and reckless and negligent driving," Colonel Vincent Mdunge told AllAfrica.com. "The details of the accident are still being investigated, so we cannot draw any conclusions at this stage."
"I can assure you that when the news of this accident broke these officials were scurrying like rats to find a dark hole to hide in until they have formulated their spin on the matter which will be put out in their defence," Democratic Alliance ward councillor Rick Crouch told eNCA.
"I am very angry at this because we warned them this was going to happen. Those 27 deaths are the responsibility of MEC Mchunu and his department for their failure to act on this very serious issue."
A video displaying the crash shows the perspective of a driver that narrowly avoided the crash and who was directly behind the five vehicles that were destroyed. Emergency responders said they were forced to use the Jaws of Life to free victims from the twisted metal.
"I have never seen an accident as terrible as this one; bodies are scattered everywhere. It is going to be a very long night," KZN Transport Department's Kwanele Ncalane told IOL.co.za.
Published by Medicaldaily.com