Pit Bull, Rescued Days Before It Was To Be Put Down, Saves 4-Year-Old's Life By Detecting Blood Sugar Crash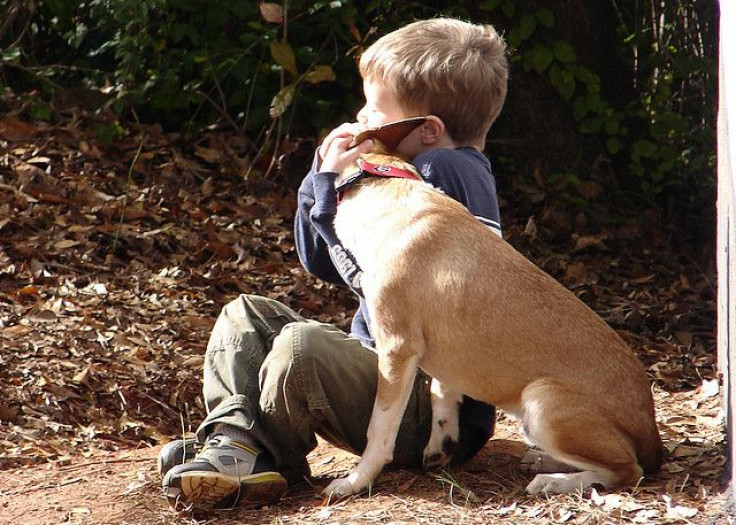 On Wednesday, a pit bull saved the life of his four-year-old owner by detecting a dangerous blood sugar drop, returning the favor to the Minnesota family that rescued him from an animal shelter days earlier. Although their plan was to foster the dog until he could find permanent home, the family has now decided to keep the heroic houseguest for good.
Four-year-old Peyton Anderson's mother, Christi Smith, told reporters that the two of them retrieved the homeless pit bull TaterTot from Animal Care and Control in Minneapolis, Minn. only hours before he was scheduled to be put down. When her son began to experience breathing difficulties in his sleep a few days later, the rescued dog was quick to return the kindness of his new owners. TaterTot immediately raised the alarm by jumping up and down on Peyton's bed.
"He kept on whining and barking and running between the two of us. I checked on him, and he was barely breathing," Smith said, speaking to Fox9. ""He just seemed kind of weird. He wasn't really coherent – deliriously tired."
At the emergency room, physicians determined that Peyton's blood sugar levels were extremely low. Although subsequent exams ruled out diabetes, Smith is convinced that TaterTot saved her son's life.
"I could have been one of those moms sitting there telling people how I lost my son," she said.
Isis Sanchez of the Blue Pearl Veterinary Clinic told reporters that several details may have alerted TaterTot of Peyton's condition. For example, his superior sense of smell may have registered some of the tremendously faint odors the human body emits during chemical fluctuations.
"If his blood sugar was that low, he may have been producing ketones. That may have been what the dog picked up on," Sanchez explained. "What, for us, is barely a whiff of something gives them a huge picture of what's going on."
Today, researchers and physicians rely on their four-footed friends in a wide variety of contexts. An example is the Working Dog Center at the University of Pennsylvania School of Veterinary Medicine, where dogs McBaine, Ohlin, and Tsunami are currently undergoing highly specialized training that will allow them to detect ovarian cancer.
Published by Medicaldaily.com