The Pixel Painter: 97-Year-Old Hal Lasko Creates Digital Paintings, Even With Vision Loss [VIDEO]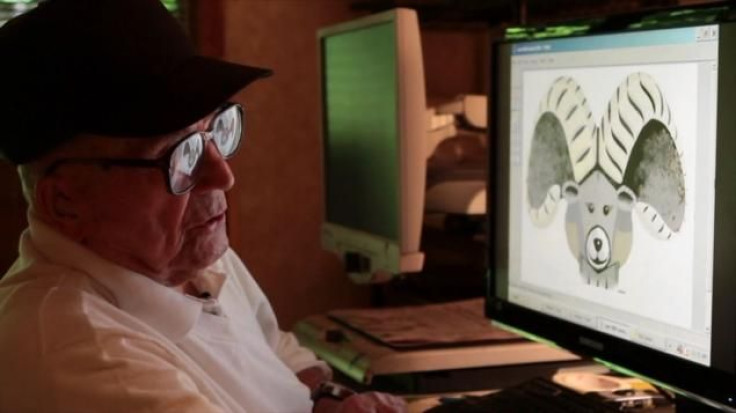 Despite an eye disease that causes blindness in the center of his eyes, a 97-year-old man known as the "Pixel Painter" has found a way to create art with the help of Microsoft Paint.
His works have been described as a cross between pointillism and 8bit art, and are being sold online as prints for $98 in celebration of his upcoming 98th birthday.
In a shown below, Lasko describes his process of creating highly-detailed pixelated paintings that range from graphic designs, to landscapes, to abstracts.
Since 2005, Lasko has had wet macular degeneration, a chronic disease where blood vessels leak blood or fluid into the macula, causing vision loss in the center of the eye. Dry macular degeneration, on the other hand, is a less severe type of eye disease and affects more people. Both diseases are common in older people.
There are some treatments for wet macular degeneration that entail sealing the leaking blood vessels with a laser, and using anti-angiogenic therapies to keep the blood vessels from growing back.
For someone who was a visual artist his entire life, loss of vision could be devastating — but Lasko found another way to continue creating art. His family introduced him to Microsoft Paint, the old school version of Photoshop, and since then he's been working on digital paintings for hours every day, creating designs that are outstandingly meticulous and refined for someone with weakened eyesight.
The elderly painter says that the computer is able to zoom in on the detailed paintings he's working on, allowing him to work section by section, which is helpful for his eyesight. "So I figure out what I want to do first in its normal size, and then I just bring up that part, and I work on the detail of that only," he said in the video.
Lasko was born in 1915 in Toledo, Ohio, one of eight children. After serving in WWII drafting maps for bombing raids, he moved to Cleveland, Ohio where he began work as a graphic designer and typographer, hand-drawing designs and typefaces. When he wasn't at work, he was painting his own abstract work on the side.
He wasn't able to fully commit to his artistic work until after he retired, and since then spends up to 10 hours a day in front of the computer arranging pixels.
"I got a lot of patience, that's all you really need anyway," Lasko said.
Published by Medicaldaily.com