Pizza Hut's Gluten-Free Pizza And Miller Coors' Gluten-Free Beer Is Coming To Ruin Your Cheat Meals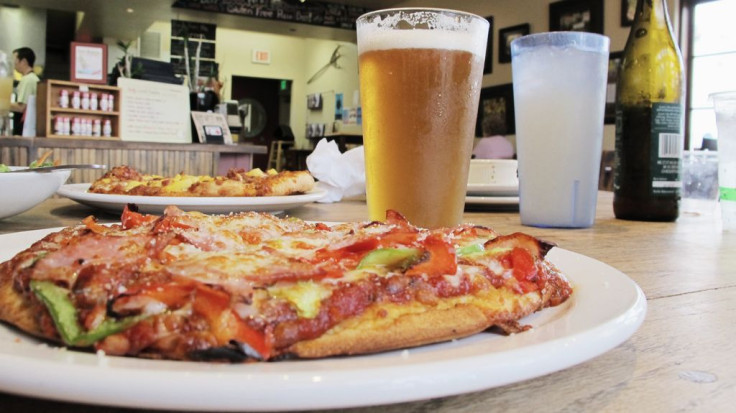 In a world filled with "gluten-free," "organic," and "whole grain" labeling, pizza and beer were two staples of the unhealthy American diet we could fall back on time and again for our cheat meal. Not anymore. This week, MillerCoors and Pizza Hut announced the launch of their very own gluten-free products that will be available in the upcoming months. Don't worry, though. They will only begin offering these healthier options in select locations (guaranteed Brooklyn will be one).
Actually gluten-free pizza and beer is nothing new. Domino's released its own gluten-free pie back in 2012, and Anheuser-Busch dropped gluten-free Redbridge beer back in 2006. The problem was execution. While the Domino's gluten-free pizza was labeled as such, it wasn't all that safe for people with celiac disease, since the crust was the only thing gluten-free about it. You'd also be hard-pressed to find anyone searching the beer distributor for RedBridge before a Friday night with the boys.
Only time will tell how MillerCoors and Pizza Hut's new products fair in the gluten-free community. On Tuesday, MillerCoors announced that it will begin offering its "naturally gluten-free" product Coors Peak Copper Lager in Seattle and Portland next month. MillerCoors developed its unique gluten-free beer recipe by substituting barley or wheat, which tend to be the main ingredients in the brewing process of most beers, with brown rice, malted brown rice, and protein from peas, AdAge reported.
Also on Tuesday, Pizza Hut announced that 2,400 of its 6,300 locations in the United States will begin offering gluten-free pizza starting Jan. 26, USA Today reported. For $9.99, customers will received a 10-inch, six slice pizza pie with no wheat, barley, rye, or triticale — a cross between wheat and rye. One slice of Pizza Hut's gluten-free pizza contains 150 calories compared to the 250 calories found in its Skinny Slice pizza.
Although MillerCoors and Pizza Hut's announcements are certainly music to the ears of people with celiac disease, which represents one percent of the population, are more gluten-free products on an already saturated market good for consumers who buy into this latest health craze? Now, clearly pizza and beer with gluten aren't considered staples of a nutritious diet, but recent evidence has shown that adhering to a gluten-free diet may also not be an advantageous dieting route for people without celiac disease.
A study published in the Journal of Nutrition Education and Behavior found that people on a gluten-free diet who do not suffer from wheat sensitivity are depriving themselves of vital nutrients. Out of a sample of 97 participants, 60 percent were under the impression a gluten-free diet can treat medical conditions, 35 percent believed gluten-free could improve their digestive health, 31 percent said gluten-free was "healthier," and 32 percent thought doctors prescribed gluten-free for weight loss.
When food companies remove the gluten protein from food, they also add in extra sugar, fat, and salt to make up for taste. These products also contain fewer vitamins and less fiber. The truth of the matter is many companies include the label "gluten-free" to trick consumers into buying their products. If you're surprised by product manipulation at this point, it may be time to crawl out from under the rock.
Published by Medicaldaily.com