Polar Bear Plunge Donates Millions To Make-A-Wish: I Took The Plunge And This Is What Freezing Temperatures Did To My Body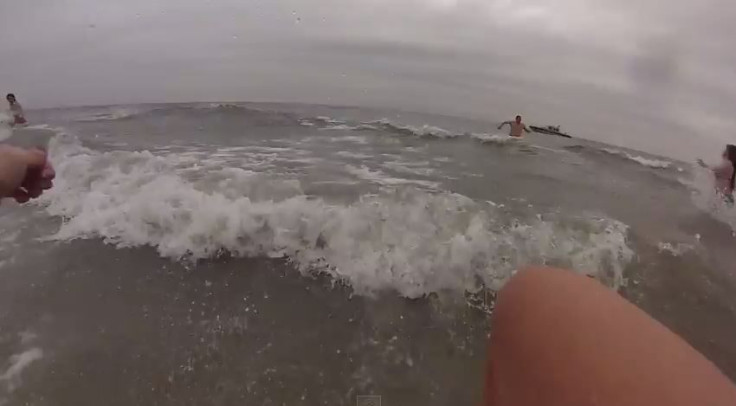 Thousands lined the shores of Long Beach, Long Island, on Super Bowl Sunday just hours before the game started, in bathing suits, drenched in anticipation. In the 16th annual Polar Bear Plunge, community members and visitors broke fundraising goals and descended upon the beach, leaving their sweatpants and winter coats behind to fulfill their plunge promises in the ice cold waves.
"There's such a good energy there. Even if you're watching, I say bring your bathing suit because it's contagious," Long Beach Polar Bear Plunge Super Bowl Splash Co-founder Pete Meyers told Medical Daily. "Seeing the Make-A-Wish kids is an incredible experience. They just inspire us all in everything these kids go through, and to see all of their wishes granted, it makes jumping into the water for a few seconds a piece of cake."
Even though Meyers and his buddies jump into the Atlantic Ocean at least once a month, he says it doesn't matter if you're a veteran, the water will always take your breath away the first time you submerge. The unofficial splash began on Super Bowl morning in 1998, when Meyers and his friend Kevin McCarthy jumped into their hometown waves, never realizing it would become one of the biggest plunges in America and largest grossing fundraisers for Make-A-Wish. As it grew through friends, family, and community members, they realized it had fundraising potential and was a perfect way to commemorate the loss of their friend Mike Bradley's 4-year-old son Paulie. Although Paulie never got his wish, thousands of children are able to have their wishes granted each year in his honor.
Make-A-Wish will celebrate 35 years this April and continues to stand as the largest wish-granting organization in the world. Children between the ages of 2.5 and 18, who have been diagnosed with a life-threatening medical condition and have never had a wish granted before, are eligible. The New York Chapter has granted more than 27,000 wishes to children throughout the state, and 80 cents of every dollar raised goes straight to the child. The ripple effect of Long Beach's polar bear plunge alone has given thousands of children renewed hope, and 89 percent of health care professionals believe the wish experience can positively improve the child's physical health.
"The wish restores a certain level of control in their life," President and CEO of Make-A-Wish Metro New York and Western New York Pat Clemency told Medical Daily. "These children are told when to check into the hospital, when they can go to school, what they can eat, and how they can play. The wish is the first time the child can take control back, and I think about how the ripple effect has gone beyond just jumping into the water. It's amazing to see how a family becomes committed and the child leads the way. It can be anywhere from 45 degrees to 7 degrees, yet people will always come out."
The Power Of A Community
Long Beach is a special place (not to be confused with California, as the locals will tell you). As Meyers was helping gut one of his friend's kitchens only a few days after Super Storm Sandy destroyed their shores and flooded their homes, a city health official walked by, gave him the thumbs up, and told him "Polar Bear is a go." Less than three months later, they handed out shirts that read: "No boardwalk, no problem," and took the dive down the road to Grand Boulevard, where they raised more money that year than any other.
"I was a very enthusiastic bystander for years," Clemency said. But it wasn't until one of the Make-A-Wish kids reassured her she could do it, and the next year she took the plunge alongside more than 15,000 participants. "It's the largest event of its kind in this nation. I'm not sure another community would be able to pull it off the way the Long Beach community does."
The $600,000 the event raised last year was an exponential increase from the $7,000 they raised their first year in 2001. As you look up and down the beach, the sweatshirts, jackets, gloves, and scarves are the only things setting it apart from a postcard beach day. It's packed with people, some running around in bikinis and Ugg boots, bear and chicken costumes, while others are bundled from head to toe dancing in front of the DJ stage parked on the sand. There's something about the music and nervous laughter that draws you to the water's edge, which happened to be 4 degrees Fahrenheit on Super Bowl Sunday.
"This is my third year doing the plunge," Samantha Skellington, a teacher at Martin de Porres in Elmont, Long Island, told Medical Daily. "I started right after Hurricane Sandy because it was something that was bringing our community together after a terrible tragedy. Seeing everyone together on the beach raising money for such a great cause was an amazing experience. The freezing water isn't my favorite part, but it's something fun and exciting to do before the Super Bowl with all of your friends to raise money for a special cause."
Every year the event attracts between 15,000 and 20,000 people to Long Beach's shores. It has become a community staple, fully equipped with tents, signs, beach chairs, and even a few beers. Some of Skellington's friends are involved in the Make-A-Wish foundation, including Terrance Wagner, a law school student and legislative analyst at the New York State Senate.
"I have done the plunge for three years now and don't think I will ever stop doing it," Wagner told Medical Daily. "From the sale of sweatshirts and other clothing to just nominal donations, the Long Beach Polar Plunge attracts thousands of people. I think that the fundraising from the Plunge day truly helps Make-A-Wish to continue doing their great work and making people's dreams come true. Hopping in the water isn't bad at all, I think it's the shock of getting out and running back into the cold air which gets you, but overall it is amazing!"
What Happened To My Body In Freezing Cold Waters
"You'll be just like a duck!" my mother said as she slathered baby oil down my left arm. Yes, if only I were a duck, I thought as I watched. As I prepared to travel to Long Beach's Riverside Boardwalk, I bundled in spandex track pants, shorts, a tank top, water shoes, gloves, ear warmers, a hat, and two pairs of socks — and I still didn't feel like a duck.
I learned later on when I did my research that my mother was right — there's just something about a mother's intuition you should never question. As it turns out, baby oil mimics the same thermal protection as the layer of skin hidden beneath a duck's feathers. But because I put it on five hours before my double dog dare dive into the deep blue sea, its effects had worn off long before I could benefit from the oily blanket.
Another precautionary step by the recommendation of my mother was to take a cold shower the night before. I reluctantly turned the cold water on and fought against every screaming nerve ending to step beneath the ice cold spray. It wasn't so much physical preparation as it was mental. I can do this, I thought after I stepped out of the shower and got my labored breathing back under control.
Humans love being warm. It's a natural impetus to protect our vital organs and maintain homeostasis in optimal temperatures, which is exactly why polar bear plunges are a challenge against our primal instincts. Whether the thousands on Long Beach's boardwalk jumped into the water to raise crucial funds for Make-A-Wish, accepted the plunge as a personal challenge, or took the dive with friends for fun, their bodies go through an extraordinary health revitalization called "cold water therapy."
There are remarkable health benefits from turning the water dial from cold instead of hot that have been practiced and embraced for thousands of years in human history. When skin first comes into contact with cold water, the body begins to go into defense mode, causing your capillaries along the surface of your skin to open. This is when the piercing feeling washes over you, no pun intended. Within milliseconds, as the body is submerged, the capillaries close again and send blood rushing back to your organs and glands. It jumpstarts your body's immune system, metabolism, and glandular activity, like a restart button.
Ice water immersion therapy is a common practice among professional athletes, according to a 2010 study, because of its muscle strengthening and repairing benefits. Experts recommend taking a cold-water shower within 12 to 72 hours post workout, and three to four times a week on a regular basis. After having learned this, I clocked in 18 miles leading up to the plunge Sunday afternoon. I stretched, massaged, prodded, and paid special attention to my muscles and lung capacity throughout the weekend.
But no matter how I braced for the impact, the sting still stung. I knew the water was going to be no less cold as I ran alongside friends shrieking and swerving in and out of the crowd toward the dull green-gray white caps. I squealed, then held my breath as I collapsed beneath a swoosh of bubbles and mayhem. For a millisecond, the world was quiet. I gasped and clawed back out of the torrent until I was back on my feet again, sprinting with Jell-O thighs and numb toes toward my brother, who waited for me with open arms and an enormous towel.
It's over. But "Oh, this is bad," my brain managed to make my cold lips say. My blood exploded warmth back into my extremities. Pins and needles, I thought as my brother wrapped his snowboarding jacket around my shivering body, and I desperately shook sand from my pants. "You did it!" a friend yelled as he threw his arm around me and told me of plans for next year.
Published by Medicaldaily.com