Pole Dancing Fitness: Weight Loss And Other Health Benefits Of Pole Exercises [VIDEO]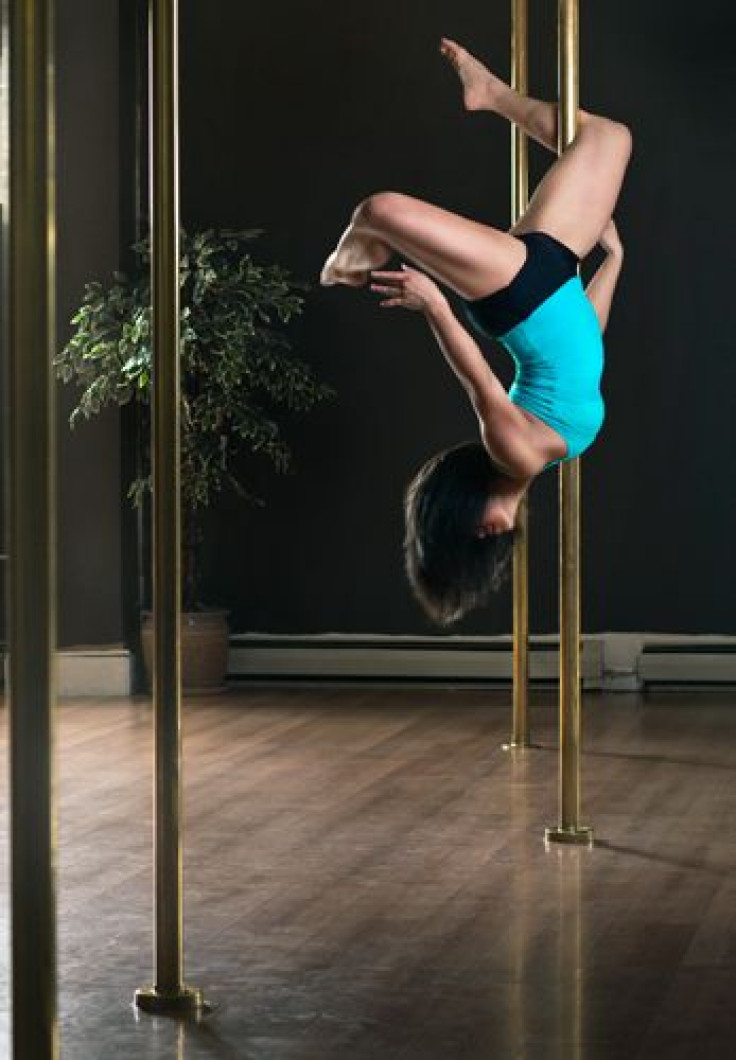 Pole dancing has been a concept that is often affiliated with shady, sordid adult entertainment clubs, until now - it has become the new and fun fitness trend across the U.S. for women. According to the International Pole Dance Fitness Association (IPDFA), western modern day pole dancing has evolved into exercise form practiced by not only professionals and performers, but by students, gym-goers and recognized pole athletes. The high intensity pole exercises combine strength-based internal training, isometric muscle contractions and isometric muscular contractions that give your body a full workout. For those who have raised eyebrows about the new fitness trend, need not worry, pole dancing classes are not associated with any form of stripping, nor is it practiced in smoke-filled rooms. Pole dancing programs such as, Pole Princess in Victoria, AU, feature a weight loss program that provides three one-hour pole dancing classes per week for eight weeks, weekly mentoring and a nutritional guide for healthy eating.
The health and wellness fitness program can vastly help you strip away the pounds, and improve your physical and mental health with regularity. It's time to trim the fat and give your confidence a boost as you pole dance your way to better health with your stilettos.
1. Strips Away The Pounds
Pole dancing fitness can contribute to significant weight loss for individuals when combined with other fat burning exercises. In one single class you can burn as many as 250 calories which is the equivalent to a good gym session, says Weightlossresources.co.uk. This new and fun form of fitness encourages ladies to wear their stilettos while they break a sweat and dance because it helps challenge the body.
Angela Edwards, owner of PoleLaTeaz, an Atlanta, Georgia dance studio told CNN, "We have women who come in here 40 to 50 pounds overweight and they drop it in about six to eight months and they get great, nice, hourglass curves." Cicely Rogers, has gone down two dress sizes and has lost a total of 20 pounds with the pole dancing fitness class at Edwards' dance studio. "I've lost 20 pounds and I feel awesome," she said.
2. Builds and Tones Muscles
Pole exercises combine weight training for building muscles and toning them. Dancers learn to support their entire body weight with one arm as they build upper body strengthen while using their stomach muscles. Tracy Traskos, instructor of NY Pole, told Shape Magazine, "...most of the exercises we do, like climbing the pole, are a lot tougher than doing biceps curls." The combination of strength training, endurance and flexibility is included in pole dancing all wrapped up into one. Your quadriceps are used to grip the pole and your triceps are used when you're hanging in midair on the pole.
3. Increases Your Flexibility
If you are not able to bend and touch your toes, pole dancing may be the solution to improve your flexibility. The warm-ups in your average pole dancing class involves plenty of stretches to reduce tension in the body. Moves like splits and backbends are incorporated into some pole moves that significantly improve the body's flexibility, especially if done consistently, says NineMSN.com. Pole dancers will work their range of motion, balance and coordination.
4. Boosts Your Confidence
Pole dancing fitness can greatly give your confidence a boost because it's an exercise, like any other that releases endorphins - the feel good hormone. The ability to perform moves like a gymnast will make you feel like you could win an Olympic Gold medal, if pole dancing were a Olympic sport. Your new confidence level will make you look healthier, younger, and even more attractive.
Christi Roman, owner of Studio Health and Fitness in Michigan, told the Charlevoix Courier she believes "the pole dance and also new chair dance classes, for women only are a great way for her clients to feel sexy and confident while building upper body and core strength." The new confidence boost can even improve your sex life.
To learn about the various moves you can do on a dance poll, watch the IPDC 2012 Championship video below:
Published by Medicaldaily.com