Police Disperse Occupy Oakland Protesters with Tear Gas [VIDEO]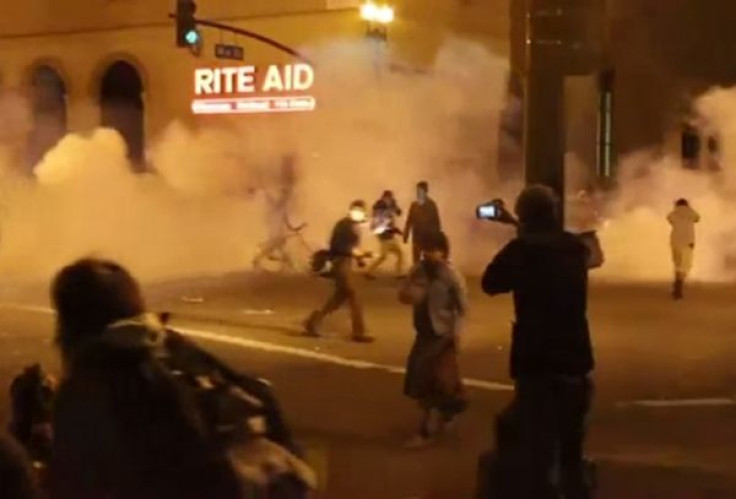 Police fired tear gas into the streets of Oakland, California late Tuesday to disperse protesters linked to Occupy Oakland after police evicted protesters from an encampment area citing safety and health concerns.
The protesters staged a late night march on City Hall on Tuesday to reclaim the camp.
Police fired gas after a third order to disperse in an effort to break up a group of demonstrators, ABC News reported.
Over 100 arrests were made during a night of clashes, LA Times reported. The scene had cleared after midnight Wednesday, but police were on alert.
"We were in a position where we had to deploy gas in order to stop the crowd and people from pelting us with bottles and rocks," said Oakland Interim Police Chief Howard Jordan, according to the LATimes.
Two officers were injured, Jordan said. He did not know how many demonstrators were hurt.
Carlos Villarreal, a spokesman for the National Lawyers Guild, told KGO that two protesters suffered broken hands when they were arrested. One protester suffered a head injury and was taken to a hospital, he said.
Kat Brooks, an occupy Oakland activist and spokeswoman said several police officers were hit with paintballs, but she said they had come out swinging batons, according to ABC News.
"From the way they came into the camp this morning to the way they acted tonight, they have gone beyond what was necessary," she said.
Park Eviction
Police said overnight camping at a local park had to end.
"There were a series of safety conditions, including numerous reports of fighting, assault and threatening/intimidating behavior" at the camp, police said in a statement.
"Sanitation conditions worsened with frequent instances of public urination and defecation, as well as improper food storage," the police statement said. "The existing rodent problem in the park was exacerbated, and authorities were unable to control it because of the campers' presence. Graffiti, litter and vandalism also posed problems, police said.
Published by Medicaldaily.com