Pope Francis Calls Pregnant Woman, Anna Romano, And Promises To Baptize Her 'Illegitimate' Child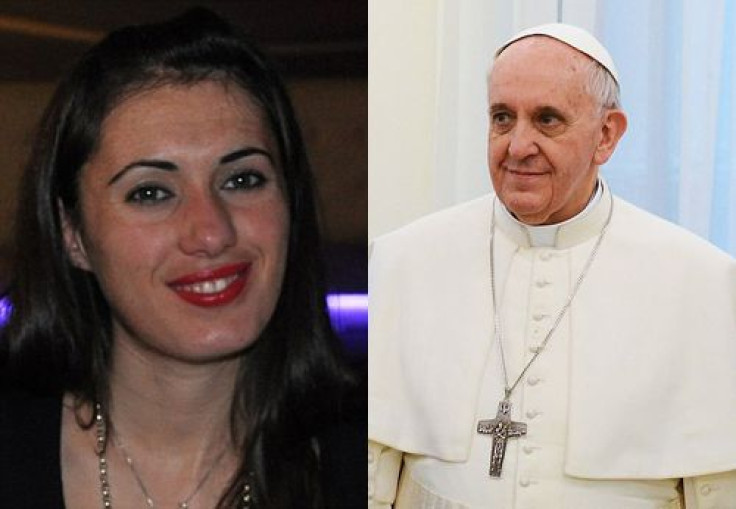 Pregnant Anna Romano, 35, was running out of hope after her already married boyfriend asked her to have an abortion and left her when she refused. Feeling desparate, this Catholic shop worker from Arrezo, Italy decided to write a letter to the pope for advice.
Little did she know that Pope Francis would personally call her a few weeks later with words of encouragement.
"I was petrified," Romano told Il Messaggero, a Rome newspaper. "I recognized his voice and I knew right away that it really was the pope."
In her letter, she had described her poor luck with men, having been through a divorce a few years before this episode. She also had no idea that the father of her child was already married with children of his own.
"Hello, Anna," the voice on the other end of the line said. "This is Pope Francis" was the simple introduction that continued a string of personal phone calls made by the new papal chief as he tries to establish his reputation as a "man of the people." Earlier this month, the head pontiff called a 19-year-old Italian student who was worried about finding a job after he concluded school, as well as a man whose brother was killed. In March, soon after claiming the post, the Vatican leader called his former newspaper kiosk to cancel his subscription.
"I know nothing of this [Ms. Romano's] telephone call but then again we knew nothing of the others. The Pope doesn't tell us when he makes these calls - he just does them and then we find out about them later," a Vatican spokesman told the Daily Mail.
Anna Romano continued with how she wanted the child to be baptized but was worried about finding a consenting priest, but the Pope felt certain that she could find one.
"But if not," Francis continued, "you know there's always me."
The expecting mother doesn't know if the child will be a boy or girl, but there's one guess as to the name she will use if it's a boy: "Francis," she announced.
Published by Medicaldaily.com