'Porn Studies' Academic Journal Offers World's First Peer-Reviewed Collection Of Erotica Research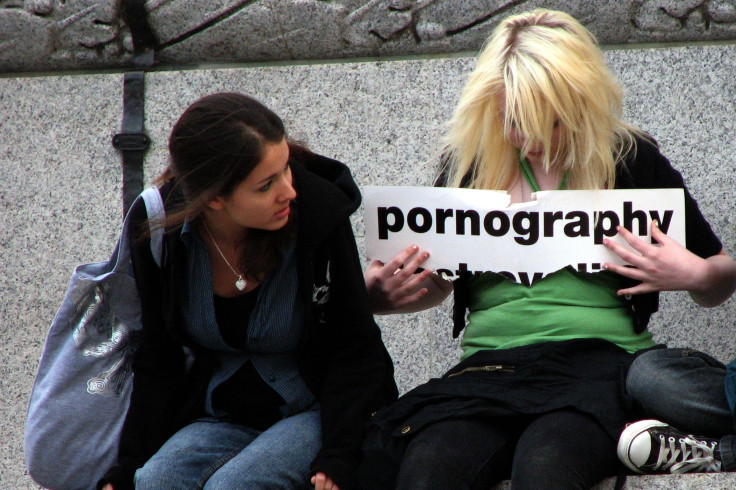 The world's first dedicated academic journal for pornography studies — Porn Studies — is now available to download free for a limited time.
Aspiring scholars hoping to break into the nascent field may now participate in the critical exploration of those "cultural products and services designated as pornographic," the journal's editors wrote online in a solicitation for papers last August. Reports included in the debut issue include, "Psychology and pornography: some reflections" as well as "Gonzo, trannys, and teens — current trends in U.S. adult content production, distribution, and consumption."
Though sounding more than a bit seedy, journal editors Feona Attwood and Clarissa Smith make good points about studying a cultural and anthropological phenomenon nearly ubiquitous in Western society. Revenue from pornography far outstrips even the combined corporate incomes of the nation's top TV broadcasters — ABC, CBS, and NBC — at more than $12 billion, according to the nonprofit Family Safe Media.
"Porn is becoming an important part of increasing numbers of people's lives, although what that means to them is something we still know very little about," Attwood and Smith said in a statement. "The ways that porn is produced and distributed have undergone rapid, radical and incremental change, but much of the popular discussion about those changes is still based on guesswork."
Indeed, pornography has become increasingly integrated into daily life for many, particularly that subtype of our species who subscribes to "mobile porn" on their iPhones or — somewhat more likely — Android smartphones. Now, some researchers wish to learn more about how distribution and content are changing and evolving with the time. In the journal's first issue, Christopher Prieur, a professor at Paris Diderot University, literally made a study of how producers "tag" content online, affixing keywords to uploaded porn content.
"The accumulation of categories does not separate fantasies from each other, but permits flow from one fantasy to another and draws thousands of paths corresponding to more and more precise desires," Prieur wrote online.
Aside from a prurient interest, scholars say the study of pornography may help to inform public policy debates on culture, particularly when politicians start making scientific claims. In the last presidential election, for example, former GOP candidate Rick Santorum opined that pornography caused "profound" changes to the human brain. But was he wrong? Paul Wright, an assistant professor of telecommunications at Indiana University, Bloomington says the question remains uninterested.
"It's very easy if you want to support one side or the other, to pull a particular study," Wright said during the 2012 campaign. "Anybody can support one side or another by simply isolating a particular study and talking about it."
Published by Medicaldaily.com