Pornhub Creates Scrubhub Website To Encourage More Hand Washing
Washing your hands remains one of the most basic, but most essential ways people can help protect themselves from the coronavirus. To help encourage as many people as possible to scrub down for at least 20 seconds, popular adult entertainment site Pornhub has launched a new website that is a parody of itself, complete with all sorts of videos of... well... hand washing. The website is called scrubhub.tv, and it is entirely safe for work (but who is working in an office any more these days?).
Just like the original Pornhub site, Scrubhub comes complete with its own set of genre videos for any and all viewers. There are even "vintage" videos, complete with a black and white filter for that old-time feel.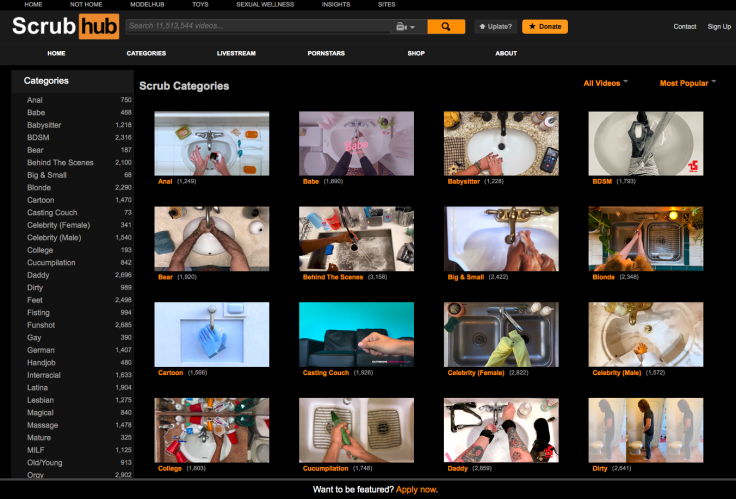 While the concept of Scrubhub is funny, the site also aims to do some good as well. Along with raising awareness of the importance for washing your hands, visitors are also encouraged to donate to the site, which is giving 100 percent of all proceeds to two charities, Invisible Hands and Frontline Foods. Invisible Hands is a volunteer organization of people making grocery store trips for those who can't. Frontline Foods is an organization that works with local restaurants to provide meals to those working in hospitals, and has already delivered over 50,000 meals to 50 different hospitals so far.
"Over the past few weeks, the one thing that has been repeated by literally everyone – politicians, scientists, celebrities and athletes – has been the importance of washing your hands thoroughly with soap and water to protect against this virus. Some people have encouraged singing songs with earworm effects (Beyonce's 'Love On Top' chorus for example), some have promoted hashtags for social media challenges and others have created comical memes that riff on mainstream and Internet culture," Corey Price, the Vice President at Pornhub, said in a press release. "We thought this presented a unique opportunity for Pornhub to bring some joy to something that has become so mundane and repetitive. We love working with talented creatives - in this instance alongside Ani [Acopian] and Suzy [Shinn] - and are proud to debut Scrubhub. Sometimes lighthearted content can be cathartic and help foster a sense of social cohesion. Let's all come together and do our part to stay safe and ultimately defeat this virus."
This isn't the only charitable effort from Pornhub. The company has also donated thousands of masks and gloves to medical pros in need, as well as helped out many in the adult entertainment arena. Specifically, Pornhub has donated:
15,000 surgical masks to protect first responders from the Local 2507 of New York City, which represents emergency medical technicians, paramedics and fire inspectors of the Fire Department of the City of New York.
15,000 surgical masks to the Uniformed Firefighters Association Local 94 of New York City to protect first responders.
20,000 surgical masks to Mount Sinai South Nassau to bolster the safety of nurses, physicians and support staff caring for COVID-19 patients.
€50,000 to various European organizations to purchase additional masks and medical equipment, including Dein Quarantäne Engel / Deutsches Rotes Kreuzin Germany, Croce Verde di Vicenza in Italy, España vs Coronavirus. Mascarillas AQUÍ AHORA and Material Sanitario para Hospitales Públicos ESPAÑA in Spain.
$25,000 to Sex Workers Outreach Project, contributing directly to sex worker relief funds in the SWOP-USA network to meet immediate requests for support from sex workers impacted by COVID-19.
$10,000 to the Free Speech Coalition, a member-based, non-profit trade association of the adult entertainment industry, and also matched any donations made to the FSC's Emergency Fund up to an additional $20,000.
100% of Pornhub model video sales after processing fee -- for a total payout of 85% of video sales earnings on both Pornhub and its clip site Modelhub -- for the month of April.
Published by Medicaldaily.com