The Power Of Magnesium: 10 Supplements For Optimal Health And Wellness
* This is a contributed article and this content does not necessarily represent the views of Medical Daily.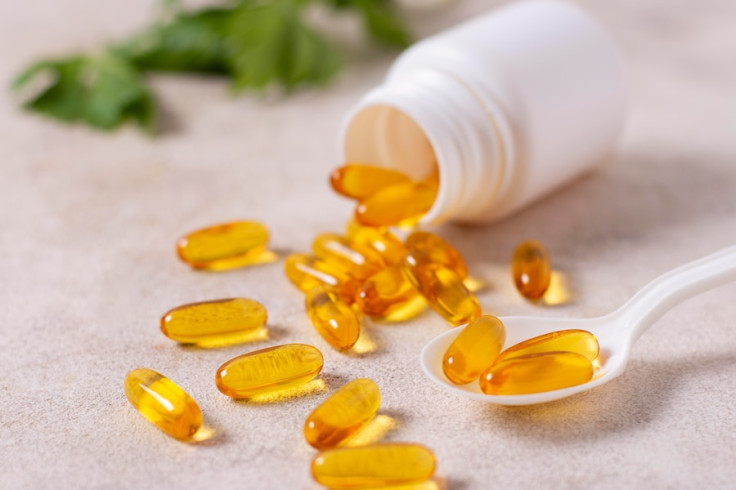 In the pursuit of holistic well-being, the modern world continues to uncover the remarkable benefits of natural compounds that have the potential to transform our health. Among these, magnesium stands out as a true powerhouse when it comes to promoting optimal wellness. The importance of magnesium is of great significance, as it plays a crucial role in regulating essential biological functions, boosting energy levels, and promoting mental clarity.
Uncover the science behind magnesium's multifaceted role through this carefully curated selection of supplements that can unlock a path to a more vibrant and balanced life.
1. CALM | Natural Vitality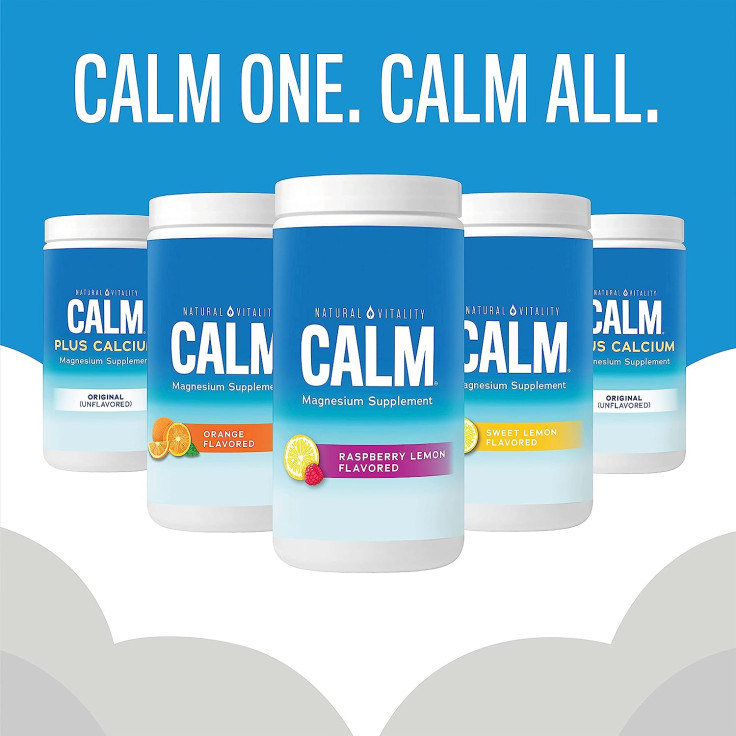 CALM Magnesium Supplement Drink Mix is a dietary supplement crafted to support healthy magnesium levels, while aiding in managing stress and promoting relaxation.
The formula's key ingredient, magnesium citrate, is known for its higher absorption rate compared to magnesium oxide, enhancing the body's ability to benefit from this essential mineral. With each serving providing 325 mg of magnesium, this supplement claims to contribute to the proper functioning of over 300 cellular processes, including those vital for heart and brain health. The non-GMO project verified status, vegan and gluten-free nature, and absence of sugar, artificial flavor, or synthetic color underscore its commitment to purity and quality.
Natural Vitality's CALM Magnesium Supplement Drink Mix presents a gradual approach to consumption, allowing users to start with 1/2 teaspoon daily and progressively increase to 2 teaspoons daily.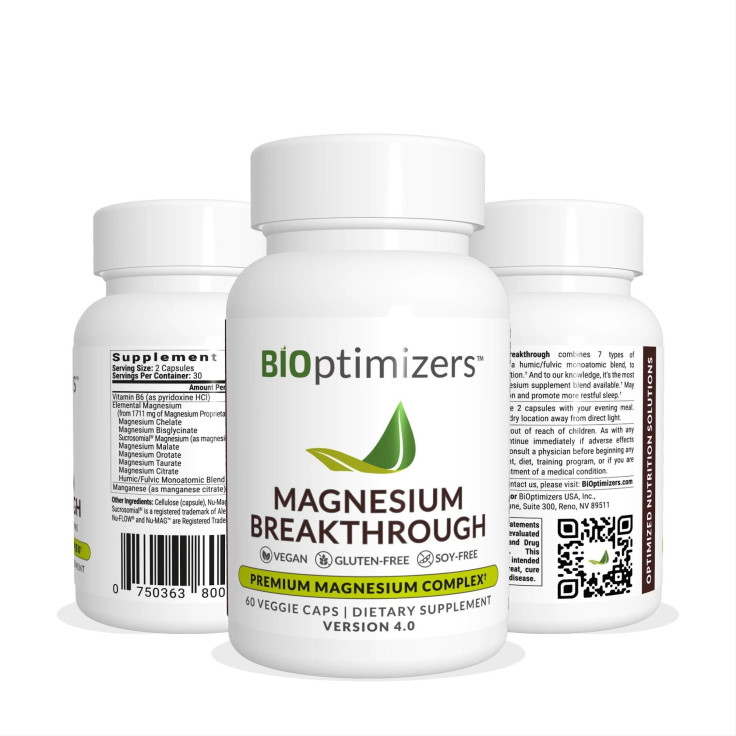 Magnesium Breakthrough is a supplement developed by BIOptimizers that has reportedly undergone rigorous testing to establish its superior bioavailability compared to other magnesium compounds.
In comprehensive bioavailability tests conducted at the International Burch University, Magnesium Breakthrough demonstrated an absorption rate of 16%, outperforming traditional magnesium glycinate, which exhibited a 33% absorption rate.
The significance of this supplement lies in its comprehensive formulation of all seven types of magnesium, offering a full spectrum of bioavailable magnesium compounds. Magnesium reportedly plays a vital role in over 600 biochemical reactions within the body, impacting diverse aspects of health. While conventional magnesium supplements often offer limited absorption and are deficient in addressing the diverse needs of different tissues and organs, Magnesium Breakthrough provides a unique solution by delivering the full range of magnesium types necessary for optimal health benefits.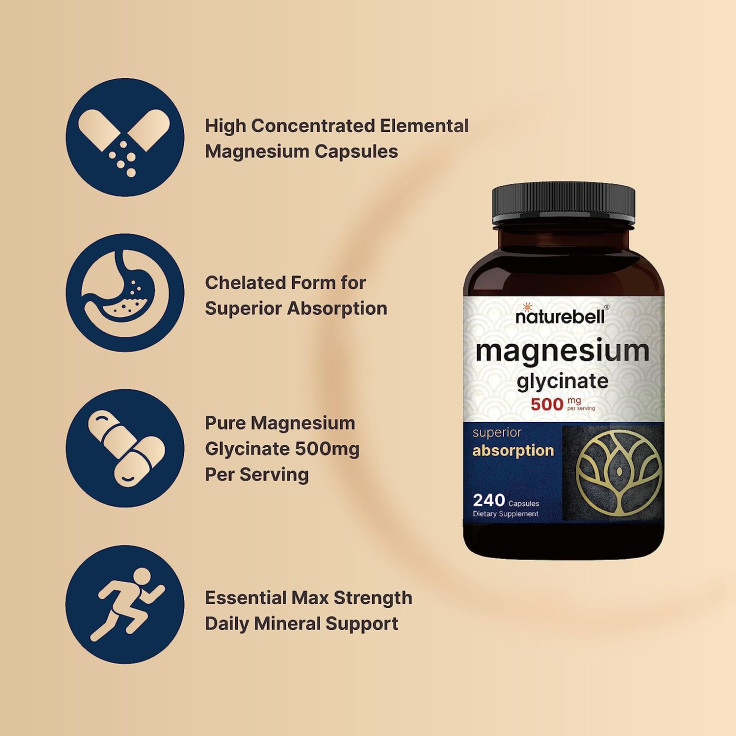 This Magnesium Glycinate supplement by NatureBell offers a high-concentration formula of 500mg per capsule in a convenient 240-capsule bulk supply, ensuring up to eight months of daily use. This supplement is designed for ease of use with a one-a-day formula, simplifying your daily wellness regimen.
NatureBell takes pride in the quality of its product, emphasizing its authenticity as a non-GMO and non-irradiated magnesium supplement. It is reportedly formulated with pure ingredients, completely free of common allergens such as wheat, soy, dairy, and gluten, as well as artificial preservatives. Produced in California, NatureBell's Magnesium Glycinate undergoes rigorous third-party lab testing to ensure both safety and potency, aligning with the brand's commitment to delivering a reliable and high-quality mineral support solution.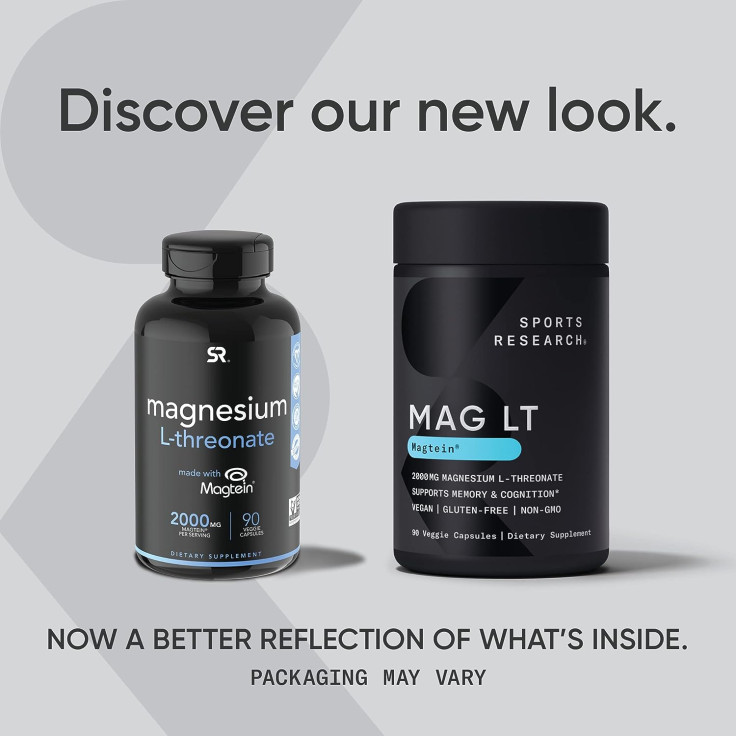 Sports Research developed an exceptional supplement in the form of Magtein Magnesium L-Threonate. What sets this product apart is its utilization of magnesium L-threonate, a highly bioavailable form of magnesium that Sports Research claims relates to a unique formulation for easy absorption for individuals looking to enhance memory, focus, relaxation, mood, and cognitive function.
At Sports Research, quality is paramount. Their magnesium supplement is non-GMO and free of gluten and gelatin. Manufactured in the US in cGMP compliant facilities, their commitment to stringent quality control guarantees confidence in the dietary supplements they provide. With ninety capsules per bottle, offering a one-month supply, you can readily access the numerous benefits of this potent and healthy magnesium threonate supplement.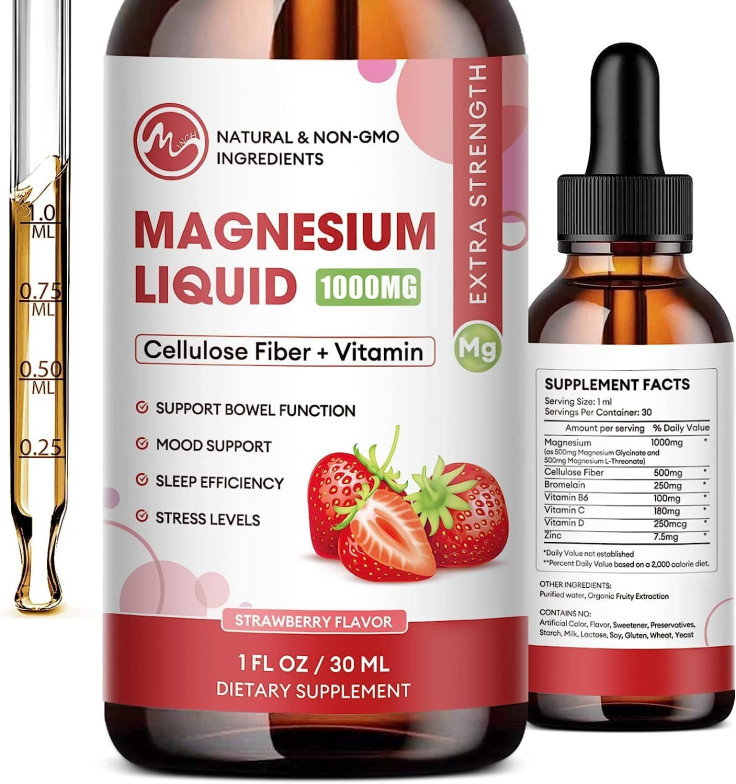 M inch introduces its Magnesium Liquid Drops, a dynamic supplement crafted to support a range of health benefits, while tantalizing your taste buds with a delightful strawberry flavor. Packed with 1000mg of magnesium glycinate and magnesium threonate, these liquid drops reportedly offer enhanced stress resistance, mood regulation, and improved sleep quality. Additionally, they contain 500mg of cellulose fiber, Bromelain, and essential vitamins such as B, C, D, and zinc, contributing to brain health, bone formation, energy levels, and digestive well-being. These liquid drops are also designed to be gentle on your heart.
The key differentiator of M inch's magnesium liquid drops is the use of superior magnesium glycinate and magnesium threonate, known for their enhanced absorption properties and minimal impact on the body.
What makes these drops even more appealing is their delectable strawberry flavor, making them suitable for both kids and adults. These drops claim to be sugar-free and devoid of fillers, binders, or additives, aligning with vegan, non-GMO, keto, and vegetarian diets. The convenient 1 mL pumps can be incorporated into your daily routine by taking them directly or blending them into smoothies, salads, or other foods, ensuring a tasty and nutritious way to meet your magnesium needs.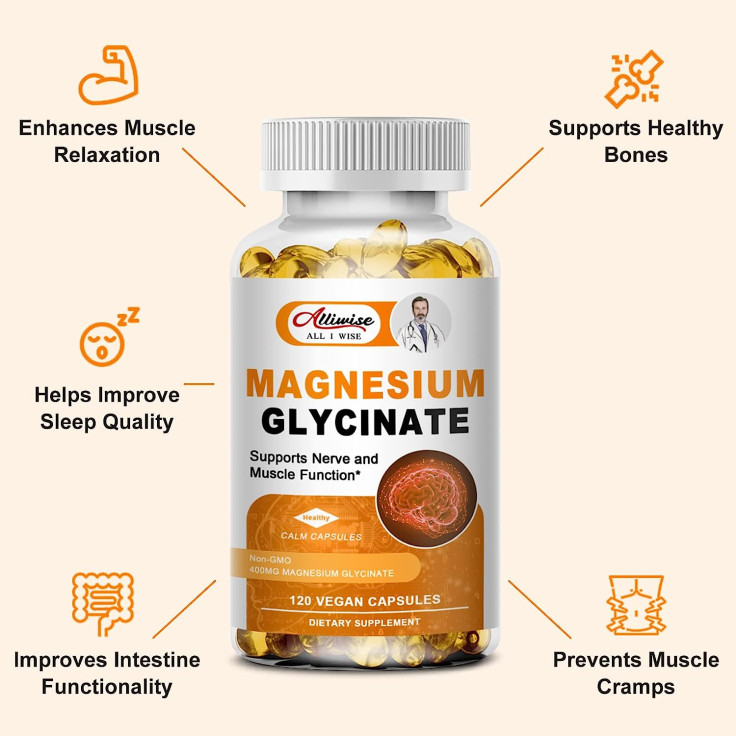 Magnesium glycinate, renowned for its superior absorption, is the focus of this supplement, ensuring that your body can harness the full benefits of this vital mineral.
Alliwise's Magnesium Glycinate is presented in the form of a highly bioavailable form of magnesium, offering a potent 400mg dosage of magnesium glycinate in each vegetarian softgel. The result is a product that reportedly maximizes magnesium bioavailability, allowing your body to make the most of this crucial mineral.
What sets Alliwise's Magnesium Glycinate apart further is its innovative softgel delivery system. Utilizing advanced encapsulation technology, these softgels claim to be not only gentle on the stomach, but also easily digested and absorbed by the body.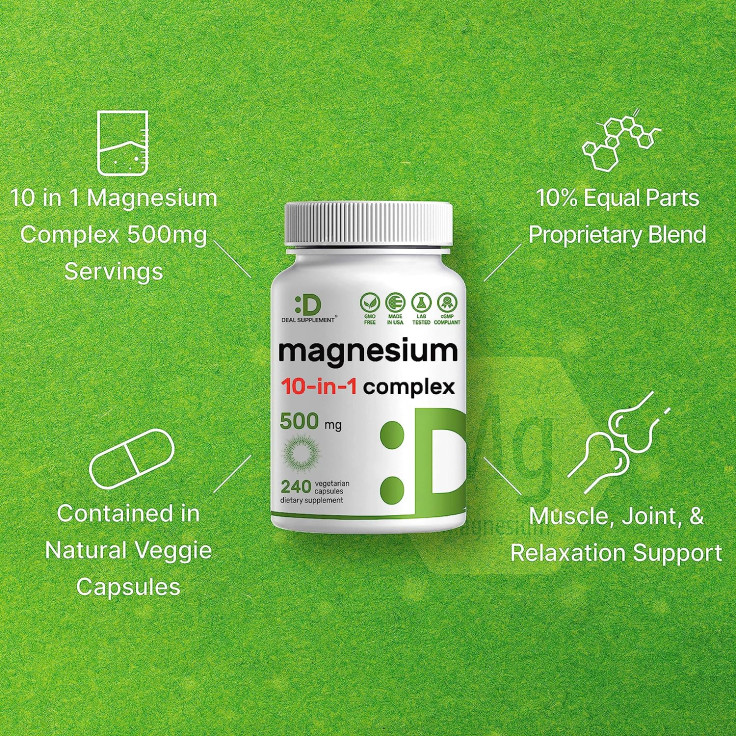 Eagleshine Vitamins' Magnesium Complex claims to be a remarkable 10-in-1 multi-action magnesium supplement designed to cater to various facets of your health. Encapsulated in natural vegetarian capsules, this formula is engineered for easy and complete absorption.
This once-daily supplement reportedly boasts a 10% equal part proprietary blend, offering a full spectrum of magnesium mineral support. Magnesium plays a pivotal role in multiple bodily functions, including muscle and joint health, relaxation, and bone strength. Whether you're a man or a woman, incorporating this supplement into your daily routine could provide you with comprehensive magnesium support to promote overall well-being.
Each bottle of Eagleshine Vitamins' Magnesium Complex contains a generous 8-month supply, offering 240 vegetable capsules. With just one capsule per serving, you receive a 500mg proprietary blend that encompasses ten different types of magnesium.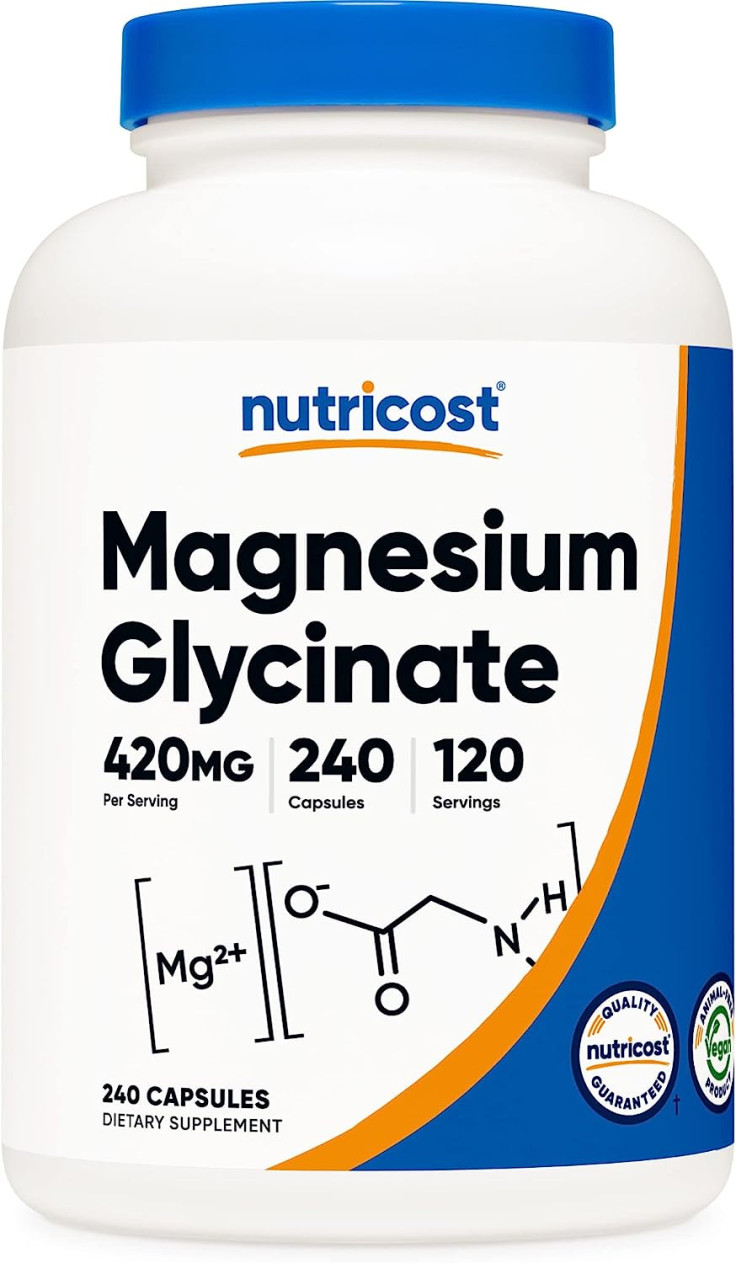 Each bottle of Nutricost's Magnesium Glycinate contains an ample supply of 240 capsules, providing 120 servings in total. With a robust magnesium content of 420mg per serving (210mg per capsule), this supplement delivers a substantial dose of magnesium, an essential mineral crucial for numerous bodily functions.
A notable feature of Nutricost's Magnesium Glycinate is its reported use of plant-based "veggie" capsules, aligning with dietary preferences for many. These capsules are vegan-friendly and constructed without the use of genetically modified organisms (GMOs), making them suitable for a wide range of dietary needs. Moreover, the product is free from gluten and soy, further enhancing its suitability for individuals with specific dietary sensitivities or restrictions.
This Magnesium Glycinate supplement is produced in a Good Manufacturing Practices (GMP) compliant, FDA-registered facility. With a commitment to providing a high-quality source of magnesium, Nutricost has formulated this product to support various aspects of health, such as muscle and nerve function, bone health, and energy production, all within a convenient and accessible supplement form.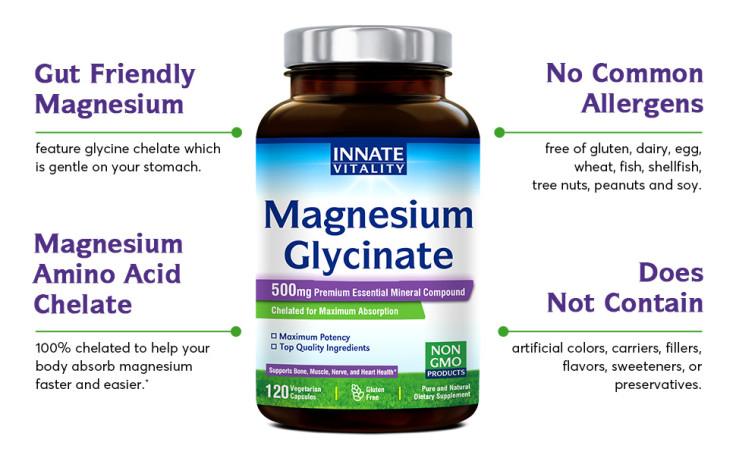 Innate Vitality's dietary supplement, Magnesium Glycinate, claims to epitomize purity and potency for dietary preferences and needs. It is devoid of soy, gluten, dairy, GMOs, and other common allergens, including corn, eggs, wheat, tree nuts, peanuts, fish, and shellfish. Moreover, it contains no cholesterol, artificial colors, flavors, binders, or fillers, aligning perfectly with vegetarian, Kosher, and Halal dietary requirements.
At the heart of this product lies magnesium glycinate, a highly bioavailable form of magnesium that the body readily absorbs. Each serving boasts a potent 500mg of magnesium glycinate, delivering 70mg of elemental magnesium meticulously created for optimal bioavailability. This essential mineral is a versatile player in over 300 enzyme and metabolic reactions, contributing significantly to nerve function, muscle relaxation, bone strength, and heart health.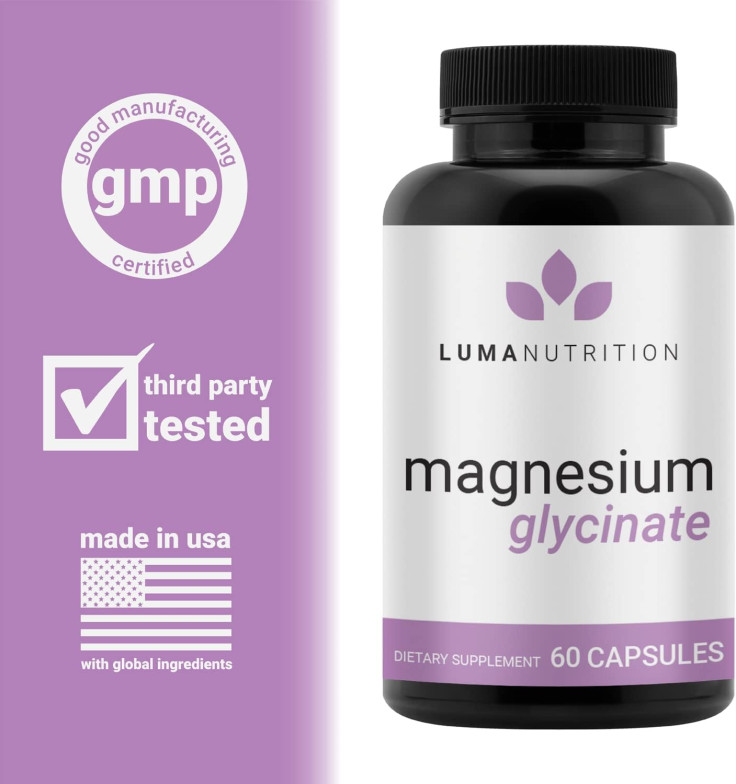 Luma Nutrition's Magnesium Glycinate is reportedly designed to provide the body with the vital benefits of magnesium in its most absorbable form. Each capsule contains 1000mg of magnesium glycinate, ensuring a potent dose of 200mg of highly absorbable magnesium per serving. For those seeking a slightly lower dosage, one capsule delivers 500mg of magnesium glycinate, offering flexibility to meet individual needs.
The quality of Luma Nutrition's magnesium pills is paramount. This supplement is meticulously formulated to support various aspects of well-being, including muscle health, cognitive function, cardiovascular wellness, and more. With a commitment to providing the best magnesium supplements, Luma Nutrition claims it ensures that every capsule meets rigorous quality standards.
Final thoughts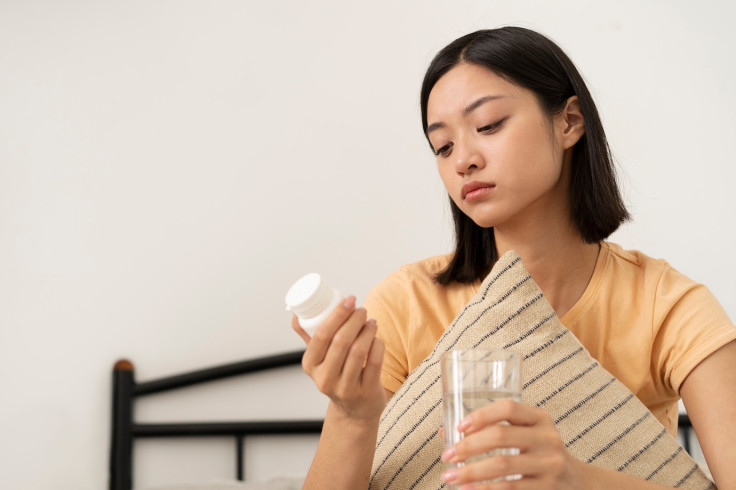 It's essential to look for scientific backing for the supplement's claims. Ideally, these claims should be supported by peer-reviewed studies published in reputable scientific journals. If a supplement manufacturer can provide references to such studies, it significantly bolsters the credibility of their claims.
Moreover, it's prudent to consult healthcare professionals before embarking on any supplement regimen. Healthcare professionals can offer personalized advice tailored to your specific health needs and individual considerations. Their expertise can help you make choices that align with your overall well-being.
Consider supplements as complementary to a holistic approach to health. They should be seen as adjuncts to a balanced lifestyle, which includes a nutritious diet and regular exercise. Relying solely on supplements without addressing other aspects of health may not yield the desired results. Therefore, a comprehensive approach that encompasses various aspects of a healthy lifestyle is essential for achieving and maintaining overall well-being.
Published by Medicaldaily.com