Pregnancy With Donor Eggs: IVF Method Sees Rise In Popularity, Healthier Births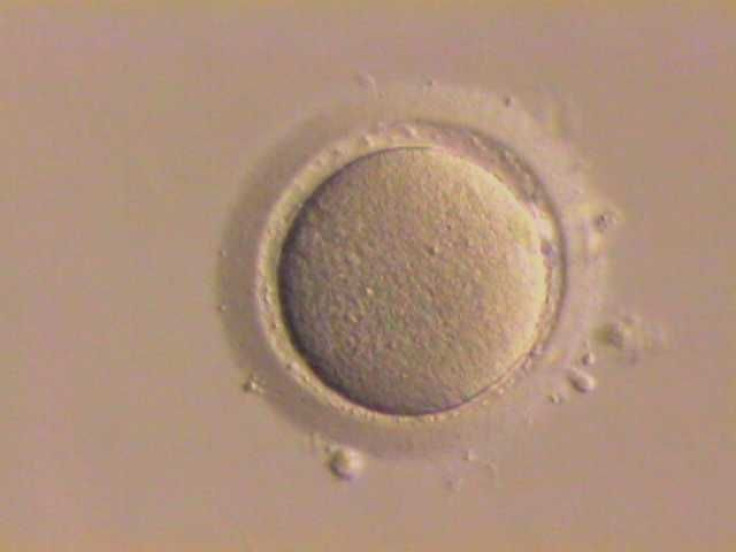 While young, many women put a great deal of time and energy into avoiding pregnancy. Today, it seems many older women are investing an equal energy — but more resources — into the opposite result. Between the years 2000 and 2010, the number of times women attempted to become pregnant by using donated eggs increased. Additionally, this rising tide of in vitro fertilization (IVF) procedures has resulted in a greater number of healthy babies born.
The National ART Surveillance System (NASS) gathers data about all assisted reproductive technology (ART) cycles, including in vitro fertilization procedures, performed across the country. Using NASS, researchers from Emory University investigated the use of donor eggs (oocytes) in order to understand what factors predicted a healthy birth as a result of an IVF cycle. Their research uncovers even more.
"Oocyte donation initially gained acceptance as treatment for premature ovarian insufficiency but has become more common for treatment of age-related diminished reserve," wrote the authors in their study.
Trending Data
To arrive at their conclusions, the researchers examined data from 443 fertility clinics (93 percent of all U.S. fertility centers) during the years 2000 to 2010. They discovered the annual number of donor oocyte cycles — where a woman uses another woman's egg to get pregnant — increased significantly, from 10,801 to 18,306. The researchers also observed an increasing trend in the percentage of cycles using frozen as opposed to fresh embryos (from 26.7 percent in 2000 to 40.3 percent in 2010).
They also noted a rise in the number of women who elected to transfer only a single embryo as opposed to multiple embryos (from 0.8 percent in 2000 to 14.5 percent in 2010). This may have been a result of the increasing number of healthy births, which increased from roughly one out of every five to one out of every four births. "Healthy birth" (or in their language "good perinatal outcome") is defined by The American Society of Reproductive Medicine as a single child, resulting from a live birth at 37 weeks or later, and weighing 5.5 lbs. or more. (Twin term infants are considered more likely to present complications.)
Throughout the span of years from 2000 to 2010, the researchers noted, the mean age of both donor and recipient remained stable at 28 years old and 41 years old, respectively.
So who are these women who become involved in assisted reproductive technologies?
The Faces in the Waiting Room
Most often, when a woman harvests her own eggs and then attempts an IVF cycle, the underlying reason is male infertility. When a woman seeks a donor egg, the researchers discovered, the most common reason was diminished ovarian reserve — lack of eggs — due to age. The majority of women — both those using their own eggs and those using donor eggs — were non-Hispanic white with no prior history of miscarriage or live birth.
Although the study does not offer much information about donors or the process they go through, some understanding of their role can be gained by a casual perusal of the website of Egg Donation Inc., a company that provides matching, screening, and coordination services to those involved in ART. The company notes that compensation ranges from $5,000 to $10,000, with first-time donors at the lower end of that pay scale. Egg donors commonly fall between the ages of 21 and 35 — apparently old enough to legally enter into a contract but young enough to respond well to fertility drugs. Another trait they must possess: the staying power to undergo an entire medical process that begins with qualifying exams and ends with egg retrieval.
Pre-screening involves not only blood work to rule out sexually transmitted diseases, HIV, and hepatitis, but also medical/genetic examinations and drug/nicotine testing. A donor who passes pre-screening then begins a medical ordeal, beginning with drug injections over a period of up to two weeks in order to pause her ovulation. Essentially, a donor will be hurled into a state of temporary menopause with possible side effects that include mild headaches, hot flashes, and fatigue. After this, a donor begins a new series of drug injections that provide follicle-stimulating hormones and ends with a final injection of HCG, a hormone that stimulates ovulation.
Finally, a donor is prepared for egg retrieval. This is performed vaginally; once the donor has been sedated, her eggs are removed with a needle guided by ultrasound in a procedure that takes about 20-30 minutes total.
Regarding the donation process, phrases like "serious commitment" are often used as are the words "generosity," "sacrifice," and "compassion." Certainly on both sides of assisted reproductive technology, there are reasons... and need.
Source: Kawwass JF, Monsour M, Crawford S, et al. Trends and Outcomes for Donor Oocyte Cycles in the United States, 2000-2010. JAMA. 2013.
Published by Medicaldaily.com