Pregnant Nurse Fired For Refusing Flu Shot: Dreonna Breton Feared Vaccine Could Cause Miscarriage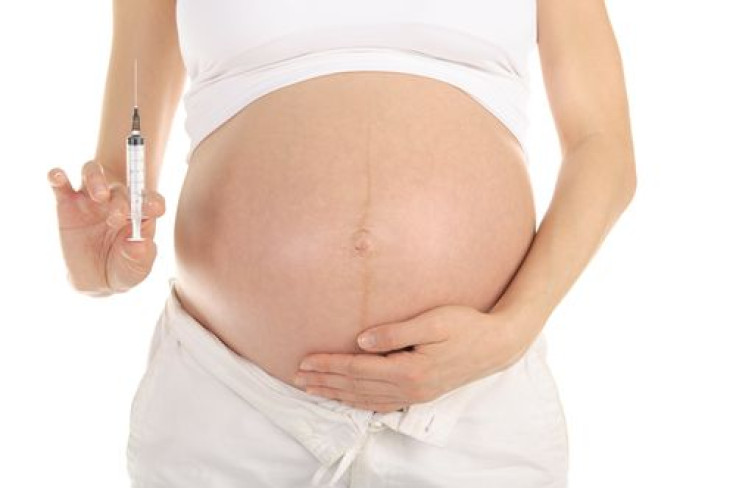 A pregnant nurse for Horizon Healthcare Services from Elizabethtown, Pa., was fired after she refused to get a mandatory flu shot for fear of it harming her fetus.
Twenty-nine-year-old Dreonna Breton learned of her pregnancy with her second child in October before the hospital staff was required to receive their annual flu shot in November. The vaccine is mandatory in order to prevent other health care workers from catching the flu and spreading it to the elderly or anyone with weakened immune systems.
Breton, who received the flu shot during her first year as a nurse for Lancaster General Hospital in 2008, claimed it was as a result of "peer pressure." Now the pregnant nurse has denied to have the shot administered due to the unknown effects of the flu vaccine on pregnancies.
"It would be a false statement to say the flu vaccine is known to be safe during pregnancy," said Breton to PennLive.com. "I have lost my job, one that I love and am good at, because I chose to do what I believe is best for my baby."
Donna Cary, a spokeswoman of Fluzone, a popular flu vaccine, mentioned the results of clinical studies involving pregnant women weren't included in the research presented years ago when the government approved the flu shot. Therefore, there is no direct statement from flu vaccine manufacturers that claim it is safe for pregnant women. Fluzone's packaging reads: "Fluzone should be given to a pregnant woman only if clearly needed."
The Centers for Disease Control and Prevention (CDC) says it is safe to get an influenza shot during pregnancy to protect women and their unborn children from serious illness and complications of the flu, like pneumonia. The flu shot has been administered to millions of pregnant women over many years showing to cause no harm to pregnant women or their babies, the CDC states.
However, pregnant women are advised to get the flu shot and not the nasal spray vaccine because the shot is made from an inactivated virus that is safe for both the mother and child during any stage of pregnancy. The nasal spray vaccine, however, is made from a live virus that could present complications for women during pregnancy or for those who are trying to conceive.
Although the CDC does deem the flu vaccine safe for pregnant women, the lack of supported claims from manufacturers leaves Breton in fear due to her history of miscarriage. The mother of one has already had two miscarriages in four pregnancies and refuses to take the chance this time to get the flu shot.
"(My midwife) wrote me a letter explaining that the vaccines have not been tested on pregnant women and because I have had previous miscarriages she didn't feel comfortable me having it," Breton told the DailyMail.
The note also went further on to explain getting the flu shot would significantly and negatively impact her health because of heightened fear and anxiety that would have an emotional impact and cause Breton to miscarry. Breton's note was considered to be unacceptable because it came from a midwife, not from a doctor, and because she didn't provide a medical reason. The homecare infusion nurse offered to wear a face mask but was suspended and had five days to have the shot or she would be terminated. Breton decided to go with the latter option for the safety of her unborn child.
"'I have taken care of patients who have become paralyzed after having the shot, and if that can happen to a full grown person who knows what can happen to a growing fetus," she said.
Lancaster General Health environmental and community medicine director Dr. Alan Peterson strongly believes flu shots are highly beneficial to women despite the manufacturer's claims. "I would say she has a million times greater chance of having a problem if she gets the disease rather than the vaccine," he said.
The hospital stated 98 percent of its employees received the flu shot as requested, WGAL-TV reports. Beth Dougherty, a pregnant hospital member, was among the group of employees who received the shot, along with her 3-year-old son. "[…] I don't have any concerns," Dougherty told WGAL-TV.
In 2009, the University of Loyola Heath System in Chicago, became one of the nation's first hospital systems to require their employees to get the flu vaccine. The CDC recommends all U.S. health care workers to annually receive flu shots including doctors, nurses, housekeepers, maintenance staff, and volunteers.
The flu is responsible for approximately 24,000 deaths and 150,000 hospitalizations a year which can easily spread when droplets are made from an infected person who coughs, sneezes, or talks with another person.
To learn more about the flu vaccine and pregnancy, click here.
Published by Medicaldaily.com