Pregnant Women Benefited From California Ban On Flame Retardants But Are There Still Hazardous Chemicals In Foam Furniture?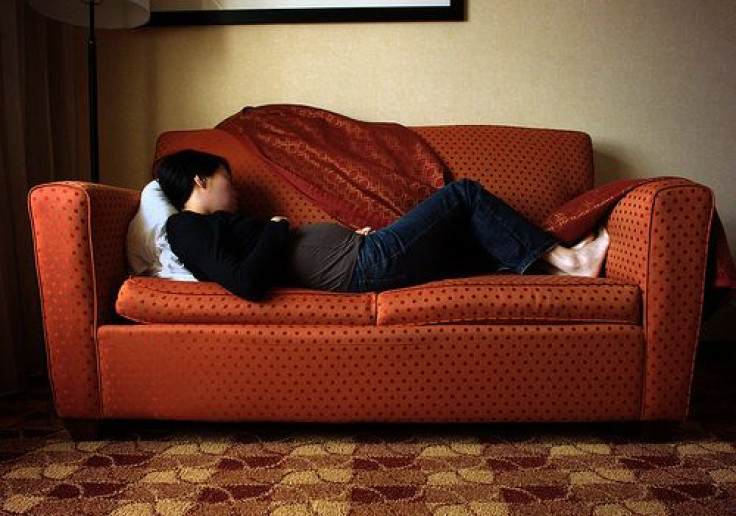 Exposure to a special group of flame retardants — polybrominated diphenyl ethers (PBDEs) — has rapidly declined for pregnant women in California, since the state banned the controversial chemicals. According to the report in the journal of Environmental Science & Technology, this is the first evidence that PBDE levels — which have been linked to learning impairments in children — have dropped in people.
To meet fire safety regulations, PBDEs became a popular chemical treatment for foam furniture in the 1970s across the U.S. This abrupt rise was almost immediately matched by public scrutiny from a small sector of environmental toxicologists, who cited that PDBEs and other flame retardants could cause health problems like cancer or birth defects.
Their concerns became more serious after blood levels of PBDEs in Americans began to double every four to six years after the1970s. Ultimately, 97 percent of the U.S. population would test positive for exposure, and at one point, PBDE levels in North America were 20 times higher than in Europe.
Studies would eventually show that PBDEs — also found also in electronics — could negatively affect women's health, especially during pregnancy. The chemicals were linked to thyroid dysfunction in both pregnant women and their newborns. Prenatal exposure has been associated with drops in IQ, poorer concentration, and other signs of neurodevelopmental problems.
Is The Ban Working?
California recorded the highest levels of exposure, which were most likely due to the state's strict fire code for commercial products. In 2003, the state outlawed the sale of PBDE-containing furniture, electronics, and other consumer goods.
To see if California's restrictions had any impact, researchers at the University of California San Francisco (UCSF) measured the blood levels of PBDEs in pregnant women who visited San Francisco General Hospital. Twenty-five women volunteered for the study in 2008 — four years after the statewide injunction — and another 36 women were recruited in 2011. All of the volunteers were in their second trimester.
Five common PDBEs were detected in everyone from the 2008 group, while only one PDBE was observed in the 2011 subset, which suggests that the ban is working.
"We were pleasantly surprised by the extent of the decline," said first author Dr. Ami R. Zota, an assistant professor of environmental and occupational health at the George Washington University School of Public Health and Health Services.
Make It Easier To Shut The Door Forever?
However, it is unclear if the problem of flame retardants has truly subsided. Some worry that manufacturers have merely replaced PBDEs with other substitutes like chlorinated Tris, a suspected carcinogen, or Firemaster 550, the health effects of which are not fully understood yet.
California's governor, Jerry Brown, may reduce the state's flammability standards, so product makers will no longer feel compelled to use chemical flame retardants. If Brown's plan is as successful as the PDBE ban, it could serve as national model.
"What that means is that when California enacts the new flammability standard, there will be an opportunity for reductions in other flame retardants, many of which we may not even know about because there is a lack of data on their use and potential human health effects," concluded the study's senior author Dr. Tracey Woodruff, the director of UCSF's Program on Reproductive Health and the Environment.
Source: Zota AR, Linderholm L, Park JS, et al. Temporal Comparison of PBDEs, OH-PBDEs, PCBs, and OH-PCBs in the Serum of Second Trimester Pregnant Women Recruited from San Francisco General Hospital, California. Environmental Science And Technology. 2013.
Published by Medicaldaily.com