Pregnant Women Prescribed Opioids Have Babies More Likely To Suffer Complications, Withdrawal Symptoms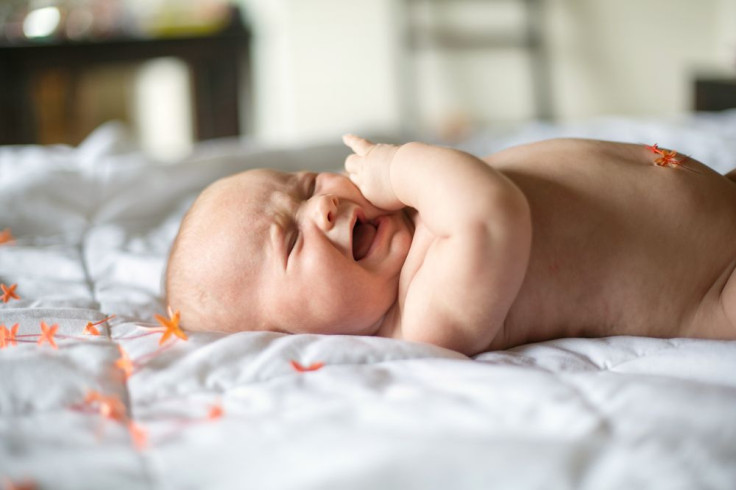 Newborns whose pregnant mothers were prescribed opioid drugs may undergo neonatal abstinence syndrome — withdrawal symptoms, essentially. Infants suffering withdrawal may experience breathing problems, convulsions, vomiting, diarrhea, high-pitched crying, poor appetite, jitteriness, tremors, sweating, fever, mottled skin, and excessive sucking or rooting.
A baby suffering in this way is horrifying to even imagine; however, it is common for doctors reimbursed by the Tennessee Medicaid system to prescribe opioid drugs to women who are pregnant, says a new study published in Pediatrics, and this practice is strongly linked to these symptoms as well as other newborn complications, such as low birth weight.
"I always say neonatal abstinence syndrome looks like a colicy baby times five," Dr. Stephen Patrick, assistant professor of pediatrics and health policy, division of neonatology, Vanderbilt University, told Medical Daily. The critical signs "first present after a couple of days of life," Patrick said, adding "babies typically stay in the hospital for three weeks."
For the study, Patrick and his colleagues used data from the medical records of mothers and infants enrolled in the Tennessee Medicaid program between 2009 and 2011. Next, the team reviewed a random sample of medical records of babies diagnosed with neonatal abstinence syndrome in order to validate these diagnoses. Finally, the team evaluated and analyzed cases of newborn withdrawal symptoms and compared these to opioid prescription records.
"Of 112,029 pregnant women, 31,354 (28 percent) filled [one or more] opioid prescriptions," wrote the authors in their study.
Infants with neonatal abstinence syndrome and infants whose mothers took opioids while pregnant were more likely to have a low birth weight when compared to infants who had never been exposed to these drugs. The numbers are quite dramatic: 21.2 percent of the babies suffering withdrawal had a lower than healthy birth weight compared to just 9.9 percent of the unexposed babies.
"It's riskier to be born low-birth weight than to be born with neonatal abstinence syndrome," Patrick told Medical Daily while also noting that low birth weight comes with more potential long-term health risks. Though no research into the long-term effects of infant opioid withdrawal has been published, Patrick believes — based on his knowledge of babies who suffered heroin withdrawal — "there may be no severe long term consequences" linked to opioid withdrawal, but these children might have "problems with attention."
The women who had been prescribed opioid pain relievers by their doctors were more likely than those not prescribed opioids to smoke cigarettes (41.8 percent versus 25.8 percent). They also were more likely to be depressed or have an anxiety disorder (though these numbers were far smaller than the smoking numbers). That said, pregnant mothers who either smoked or took a specific type of anti-depressant while using opioids were more likely to give birth to babies suffering withdrawal symptoms.
National Trends
Opioids relieve pain and include hydrocodone (Vicodin, for example), oxycodone (OxyContin and Percocet are examples), morphine (including Kadian and Avinza), codeine, and related drugs. Hydrocodone products are the most commonly prescribed opioids for certain everyday conditions, including dental and injury-related pain. Morphine is more often used before and after surgical procedures to alleviate severe pain, while codeine is often prescribed for mild pain. Sometimes doctors prescribe codeine and diphenoxylate (Lomotil) to relieve coughs and severe diarrhea as well.
The 2010 National Survey on Drug Use and Health found an estimated 2.4 million Americans used prescription drugs non-medically for the first time within the past year, which the National Institute on Drug Abuse calculates as 6,600 initiates per day. More than one-half were women.
While most people commonly believe misuse of opioids among people with chronic pain is an increasing problem, scientific studies show a wide range of opinions on the matter, with some reporting "problem use" rates as less than one percent and others reporting as high as 81 percent. Most studies, though, reported misuse as ranging between 21 percent and 29 percent. American patients who suffer from chronic pain number roughly 116 million.
"In global terms, the United States makes up 4.6 percent of the world's population yet 80 percent of the total consumption of opioid pain relievers," Patrick told Medical Daily. "Overdose deaths attributed to opioid prescription drugs account for more deaths than car accidents." His study highlights the need for a public policy concerning how these drugs are prescribed in order to limit the detrimental impact on everyone... but "especially Mom's and babies," said Patrick.
Source: Patrick SW, Dudley J, Martin PR, et al. Prescription Opioid Epidemic and Infant Outcomes. Pediatrics. 2015.
Note: An earlier version of this article did not include remarks from Dr. Stephen Patrick.
Published by Medicaldaily.com