Premature Baby Gets Heart Transplant At Just 6 Days Old, Becomes Youngest In US To Undergo Procedure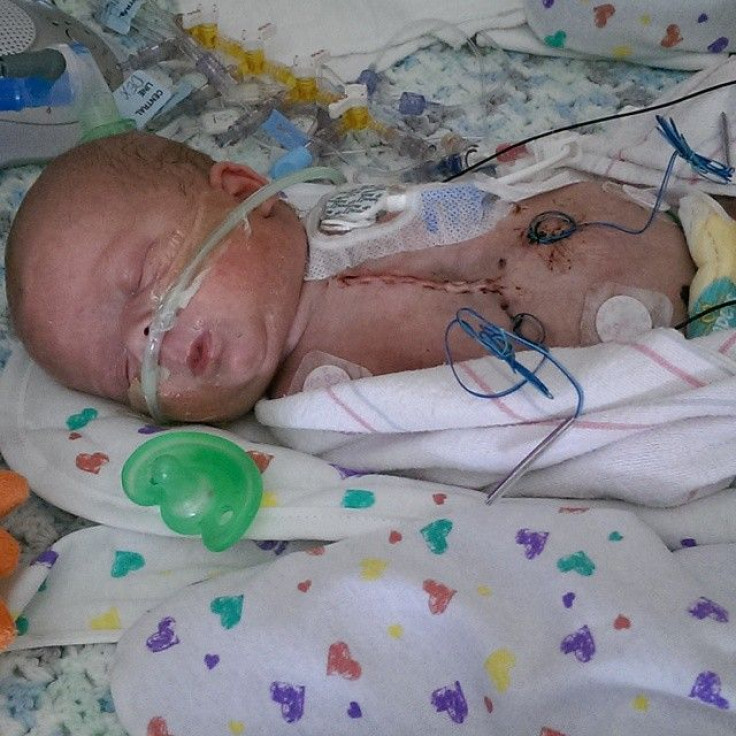 An Arizona baby born seven weeks premature has become the youngest person in the U.S. to undergo a heart transplant successfully. At only 6 days old, the boy, named Oliver, received a transplant after he was diagnosed with dilated cardiomyopathy — a disease of the heart muscle that causes the organ to become weakened and enlarged, making it unable to pump blood properly.
Prior to being born, doctors told Oliver's parents Caylyn Otto and Chris Crawford that it was likely he would be stillborn. But if he did survive, he would need to undergo a heart transplant. All of this was discovered during a 20-week checkup, but eight weeks later the situation got worse: Oliver's left ventricle was seven times larger than it should have been for a baby at that stage of development.
Doctors at Phoenix Children's Hospital decided they would try to deliver Oliver at 36 weeks, despite the prognosis not looking good — during this time, Otto had even been planning a funeral for her unborn child. But at 33 weeks, Caylyn woke up to discover her water had broken, and she was rushed to Banner Good Samaritan Medical Center in Phoenix, where doctors tried to prolong the birth by a few days. Oliver was born prematurely at 33 weeks and immediately placed under intensive care. He was also placed on the national organ transplant waiting list, and was sent to the top because of how small he was.
Once a heart became available, Oliver was rushed into the operating room where he underwent surgery for 10 hours, starting at midnight. Fortunately, it went well and his body has so far accepted the organ; though doctors still aren't sure when Oliver will be able to leave the hospital. In addition, he'll have to be placed on immunosuppressant drugs and strictly monitored for the rest of his life. But both his doctors and parents are thrilled that such a risky operation was successful, giving him a new chance at life.
"I do feel there was something miraculous that happened with this child," Dr. Christopher Lindblade told AZ Central.
Though it's uncommon, since very young patients like Oliver aren't at an ideal age to have a transplant, there are stories of infants who had transplants who are now thriving as adolescents or teenagers. One boy named Dylan, who is also called "Kidneykid," became the youngest kidney transplant patient about 13 years ago, when doctors at Cedars-Sinai in Los Angeles successfully transferred a donor kidney to him when he was about a year old. And recently, another tiny baby was given a heart transplant at 14 days old. While these little ones with transplants will certainly face challenges in the future that normal babies do not, recent studies have shown that children with heart transplants are living longer than before.
Caylyn credits the doctors' persistence for saving her son's life. "They never gave up hope, and we're so grateful for that," she said.
Published by Medicaldaily.com