Prescription Drug T-Shirts: Are Shirts Reading 'Xanax,' 'Adderall' On Back Artful Commentary Or Dangerous Encouragement?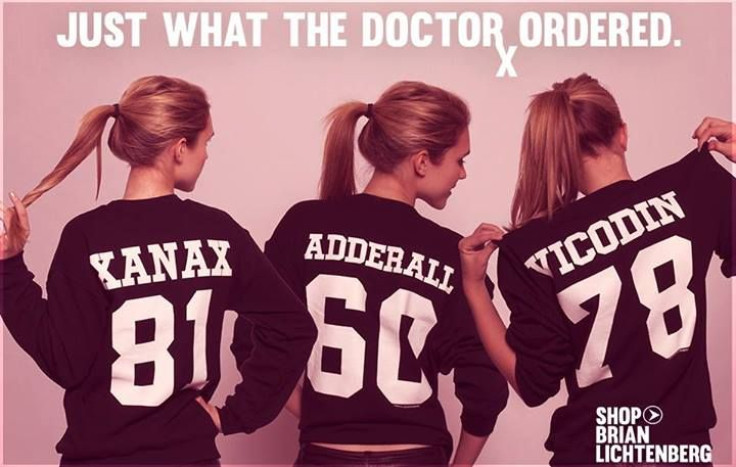 A clothing boutique in Los Angeles has received considerable flak for its new line of prescription drug T-shirts, which feature brand name painkillers and stimulants emblazoned on the back. While the line's designer says the shirts are meant to open a dialogue about drug abuse, concerned opponents slam the way the drugs have been fetishized.
Designer Brian Lichtenberg designed the T-shirts, which feature the words "Xanax," "Adderall," and "Vicodin," atop block-style numbers, for the L.A. boutique, Kitson. He called the shirts a "parody of pop culture," but this classification has parents clamoring with outrage, particularly those whose children have suffered drug overdoses, arguing the shirts promote the drugs' consumption and will fail to generate the supposed awareness Lichtenberg claims.
100 Drug Overdoses Per Day
Rates of prescription drug overdose in the United States have more than tripled since 1990, according to the Centers for Disease Control and Prevention (CDC). In 2008 alone, there were 14,800 painkiller deaths, and for every one death, 32 people visited the emergency room for misuse or abuse and 130 people abused or were dependent, the CDC report adds.
One of the more vocal members of the opposition's side is actress Kristen Johnston, who took to Twitter and appeared on ABC's Good Morning America to voice her concerns. "Millions are dying, & u want to make $ off it. SHAME ON YOU," she wrote, including the boutique's Twitter handle. Johnston appeared on Good Morning America in part to discuss her personal connection to the story, as she battled a troubling Vicodin addiction for years.
"There's so much secrecy," she said in the interview with Good Morning America co-anchor Robin Roberts. "And I think it keeps people sick. I really do. I think, so I think if you need to tell someone, you should."
People siding with Lichtenberg point to consumer responsibility as the sole arbiter in whether the shirts should stay or go. Kitson's store manager, whose name has not been released, upheld the shirts for promoting a person's free speech.
"Ultimately it's freedom of speech," the manager said. "And it's fashion and there's a fun part of it, and it's parody and people can wear it and say what they want on their shirts."
Legal Art Or Illegal Infringement?
The legality of the shirts may still be under question, however. Adderall, Vicodin, and Xanax all have trademarked copyrights on their names, making copyright infringement the larger player in whether the shirts stay on the racks. Representatives from each of the drug manufacturers released statements to TMZ detailing their plan of action.
"We had no involvement NOR do we approve of the sale of such a product using Adderall to glorify the misuse of our product," an Adderall rep said.
"Prescription drug use should not be trivialized. It is a serious issue and we will be taking legal action to stop the clothing company from trying to sell such a product," Vicodin's rep stated, with Xanax's rep stating the drug manufacturer is also considering legal action.
Lichtenberg released a statement on Tuesday on the boutique's Facebook page emphasizing his support for the shirts' design:
"I have created a collection of t-shirts that are a parody of pop culture. This particular collection of prescription tee's is simply a commentary on what I see happening in our society. Call it what you may, but art in all forms is created off of pop culture and the social situations that surround it. A large percentage of Americans are prescribed these drugs by doctors every day for legitimate reason. These are not illegal substances. These tee's are not meant to encourage prescription drug abuse, but if they open the door to a much needed dialogue, as they seem to be doing now, then mission accomplished."
Mother Helen Woolardone, whose son died from a prescription drug overdose, questioned the effectiveness of Lichtenberg's T-shirt campaign, however.
"My son started with prescribed Vicodin~6 years later he died from a fentanyl overdose.... Good Job, Brian," she wrote. "I'm sure all the 14 year olds wanting to wear these are aware of the 'pop art statement' you're trying to make."
Published by Medicaldaily.com