President Of Argentina Cristina Fernandez Ordered To One Month Of Rest After Brain Bleed Discovered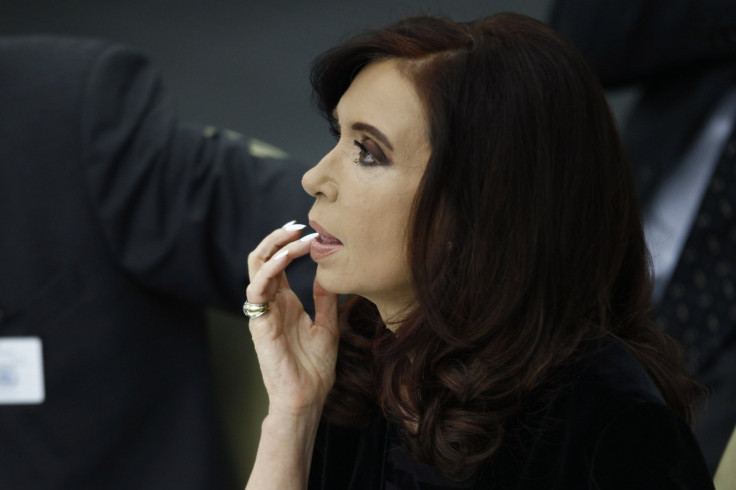 Doctors ordered Argentinian President Cristina Fernández de Kirchner to one month's rest after a chronic subdural hematoma was discovered in her brain, a spokesman announced on Saturday.
"The president had a cardiovascular study done in the Fundacion Favaloro and, given that she had head pain, they did neurological studies, diagnosing a 'chronic subdural collection' [bleeding on the brain], and they ordered her to rest for a month," said a statement released by her administration, which was signed by the president's doctors.
A subdural hematoma is the collection of blood on the surface of the brain that usually results from the tearing of veins due to skull trauma, according to the National Institutes of Health. Symptoms of a subdural hematoma include headache, lethargy, confusion, and visual disturbances. More serious symptoms could include seizures and loss of consciousness, while some hematomas may have no symptoms at all.
On Aug. 12, 60-year-old Fernández suffered a previously unannounced head injury. A CAT scan showed no abnormalities in her brain and she reported no symptoms. This Saturday, she went to the hospital to be evaluated for an irregular heartbeat. Because she also had a headache, doctors reassessed her head again using a CAT scan, revealing a bleed that likely had been developing slowly since her injury.
Doctors will continue to monitor the hematoma using high-tech imaging, according to the statement. The treatment and outlook of a hematoma vary widely depending on the severity of the bleeding. In the case of an emergency, in which a hematoma exerts pressure on the brain, the blood may be drained through an opening created in the skull. Medications to reduce swelling and prevent seizures may be taken.
It is unknown whether President Fernández will continue to preside over the country from her home or whether she will hand over her responsibilities to Vice President Amado Boudou. She will be unable to campaign on behalf of her party for congressional midterm elections on Oct. 27.
Earlier this year, Fernández underwent surgery to remove her thyroid gland as a precaution against cancer, although it was later determined that no cancerous cells were present. Fernandez also suffers from chronic hypertension, a condition which her requires to rest frequently.
Published by Medicaldaily.com