President Taft's Low-Carb Diet Shows That Weight Loss Regimens Haven't Changed Much Over The Past Century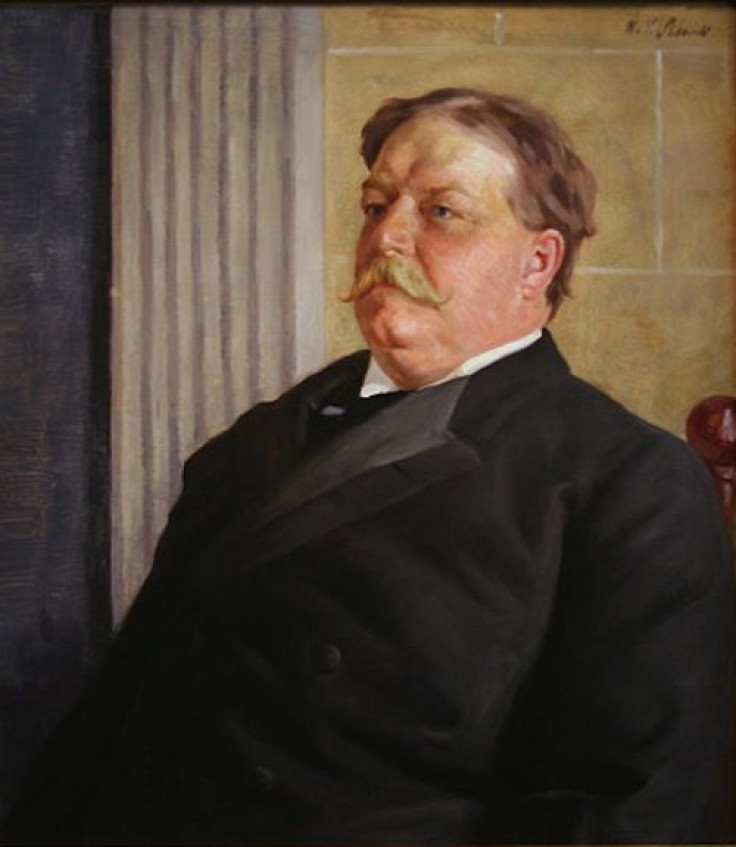 We may know it as the low-carb diet, in which high-carb foods, such as bread, pasta, and soda, are replaced by foods such as lean meats, fish, and vegetables. But before it was called the low-carb diet, and even before carbs were a thing, people trying to lose weight were reading Dr. Nathaniel E. Yorke-Davies' books on dieting, and forgoing the carbs. One such man was none other than the 27th president of the U.S., William Howard Taft.
Four years before his inauguration in 1909, Taft was struggling with his weight. He was the butt of jokes, newspaper cartoons, and articles. At over 300 lbs., he was having problems sleeping, he was fatigued, and he constantly had indigestion and heartburn. He consulted London-based Dr. Yorke-Davies, who was just beginning to discover the links between obesity and overall health, and asked him for help in losing the extra weight.
Taft's effort to lose weight and the way he did it show that weight loss strategies have remained unchanged for most of the last century, said Deborah Levine, a historian in the Department of Health Policy and Management at Providence College, and author of a study analyzing 10 years worth of letters between Taft and Dr. Yorke-Davies.
Taft's Correspondence To Dr. Yorke-Davies
Taft's letters provided detailed information about his diet, his exercise routines, and even his bowel movement. He measured his weight every day and sent reports over to Dr. Yorke-Davies. In return, Dr. Yorke-Davies encouraged Taft to become physically active, and outlined a comprehensive dieting plan. "He did calisthenics and other exercises with what he called a physical culture man, which we would call a personal trainer," Levine told USA Today.
His diet plan consisted of lean meats, fish, clear soups, vegetables, fruit, and gluten biscuits, and the way in which he cooked these were just as important. Butter, sugar, and milk were among the "forbidden" foods. Overall, the diet was about 30 percent carbohydrates, 30 percent protein, and about 40 percent fat, making up 2,000 to 2,1000 calories per day, Catherine Champagne, a professor of dietary assessment, told USA Today.
Dieting Strategies Remain Unchanged
By sticking to this plan and keeping a food journal, he went from 314 lbs. to 255 lbs. within a year; however, by the time of his inauguration, he weighed in at 354 lbs. "Willpower can only last so long, even if you're president of the United States," Dr. Eric Rimm, an associate professor of epidemiology, who wasn't involved with the study, told Time. "He just got fed up with it and thought it was boring and gained all the weight back and more. That's the classic problem we still see today."
Adhering to a diet is by far one of the most daunting tasks of any weight-loss intervention. Sticking to a strict diet is tough, and many people don't feel full after they eat — possibly a result of their stomach's inability to sense fullness. Contemporary doctors also believe that having the occasional cheat day is okay. "People treating themselves occasionally might be a good thing, and it keeps things in perspective," Rimm told Time.
Taft continued to gain weight and lose it again — losing another 70 lbs. in 1913 — however, he died in 1930, at 73 years old, from heart failure. Heart failure is among a slew of obesity-related problems that emerged in the early 1900s. Obesity is linked to coronary heart disease, high blood pressure, type 2 diabetes, breathing problems, and certain types of cancer, according to the National Institutes of Health.
Source: Levine, D. Corpulence and Correspondence: President William H. Taft and the Medical Management of Obesity. Annals of Internal Medicine. 2013.
Published by Medicaldaily.com