Preventing Injury Using Smart Textiles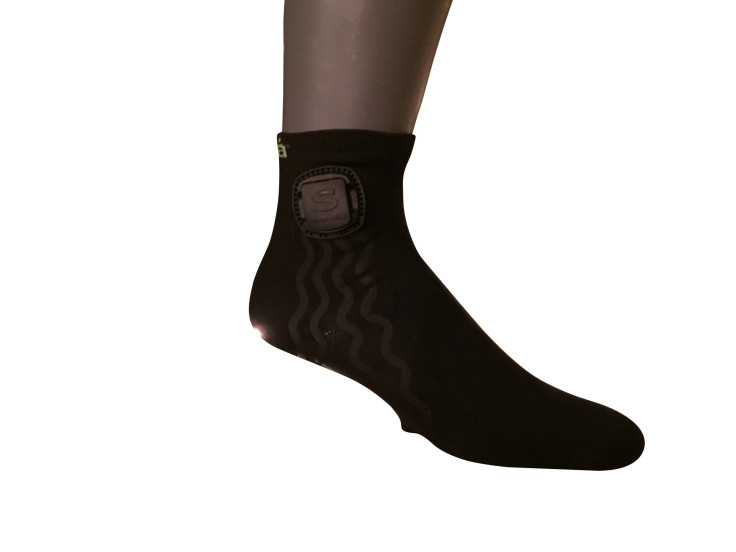 It's a trend that began with sensor-equipped socks for people with diabetes, particularly those with nerve damage. This damage makes them more prone to foot ulcers that can lead to amputations.
Now the smart technology woven into those socks is being tested in other designs, for the sole purpose of preventing injury: for people in wheelchairs, for those with Parkinson's Disease, even for runners to avoid foot, knee, and back injuries.
The technology is called "smart textiles," in which sensors are introduced into the fabric's weave. People with diabetes use them to detect changes in temperature and moisture. The sensors communicate the biometric data to doctors via an app, allowing the problem to be addressed before the patient is aware of it.
Using smart textiles to protect injury-prone people is part of the human extension of the Internet of Things. Just as your car, home appliances, and other devices are increasingly connected, the "Internet of Me" is evolving to keep your body in good working order by collecting and analyzing your personal health data.
Why People with Diabetes
By playing a role in early diagnosis, this seemingly ordinary piece of clothing helps to prevent the most devastating consequences of nerve damage. Globally, nerve damage affects the feet and lower limbs of 40 to 60 million people with diabetes. Known as peripheral neuropathy, it can lead to foot ulcers, the underlying cause of more than 80% of lower limb amputations.
The condition leaves patients with a loss of sensation in their feet. So they may be unaware when their feet get hot or sweaty, which increases the risk of blisters. If the loss of sensation is severe, they may not feel the blister and so may not treat it. At the same time, their diabetes-related poor circulation can stall or derail the healing process, leading to ulceration. Wound care, which is not always successful, can take many months, raising the risk that the infection will escalate. If it does, amputation can ensue.
In the past two decades, improvements in preventive medicine have reduced the need for surgery cutting the surgery rate in half. Smart textiles could further progress in reducing the number of amputations.
Any advancement in treating this disease is no doubt a welcome event. Diabetes rates are remarkable: the International Diabetes Federation projects that while 463 million adults ages 20 to 79 live with it today, that number could hit 700 million by 2045,
Protoypes
Sensor capabilities have sparked launches of start-up ventures around the world. They are at various stages of commercializing the technology. Classified as medical devices, smart socks must meet regulatory standards in the countries where they're approved for sale. Patients get them through prescriptions that must be renewed periodically.
In the US, for example, smart socks must be approved by the Food and Drug Administration, at which point they qualify for coverage under Medicare. One brand already approved and on the market is made by Siren Care. In a 2018 study, academic and company researchers found that "continuous temperature monitoring has emerged as a promising tool which could serve as an early warning system for the management of foot ulcers." (Siren Care declined to be interviewed for this article.)
The insidiousness of diabetes includes its lack of symptoms for a few years before actual diagnosis. The IDF estimates that in 2019, one in two people with diabetes—232 million globally—were undiagnosed.
A number of years ago, Trevor Schofield was one of the undiagnosed. An engineer with a background in textiles machinery, he was working in China in 2012 when he developed a foot ulcer that deteriorated despite treatment with antibiotics. His illness escalated to systemic sepsis. He returned to Belfast, where he is CEO of the start-up Bioflex Yarns Ltd. Diagnosed with Type 2 diabetes, he required a below-the-knee amputation .
Three years later, when he developed blistering and ulceration in the surviving foot, he founded Bioflex to develop his own version of smart socks.
The Sensoria story
Today, with the smart textile capability established, "pretty much any piece of garment and footwear that you can imagine, even accessories," can be fitted with sensors, said Davide Vigano, co-founder and CEO of Sensoria. The company is working with Rancho Los Amigos National Rehabilitation Center to develop "a smart cushion to reduce risk of ulceration for wheelchair users," he said in an interview with Medical Daily. The cushions have an insert to hold the textile pressure-sensors.
Sensoria's product line includes socks with pressure sensors that monitor impact and foot landing technique. The information generated by the sensors helps runners to avoid injury and therefore know which types of shoes will offer them the best protection for their running style. Sensoria is also working with the Cleveland Clinic on "a knee brace that collects and monitors rehab of patients remotely." That idea is particularly timely in a pandemic, Mr.Vigano noted, as treating physical rehabilitation patients outside of a medical facility, especially those with co-morbidities, is a primary goal.
The company also foresees using textile-generated data to help people with Parkinson's disease to avoid falls. The sensors alert them to problems with their gait or balance. It is working with the Michael J. Fox Foundation on customizing the socks for that application.
Sensors also can promote diagnostic accuracy. "For the first time, we can combine the quantified data and have a much more meaningful patient-clinician interaction," Mr. Vigano said. Medical professionals can compare sensor-generated and self-reported information to get a fuller picture of patients' conditions.
The innovation doesn't end with sensors, said Alison Gault, senior lecturer in Fashion and Knit Textile Art, Design and Fashion at Ulster University's Belfast School of Art, who is collaborating with Bioflex on research. Nanotechnology, she said in an interview with Medical Daily, could make it possible for the fibers to become smart.
Ms. Gault and Bioflex have submitted a patent for a composite fabric. The fabric is designed to work with or without sensors and is expected to have a variety of medical applications.
The takeaway here: At the moment, it is people with diabetes who find they are benefiting from this injury-prevention technology, while their medical teams find they have one more resource to help their patients. Down the road, other consumers, other medical teams, could be finding the same things.
Randy B. Hecht writes about medical and other emerging technology and material science.
Published by Medicaldaily.com