Princeton University Meningitis B Outbreak Prompts Use Of Bexsero, A Vaccine Not Approved For Use In The US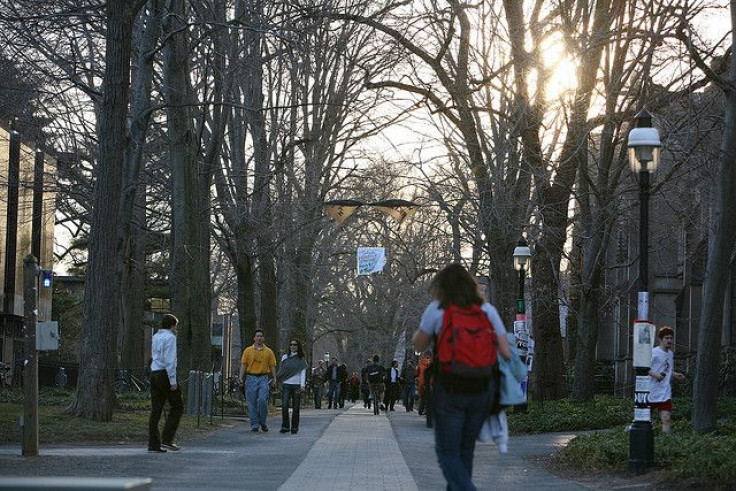 Princeton University has seen confirmed cases of meningitis from six students and one visitor to its campus since March. Administrators at the prestigious school confirmed Monday that Bexsero, a meningitis B vaccine that hasn't been approved in the United States, may be made available to students and faculty as early as December to avoid further spread of the disease.
Meningitis is an infection that causes inflammation around the brain, spine, or both. The infection can be caused by virus, bacteria, or fungus. But bacterial infections, like the ones on Princeton's campus, are the most serious and could be deadly. Symptoms of meningitis are comparable to those for the flu (i.e. fever, headache, nausea, etc.), but they advance very quickly. The Mayo Clinic suggests notifying a doctor immediately if you experience unrelenting headaches, confusion, or stiff neck.
"The bacteria are spread from person to person through saliva or other respiratory secretions. The infectious period for meningococcal disease is considered to be from 10 days before the person becomes ill to one day after he or she starts on antibiotics," the New Jersey Department of Health said in a statement. "This means that people who were in close contact with the sick person during this time are at higher than average risk to get meningococcal disease. You must be in close contact with a sick person's secretions in order for the bacteria to spread."
Bexsero is a vaccine made by Novartis. It is specifically used for the prevention of type B meningococcal bacteria ("meningitis B"). Though New Jersey state law requires that all students receive meningitis vaccines before living in college dorms, the vaccine provided does not protect against meningitis B, which is the strain that is spreading on the campus.
"The vaccine that is being recommended is licensed for use in Europe and Australia, but not the United States. The CDC and the Food and Drug Administration would allow the use of this vaccine for this particular situation at Princeton," said a statement released by the university on Monday. "Students who already received a meningococcal vaccine are not currently protected against serogroup B, the bacteria causing the outbreak at Princeton."
According to the Associated Press, the Food and Drug Administration (FDA) approved importing the vaccine last week for use at Princeton. Pending U.S. Centers for Disease Control and Prevention (CDC) approval, the university has made arrangements to have the vaccine available to undergraduate students, graduate students living in dorms, and individuals on campus who have conditions that make put them at an especially high risk as soon as possible. The university is prepared to cover the cost of the vaccine, which will be administered by Maxim Health Systems.
But students who spoke to the Associated Press about the outbreak didn't seem too worried at all.
"I guess I'm kind of a fatalist, so I figure if it's going to happen to me it's going to happen, but, yeah, if we have access to the vaccine, I'll probably get it," said 20-year-old Jake Robertson.
"I'm honestly not too worried," said Paul Przytycki, a graduate student in computer science. "When the vaccines come in, I'm going to get vaccinated just to be safe, but no one I know has been affected, so it's not too scary yet."
Published by Medicaldaily.com