Pro-Life Doctors Banned From Giving Abortion Presentation At International Conference For Women In Medicine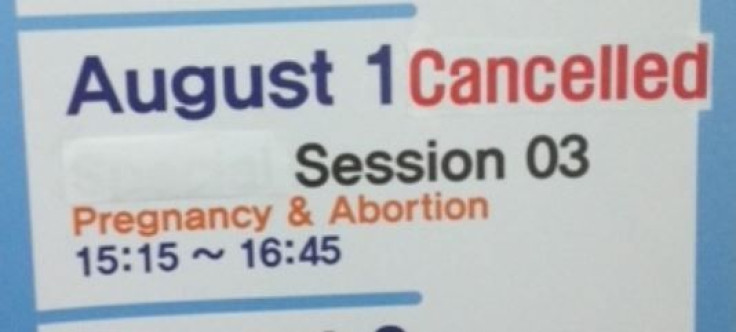 A group of pro-life doctors was banned from the 29th International Congress of the Medical Women's International Association (MWIA) in South Korea last week. The program invited a faculty of experts from all over the world to share their knowledge of and experience with this year's theme, "Medical Women Advance Global Health."
The three obstetrician-gynecologists that were banned last-minute from the conference said they were surprised because, although the presentation would have detailed the risks of abortion, it was "straight academic talks."
The doctors are from the American Association of Pro-Life Obstetricians and Gynecologists (AAPLOG), an organization that consists of 2,500 members and associates whose purpose is to "reaffirm the unique value and dignity of individual human life in all stages of growth and development from fertilization onward," according to AAPLOG's website.
The doctors, who had traveled from the United States, were officially invited to the event, but their presentation was suddenly cancelled the night before it was scheduled to take place.
"It wasn't any kind of advocacy position about what any nation's abortion laws should be or anything like that," Dr. Mary Davenport, one of the three pro-life doctors, told The Daily Caller. "But we find this all over — that due to political correctness there's some things you can't say."
Officials from the MWIA said that the pro-life presentation was a "politicization of women's reproductive health" and that the speakers "would deny women their basic right to choice."
The conference was located in Seoul, South Korea, which currently stands with a 60-year-old ban on abortions. Abortion was banned in South Korea in 1953 with exceptions in cases of rape, incest, or severe genetic disorder. However, activists say that authorities didn't strictly enforce this constitutional law until recent years due to South Korea's low birthrate.
"The Korean people wanted to heart what we had to say," Davenport told The Daily Caller. "But I guess they were overruled by the leadership of this particular organization."
The cancellation attracted a lot of attention to the MWIA. In response, Dr. Anna Choi, a pro-life Korean obstetrician who had originally invited the three doctors, arranged a press conference for the doctors.
However, the conference was quickly cancelled. Davenport said that they were forced to move to a different location to complete the interview because of protests from Korean journalists. Davenport also said two European conference attendees taunted, photographed, and tried to grab her group's translator but another Korean reporter interjected.
"It was quite something. I had never seen anything like that at a conference," Davenport said.
Immediately afterwards, the MWIA issued a press release in order to explain the ordeal. "MWIA is proud to stand for women's rights," the statement read.
However, it was the president of MWIA, Professor Afua Hesse, who owned up to the controversial decision and said, "As President I have intervened to ensure that there will not be such presentations that have no scientific merit and threaten women's reproductive rights and therefore do not belong at our triennial meeting."
Choi's invitation to the American pro-life doctors was an attempt to call attention to the country's widespread and frequently illegal rate of abortions. The U.S. isn't too far behind with its battle to find the right answer when it comes to a mother's right to choose. According to a Gallup study, the percentage of pro-choice Americans is at the record-low of 41 percent, with now over half of U.S. citizens calling themselves pro-life.
Published by Medicaldaily.com