Professor Chezy Barenholz On a CBD-Powered Revolution in Pharmaceuticals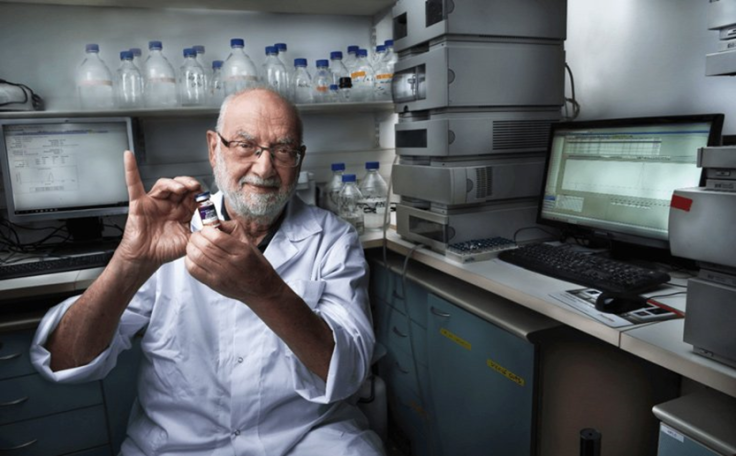 The pharmaceutical industry is going through a CBD-fueled revolution, and Professor Chezy Barenholz, the main inventor of anti-cancer drug Doxil ® (the first FDA approved Nano-drug) with which over 1 million cancer patients were treated globally, is leading the way. Professor Barenholz is the Head of the Laboratory of Membrane and Liposome Research at the Department of Biochemistry of the Hebrew University-Hadassah Medical School in Jerusalem. For the last four years, Chezy and his team of scientists have partnered with Innocan Pharma to develop new pharmaceutical CBD solutions to treat ailments including pain, inflammation, and epilepsy.
The reason for this revolution? According to Prof. Bareneholz, "CBD-loaded medicines are safer and longer-lasting than common alternatives like steroids and are able to be delivered to the brain and central nervous system effectively."
Professor Barenholz's experience before partnering with Innocan Pharma includes more than 50 years of research and development (R&D). He led the development and approval of the anti-Cancer drug Doxil, has held the Executive Editor title for Progress in Lipid Research and has written over 430 publications. Professor Barenholz has been instrumental in securing more than 55 patent families and Dozens of different pharmaceutical developments. For his major contribution, Professor Barenholz received many national and international awards of which the last one was the Israeli 2020 Prime-minister "EMET" prize in Nanotechnology.
The partnership with Innocan Pharma is focused on CBD-loaded liposomes which they hope will be commercialized to help a large part of the population. According to Barenholz, recent developments they have made are "unique and superior to other drug delivery formulations of CBD". When CBD is administrated orally, most of it gets quickly degraded in the liver. So, despite supporting research encouraging the use of CBD for pain and inflammation, there is currently no ideal formula or delivery method on the market.
Professor Barenholz, together with Dr Ahuva Cern who has many years of experience with cannabinoids, are managing this project at the Barenholz', where they, together with their team, facilitating exact dosing and prolonged and controlled release of CBD. The platform uses liposomes to release the CBD to the blood in a controlled way over a long period of time.
"Our goal is to create a medicine that can be delivered via sub-cutaneious injection to enable a slow and controlled release of the CBD that could be injected to, or even be self-injected, every 3-4 weeks," says Barenholz.
As of today, tests on small and big animals (dogs) showed the drug holds the potential to be more potent and less toxic than other drugs used to treat the same indications. The team accomplished their first hardline milestone when the first indication of the drug received the necessary approvals for more trials to begin.
Barenholz's team has already successfully tested an LPT liposomal CBD injectable formulation on mice, and has even delivered promising results in veterinary clinical trials designed to treat dogs. A case report featuring the formulation was published in Frontiers in Veterinary Science, giving details about the CBD analgesic being administered to a 14-year-old dog who reportedly suffered from pain, osteoarthritis, and testicular neoplasia. The dog was monitored using various methods, including an activity-sensing collar, owner feedback, blood tests, and other examination techniques. One week after the injection, the dog showed improved mobility and decreased pain. Blood tests showed that CBD remained present in the dog's plasma for 28 days after the first injection. Innocan Pharma's CEO, Iris Bincovich, said she was thrilled that the case study showed "initial evidence of the efficacy of our formulations and drug delivery systems."
Professor Barenholz shared that the next step for his team is to scale up and mass produce this groundbreaking product, making it eligible for further clinical trials and commercialization. In the pharmaceutical industry, the odds of getting a drug to market range as low as 6%, so we asked if we should expect to see the drug available to the public anytime soon. Barenholz responded, "Innocan's chances of bringing the drug to market are good."
We take this industry veteran at his word.
Published by Medicaldaily.com