Prostate Cancer Awareness Month: Man Living To The Fullest With Advanced Stage Cancer 'Will Not Define Me'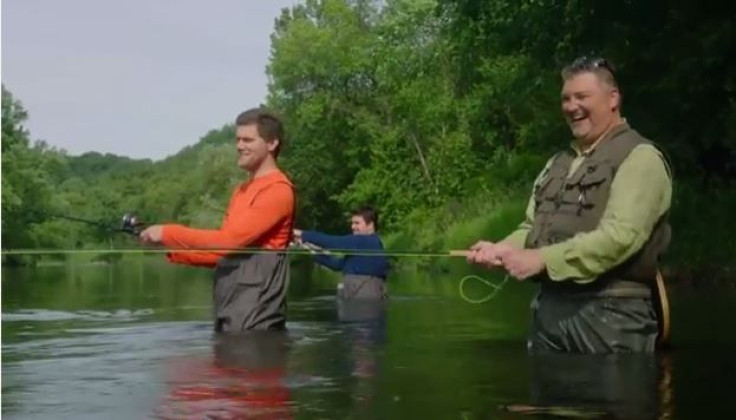 Nobody is ever prepared to be diagnosed with cancer. I can tell you from personal experience that I definitely wasn't. Between managing my career, being there for my three sons, finishing orthoscopic treatment on my knee, and supporting my wife through the loss of her stepdad—I already had a lot to juggle before the two words – "prostate cancer" – escaped my doctor's mouth and tore their way into my world.
My immediate thoughts included: "How could this be possible? Why me? What about my kids? What about my wife?"
Sitting on the cold, rigid exam room table, my ears were ringing and an infinite stream of questions ran – rather sprinted – through my mind. I was shell shocked.
Getting diagnosed with an aggressive form of prostate cancer was the beginning of a roller coaster with my health and my outlook on life. With no family history of prostate cancer, I was stunned and confused by the diagnosis. I was left with a decision: Wallow in my confusion, or fight to live life to the fullest starting by making a determined effort to understand the disease.
I wanted to watch my sons graduate from high school, and then again from college. I wanted to spend a summer camping out west with my wife Patti. I want to toss on my waders and fish for trout next season at the river near my house. By reflecting and taking an inventory of all of the things that I wanted to see and do, I realized the necessity of adopting a positive attitude, for my own sake and for the sake of those I love.
I began to soak up all of the information I could find. By connecting with others going through the same diagnosis via online support groups and by voraciously reading materials on the topic of prostate cancer, I armed myself with a wealth of knowledge. This newfound understanding offered me a sense of autonomy when it came to managing prostate cancer and taking back control of my life.
I began to feel in control and able to work with my doctor to determine the best treatment plan for my life. The information I uncovered through online resources and support groups allowed me to be an active participant in the dialogue with my physician.
However, beyond the doctor's office, I realized that prostate cancer isn't a journey anyone should have to do alone. My wife Patti has been a critical part of my story – shifting selflessly into the caregiver role. She has familiarized herself with all aspects of my treatment journey – from current medications, treatment regimen, issues I may experience, but most importantly, she has been my rock—always there to listen and support me.
I am also involved in online prostate cancer support groups, which has been a crucial component in helping me to open up. These groups give patients the ability to complain, celebrate victories – small and large – or just chat with those who can completely relate to my emotions and experiences.
Prostate cancer is now a footnote in my life, rather than a defining chapter. If someone had told me while I was in the exam room on that dreaded day of the diagnosis that this would be my outlook on life today, I wouldn't have believed them. But here I am. Through my experiences with this disease, I have come to realize the wealth of knowledge living with prostate cancer has afforded me.
When thinking of my three sons, their friends, and all their classmates—I'm reminded of myself when I was younger. I want these young men to recognize that every day we have a choice about how we live our lives. There are no excuses for giving up, even when you feel like you have been knocked down. Keep fighting for yourself, the journey, and the ones you love. Each day is truly a gift.
Becoming informed about prostate cancer gave me the courage to take control of my life, but it's looking forward to creating new, unforgettable memories with my loved ones that gives me the courage and the drive to continue on.
Bio:
Rob is 52 years old and lives in Eden Prairie, Minn. with his wife, Patti. They have three sons. Prior to retiring, Rob used to work as a CFO for a Minneapolis-based technology company. Now, in his retirement, Rob enjoys biking, camping, fly fishing, and cooking with his family.
Published by Medicaldaily.com