Psoriasis Causes Stress And Depression — For Family Members; 88% Report These Effects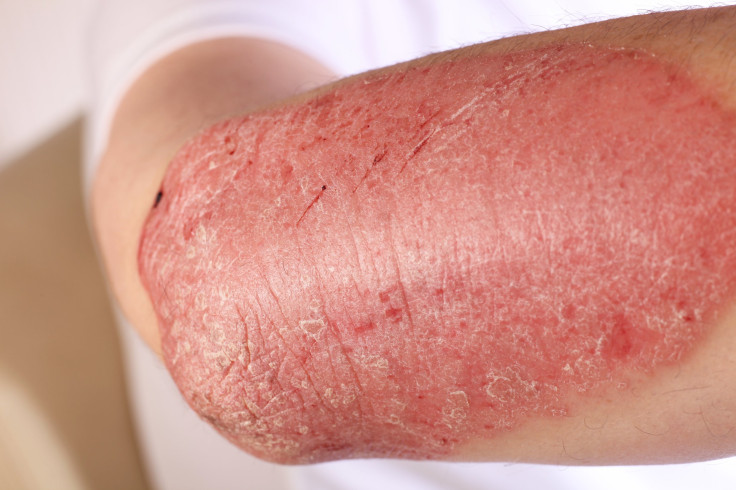 Psoriasis doesn't just stress out those living with the conditions; according to a new study, family members of those suffering from psoriasis also report that the condition causes them depression and anxiety.
A team of researchers in Spain looked at 130 adults, including 34 individuals with psoriasis, 49 individuals living with someone suffering from the condition, and 47 people not associated with psoriasis, Reuters reported. Results showed that psoriasis patients and their loved ones experienced decreases in their quality of life. "The number of studies per year about quality of life in psoriasis keeps growing year after year, and thanks to these studies, we know that psoriatic patients have an impairment of their quality of life as well as higher levels of anxiety and depression, feelings of stigmatization, higher risk of suicidality, and lower employment rate, among other problems," Dr. Eliseo Martinez-Garcia, lead author of the study, told Reuters in an email.
Psoriasis has previously been linked to an increased risk of cardiovascular and autoimmune disease, and more occurrences of infection, but not many studies have revealed how the condition affects loved ones of psoriasis sufferers. Results were achieved by asking participants 10-question surveys. The questions were aimed at determining the participants' depression and anxiety levels. It was found that the condition impaired the quality of life for 88 percent of those living with an individual who experienced psoriasis, Reuters reported.
Results from this study can be used to help develop new approaches to psoriasis that consider the condition's effects on family members. According to Martinez-Garcia, this is an area that "has been largely ignored." Martinez-Garcia adds that, in her opinion, a lot of psoriatic patients would be surprised about how much their condition could be improved by including family members in treatment options. "Moreover, some centers and patients associations are already providing specific psychological support for these patients."
Psoriasis is a more or less common skin condition that affects as many as 7.5 million Americans. The condition changes the life cycle of cells, causing them to rapidly buildup on the surface of the skin. This causes thick silvery scales and itchy, dry, red patches that at times can cause the individual a great deal of pain. There is currently no cure and treatment is aimed at giving those with the condition relief from its often painful symptoms. The cause of the condition is also largely unknown, however, it is believed to be related to an immune system problem with cells in the patient's body, according to Mayo Clinic. Outside sources such as stress, weather, and certain medications can also prompt a psoriasis outbreak.
Source: Martinez-Garcia E, Arias-Santiago S, Valenzuela-Salas I, Garrido-Colmenero C, Garcia-Mellado V, Buendia-Eisman A. Quality of life in persons living with psoriasis patients. Journal of the American Academy of Dermatology. 2014.
Published by Medicaldaily.com