Finnish 'Pulled Oats' Maker Wants A Bite Of The Meat Substitutes Market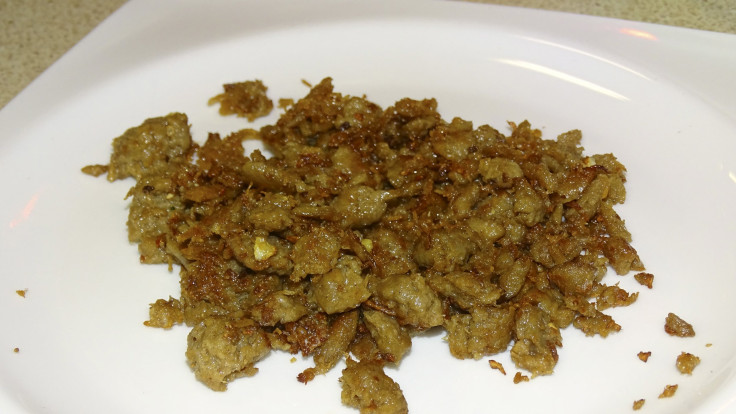 Nordic oats and broad beans are the main ingredients for a new plant-based product that looks like pulled pork and tastes a bit like chicken which a Finnish start-up company hopes will soon be tempting consumers' growing appetite for meat substitutes.
Maija Itkonen and Reetta Kivela, founders of the Finnish food technology start-up Gold & Green, call the product "pulled oats".
"The oats are sheared and heated under the right conditions and combined with the beans. The amino acids that are lacking in oats are in the beans, so they are a good combination," said Kivela, a food scientist, at a lunchtime tasting session in a local restaurant in Helsinki.
"We have patented our production method that allows us to produce the fibrous texture of oats and beans" she said.
The company now aims to have products in stores in Finland and Sweden by the end of the year.
"We want to first prove our point in our home market and then look for licensing opportunities for further expansion," Itkonen said.
Consumers have already embraced protein-packed meat substitutes made from wheat, soy and other beans, while newer companies are pushing boundaries with products based on fungi and insects in a global market worth $1.8 billion last year and projected to be worth $2.2 billion by 2020, according to Euromonitor International.
The two leading players, which each have about 13 percent of the market, are Kellogg, which owns the U.S. brands Morningstar Farms and Gardenburger, and Monde Nissin Corp from the Philippines, which last year bought British firm Quorn Foods for 700 million euros ($763 million).
Behind them are Nestle, Pinnacle Foods and Hain Celestial Group.
Itkonen and Kivela, both in their thirties, only started Gold & Green in April last year as a result of Kivela's research on oats at the University of Helsinki.
Industrial designer Itkonen, who is chief executive, brings her entrepreneurial skills to the venture, having founded wireless phone charger company Powerkiss in 2008 which was acquired in 2013 by Powermat Technologies.
Gold & Green says its product stands out from soy-based foods because it is a non-GMO and potentially gluten-free alternative and unlike the mycoprotein meat substitute Quorn, the oat-based product is also non-allergenic.
Nutrionist Heli Reinivuo from Finland's National Institute for Health and Welfare said the product promised to be a healthy alternative to meat.
"It has good quality protein and high protein content. It also contains fiber called beta-glucan ... I believe we could recommend the product to consumers once it's on the market," she said.
Gold & Green raised 300,000 euros last year and Itkonen said the company is now looking for a larger sum from its second funding round to set up and start production.
"It looks like a product that could strike a chord with the big trend of ecological consumption. In the western world, innovations in this sphere have a good chance of succeeding," said Niclas Catani, an equity analyst at OP Financial Group.
"It will hardly bring a revolution overnight but the start-up can nevertheless make good money out of it."
($1 = 0.9177 euros)
(Additional reporting by Jussi Rosendahl and Martinne Geller; Editing by Greg Mahlich)
Published by Medicaldaily.com