Alabama Baby Born Without A Nose Is One In 197 Million; What Is Congenital Arhinia?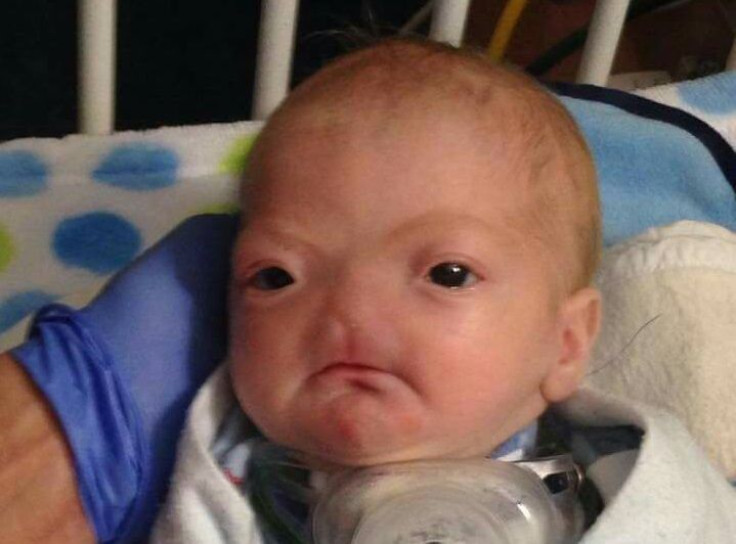 A baby boy born without a nose in early March got to go home on Monday.
Eli Thompson was born on March 4 at South Baldwin Hospital in Foley, Ala. But as soon as he was placed on his mother's chest, she noticed he had no nose. "I pulled back and said, 'Something's wrong!' And the doctor said, 'No, he's perfectly fine.' Then I shouted, 'He doesn't have a nose!'" Brandi McGlathery told Al.com. It was a shock for both her and her husband Troy Thompson, as well as the doctor who placed Eli on her chest, Dr. Craig Brown. Ultrasounds prior to Eli's birth had never shown any defects.
Doctors quickly took Eli out of the room to figure out what was going on. When they returned, he was wearing an oxygen mask, and he was able to breathe normally through his mouth. The fact he didn't have a nose "didn't faze him at all," McGlathery said. Eli was diagnosed with congenital arhinia, a rare disorder that has only appeared 43 times since first reported in 1931 — doctors said the condition occurs in one of every 197 million babies. Congenital arhinia can make it hard for babies to breathe and feed; however, there have been cases in which people with the condition live into adulthood. Eli doesn't have a nasal cavity of olfactory system either.
Eli underwent a tracheotomy five days after birth in order to help him breathe easier, and he's been a lot happier since, McGlathery said. However, they don't expect to put him through any reconstructive surgeries until he's well into puberty — the condition also affects his pituitary gland, which synthesizes and secretes many of the hormones involved with puberty.
Over the last month, friends of Eli's family have set up a Facebook page to keep everyone up to date on his progress. McGlathery also started a GoFundMe page to raise funds for travel and medical expenses, which her and her husband expect will continue to pour in as Eli faces years of tests, scans, and other procedures. So far, it's surpassed its $5,000 goal.
Published by Medicaldaily.com