Auld Lang Syne-Out: Facebook 'Year In Review' Invades Privacy, Upsets Users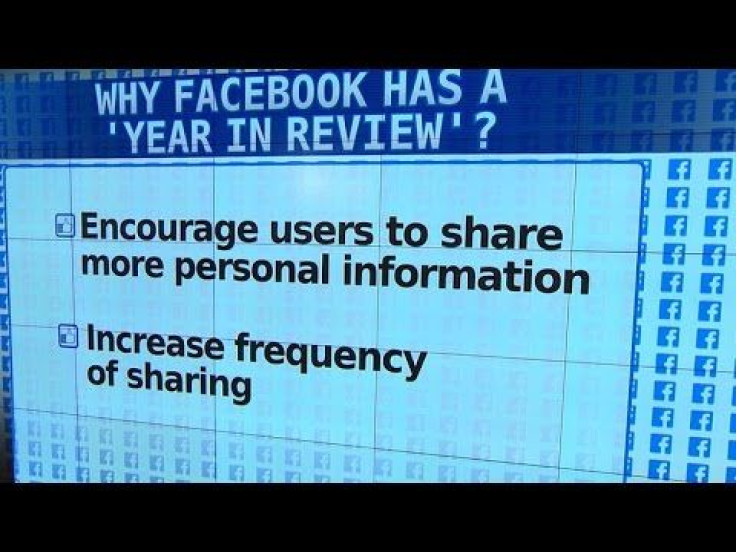 Facebook no doubt has a case of post-holiday blues after its "Year in Review" feature was met with outrage. The feature, which uses an algorithm to compile users' most shared and commented photos, upset users when their photos (and memories) set to private were shared with the public.
Nicholas Thompson, editor for NewYorker.com, is one such example. He sat with CBS This Morning and explained how pictures of his children went beyond his private circle and reached the public — something he did not want. Thompson cited other "Year in Review" mishaps, including one man who saw a picture of the daughter he lost earlier in the year. This grieving father said, "I didn't go looking for grief this afternoon, but it found me anyway, and I have designers and programmers to thank for it. In this case, the designers and programmers are somewhere at Facebook."
If not for the sad memories, Facebook users found the feature sappy and generic. Thompson said it exists at all because the social media network wants to encourage users to share more personal information and increase their frequency of sharing.
"Facebook makes money by knowing as much about its users so it can target ads," Thompson said. He added the network is a business disguised as a service.
That's not to say absolutely every Facebook user hates the feature. But a lot of the feedback has been negative. Since nostalgia can be beneficial — studies found it boosts mental performance and makes a person feel physically warmer — Thompson recommended users customize their "Year in Review" to ensure pictures aren't shared outside their circle.
Or, another idea: Keep the feature's results to yourself. You have to actively share it in order for it to really circulate, Thompson said.
Published by Medicaldaily.com