'Concussion' Movie Starring Will Smith Was Reportedly Cleaned Up To Avoid NFL Backlash: How Bad Was It Supposed To Be?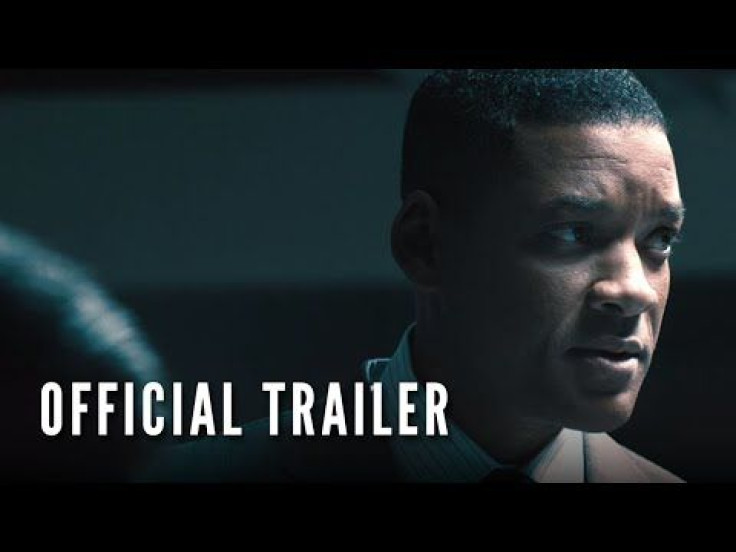 It's not every day that a movie trailer sends shivers down the spines of NFL execs. Sony Pictures released the trailer for Concussion this past Monday and, as the name would suggest, it doesn't seem like anyone ran it by the league's PR office. Much to the dismay of all parties involved, it seems hackers have uncovered emails between Sony execs, film director Peter Landesman, and Will Smith's representatives, showing that the movie was cleaned up to avoid angering the NFL. This, of course, begs the question: How bad was it supposed to be for the NFL?
"We are encouraged by the ongoing focus on the critical issue of player health and safety," the league said in a statement when asked to comment on the film. "We have no higher priority. We all know more about this issue than we did 10 or 20 years ago. As we continue to learn more, we apply those learnings to make our game and players safer."
In the film, which is set to release on Christmas Day, Will Smith portrays Dr. Bennet Omalu, the forensic neuropathologist whose work led to the discovery of chronic traumatic encephalopathy (CTE). In the trailer, Alec Baldwin, who plays Dr. Julian Bailes, refers to CTE as the NFL's "biggest boogeyman." One email dated Aug. 1, 2014 admits that some "unflattering moments for the NFL" were either deleted or changed. Sony's top lawyer is also accused of taking "most of the bite" out of the film "for legal reasons with the NFL and that it was not a balance issue."
"Will is not anti-football (nor is the movie) and isn't planning to be a spokesman for what football should be or shouldn't be, but rather is an actor taking on an exciting challenge," Dwight Caines, Sony Pictures' president of domestic marketing, wrote in an email dated Aug. 6, 2014. "We'll develop messaging with the help of NFL consultant to ensure that we are telling a dramatic story and not kicking the hornet's nest."
According to the leaked emails, the film was changed to emphasize the story of Omalu as the whistleblower who brought CTE to light as opposed to a condemnation of the NFL and the sport of football. Despite dozens of emails being posted to Reddit's WikiLeaks, the film's director insists that all changes were made to ensure they were portraying the story and all characters as accurately as possible. He also admitted that movie studios have to prepare for criticisms and backlash from all parties involved with controversial projects and work that is "based on a true story."
"We're just being smart because any large corporation will design a response to something it considers to be a threat to its existence," Landesman, who also wrote the movie, said in an interview. "We don't want to give the NFL a toehold to say, 'They are making it up,' and damage the credibility of the movie."
This is not the first time the NFL has been accused of pressuring its partners into dropping or altering projects that did not paint its intentions in the best light. In fact, this isn't the first time the league has tried to silence a project highlighting Omalu's discovery. Both ESPN and Frontline came under fire from the NFL over "League of Denial" — a documentary with a similar account of traumatic brain injuries and Omalu's work. ESPN ended up dropping its name from the project, but Frontline still ran it on PBS back in 2013 to positive reviews.
Published by Medicaldaily.com