Isabella Amaral, Morbidly Obese Woman, Makes Online Plea To Save Her From Lymphoma Tumor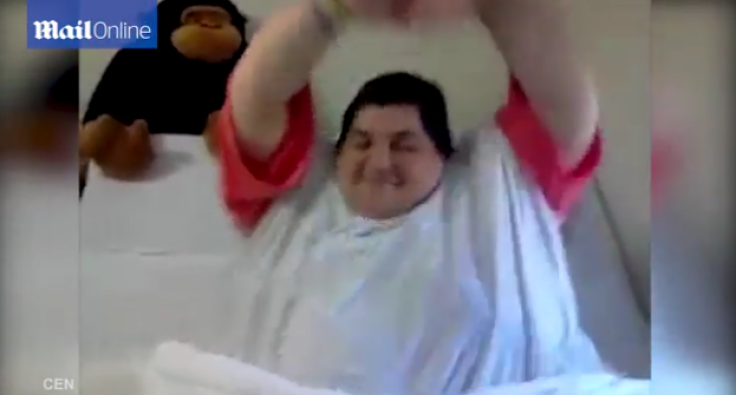 An Argentinan woman weighing more than 750 pounds is unable to go to the hospital after being left immobilized by a 112-pound leg tumor, the Daily Mail reported.
Isabella Amaral, of the province Rosario in Santa Fe, claims medics have denied her access to an ambulance because she's morbidly obese. Now, the 30-year-old has made an online plea in hopes the local government can transport her to the hospital for an urgent analysis. "They say it is impossible to move somebody of my weight in an ambulance, but I know it's a lie because they have done it with other people in my condition. They are leaving me to die!" she said.
Amaral, who has a lymphoma tumor in her left leg, repeatedly went to the hospital to get a diagnosis, but they did not operate on the tumor in time. Diagnosing lymphoma of the skin is often confusing because there are many types, and they are not very common. The American Cancer Society says experts use WHO-EORTC classification, based on how the lymphoma looks under the microscope, and whether there are certain proteins on the lymphoma cells (based on lab tests).
The tumor has slowed Amaral down since last April, resulting in immobilization and weight gain. She requires specialty care she cannot afford, but has no choice; her hometown Rosario does not offer resources for her treatment.
Now bedridden, Amaral depends entirely on her friends and family for support to help bathe, feed her, and keep her company. Amaral is in despair over her condition and how doctors have been treating her.
"I don't want to be evaluated over the phone or from a photo. I don't believe in the virtual stuff. The doctors who come to my house get scared, they don't even want to look at me, but I want to live. I need my heath," she said.
Amaral has taken matters into her own hands by telling her story to the media and sharing a video of her dancing for medical help. In the video, the high-spirited woman is seen on her bed dancing to Reggaeton, showing her enthusiasm for life. Her goal, however, is not to get money or donations.
"I want the whole world to know that they are refusing me the possibility to be attended to like I should be. They are pushing me to my death and they are going to achieve it."
There have been no updates on whether or not medics have responded to her plea since her interview. But her biggest fear is much worse than that. She said: "I'm scared that I'll go to sleep at night and never wake up again."
Published by Medicaldaily.com