Paralyzed Man, Erik Sorto, Takes Sip Of His Beer With The Help Of Robotic Arm And Brain Implants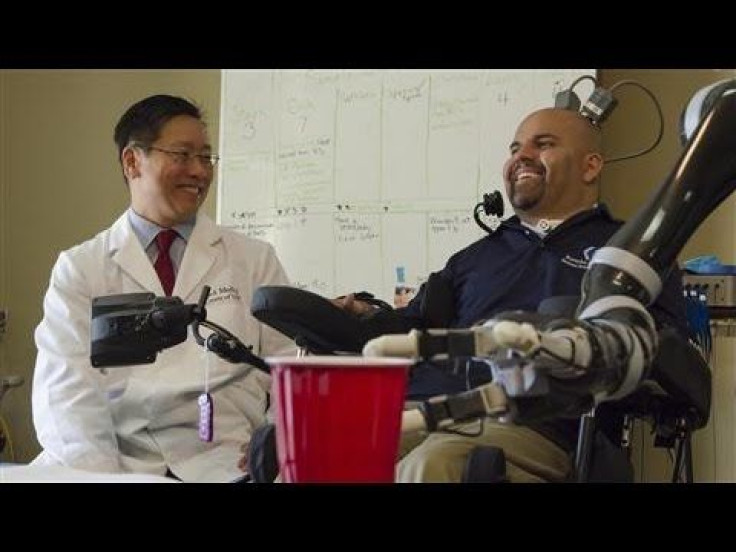 Having been paralyzed from the neck down for over a decade ago following a gunshot wound, Erik Sorto has longed for the simple things in life many take for granted. Sorto yearns for the day he can brush his own teeth, shave his own face, and — like most men — drink his own beer. Now with the help of scientists from the California Institute of Technology, Sorto is regaining his sense of independence and it all starts with the sip of a beer.
"I joke around with the guys that I want to be able to drink my own beer — to be able to take a drink at my own pace, when I want to take a sip out of my beer and to not have to ask somebody to give it to me," Sorto said in a statement. "I really miss that independence. I think that if it was safe enough, I would really enjoy grooming myself — shaving, brushing my own teeth. That would be fantastic."
The Caltech researchers and their colleagues from Keck Medicine at the University of Southern California have implanted neural prosthetic devices in Sorto and fellow quadriplegics that allow them to control a robotic limb. While neuroprosthetics have been generally focused on the brain's movement center, the research team found they were able to achieve more efficient results by activating the area of our brains that controls our intent to move.
"I was surprised at how easy it was," Sorto added. "I remember just having this out-of-body experience, and I wanted to just run around and high-five everybody."
Published by Medicaldaily.com