Surrogate Mother Gives Birth To Grandchild After Daughter Struggles With Infertility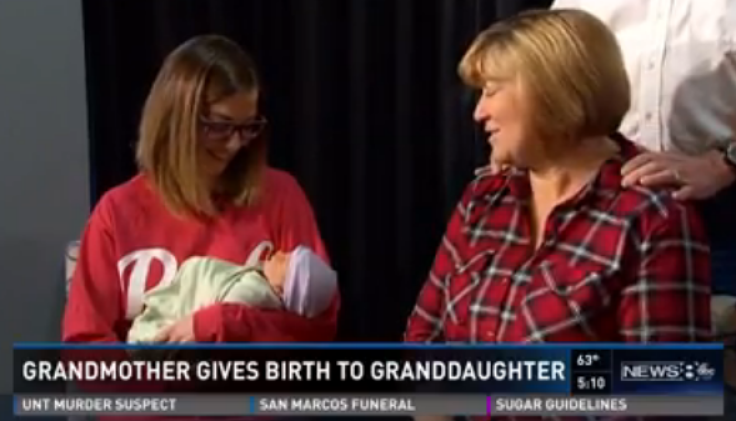 A grandmother in Texas got to experience the miracle of life — twice.
Fifty-four-year-old Tracey Thompson had the opportunity to not only give birth to her daughter Kelley McKissack, who is now 28 years old, but also to be the surrogate mother to McKissack's daughter. After multiple attempts at fertility treatments and three miscarriages, McKissack and her husband Aaron McKissack, 33, could not be happier with their newborn baby. Thompson gave birth to her granddaughter Kelcey on Wednesday, Jan. 6.
"She's beautiful, she's just perfect," McKissack told KHOU. "No one could give someone a greater gift — ever."
Following the miscarriages, the McKissacks only had four embryos left after a round of in vitro fertilization (IVF) — this was when Thompson offered to be a surrogate. During IVF, mature eggs are collected from the woman's ovaries and fertilized by sperm in a lab. The embryo is then transferred to the uterus. Thompson underwent stress tests, full evaluations, and hormones before completing the infertility treatment.
"Tracey was already seven years past menopause but in otherwise excellent health," according to the Medical Center of Plano. "Age alone is typically a limiting factor for childbirth and surrogacy. However, medical advances in assisted reproductive technology can allow for late-in-life surrogacy, under exacting supervision."
As such, Thompson's pregnancy was not easy. Her first and third trimester were especially hard, and she ran into complications during labor. Kelcey's heart rate started to drop too far, which prompted doctors to do a Cesarean section (C-section).
Though age is often a limiting factor for pregnancy, hormonal supplementation and assisted reproductive technology (ART) allow women to give birth even after going through menopause. In reality, women can give birth at any age when surrogacy is deemed safe.
Published by Medicaldaily.com