Quadruplets Born In Gaza Amidst Bloodshed: A Sign Of Hope And Optimism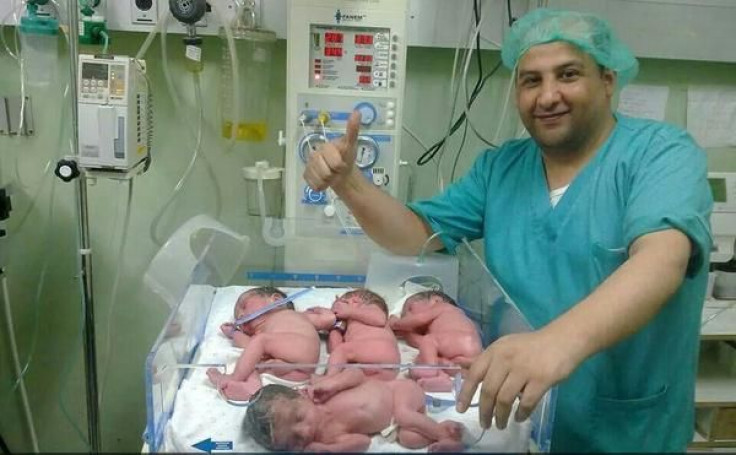 In the midst of the ongoing bloodshed in Gaza, a Palestinian woman safely gave birth to quadruplets on Wednesday — three boys and one girl, all of whom are doing well — in a hospital that has been frantically treating many of the conflict's victims.
Dr. Bassel Abuwarda, the physician who helped deliver the infants, posted a photo on Twitter of the healthy quadruplets, writing, "Despite the pain, Palestinian mother gave birth to quadruplets last night." The mother is from Rafah, near the southern tip of Gaza.
The conflict between Gaza and Israel has resulted in over 1,390 deaths and 8,000 injuries in Gaza over the past three weeks, according to the Palestinian health ministry. 59 people and 56 soldiers have been killed in Israel. Most recently, an Israeli attack on a UN school has prompted severe criticism and condemnation from the U.S., United Nations, the European Union, and other international humanitarian organizations.
Abuwarda posts on Twitter about the horrors of the fighting, including a boy who used a plastic bag and a helmet in the hopes of protecting himself from missiles; as well as a tiny infant bloodied and covered in dirt after being found in a bombed house that killed his mother. On one post, Abuwarda tweets: "To sleep and wake up on the sound of bombardments has become our daily routine. Not a peaceful moment whatsoever anywhere any time in #Gaza."
The conflict between Israel and Hamas, the government of Gaza, started about three weeks ago, when Israel launched "Operation Protective Edge" in response to missiles launched from the Hamas side. The fighting can be traced back to June, when three Israeli teenagers were kidnapped while hitchhiking in the West Bank and killed; Israel blamed Hamas. Israel arrested 300 Palestinians and 10 were killed in the aftermath, and on July 2, a Palestinian teenager was kidnapped and burned to death in retaliation; Hamas then began shooting off missiles that have reached farther north in Israel than ever before, spreading fear throughout the nation.
On Thursday, the U.S. and UN both announced that Hamas and Israel had agreed to a ceasefire lasting 72 hours and starting Friday morning. Israel's prime minister, Binyamin Netanyahu, declared that despite efforts for a ceasefire, the country would continue bombing "terror tunnels" connecting Israel to Gaza. "I will not accept any proposal that does not allow the army to complete this important mission for the people of Israel," Netanyahu said in a statement.
Abuwarda, meanwhile, posts that "u can burn up our homes, hospitals & schools But our spirit will never die We will not go down In Gaza tonight."
Published by Medicaldaily.com