Raging Bull Euthanized After Rampage Injures 8 At Dakota County Fairgrounds in Minnesota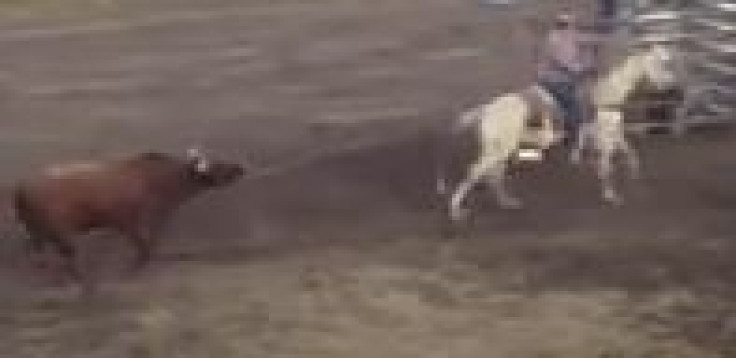 A "raging bull" went on a 15-minute rampage Wednesday night at a rodeo in Dakota County, Minnesota, according to Pioneer Press. While audience members panicked, deputies and horseback riding rodeo staff chased down the bull, eventually lassoing and then guiding the angry beast back to its pen.
Eight people, KARE 11 reported, sustained injuries, including back and head trauma.
"Red 43," as the bull was called, broke through a gate on his way to the pen on the east side of the grandstand at 8:25 p.m., Pioneer Press reported, and then ran toward an area heavily congested with fairgoers. Wisconsin-based Gold Medal Cattle Company leased Red 43 and other animals to Rice Bull Riding Company, which hosted the rodeo.
"We had thousands of people out there, and we had eight injured ... and are very fortunate there was not more," Dakota County Sheriff Dave Bellows told Pioneer Press. Officials euthanized the bull the following morning, Scott VanDerGeest, owner of Gold Medal Cattle, told Pioneer Press. "The animal had a visible injury to its neck, but it was unclear whether it was a gunshot wound," Pioneer Press reports.
Deputy sheriff Matthew Regis had shot at the bull twice with his Glock .40-caliber handgun only after the enraged beast rammed him. One of 32 bulls at the Dakota County Fair on Wednesday, Red 43 was known to be a "very docile" animal and "probably got spooked when people started chasing him around," VanDerGeest told Pioneer Press. "When you're chasing your pet, doesn't it get wilder and wilder?"
Soon, Americans in another part of the country will actually be paying out some of their hard-earned cash for a similar "thrill" as that experienced by the fairgoers in Dakota County.
Pamplona, USA?
On August 24, the Virginia Motor Sports Park will stage a "running with the bulls" similar to the famed event that takes place every year in the Spanish city of Pamplona. Similar events will be held in Atlanta on October 19 and Houston on December 7 of this year, while Florida, California, and other states sign on in 2014.
The Virginia event will host 1,000-lb. bulls, which can attain speeds of 35 miles per hour, running along a quarter-mile strip. According to the event website, "twenty-four bulls will be released in three waves of eight, roughly 15 seconds apart, and will sprint down the track in two to three minutes."
So can you really translate "The Great Bull Run" to a Virginia drag racing strip? Perhaps. But in this first of many American versions, participants must prove that they are 18 years old with a valid government I.D. and they will not be allowed to drink alcohol before the run. And, according to Reuters, participants will have to buy insurance.
... Which defeats the purpose, some would argue; still, injuries hurt, and concussions, sprains, and wounds, which have been frequent throughout the years at Pamplona, cannot be prevented by insurance. It is surprising to learn that only 15 people have been killed in the runs of Pamplona, according to Wikipedia, since record-keeping began in 1910. The Pamplona run is part of that city's Festival of Saint Fermin, which consists of an annual, week-long celebration of the locally-venerated saint on July 6 through 14.
Published by Medicaldaily.com