Raiders 'Chasing a Championship' with Palmer Aboard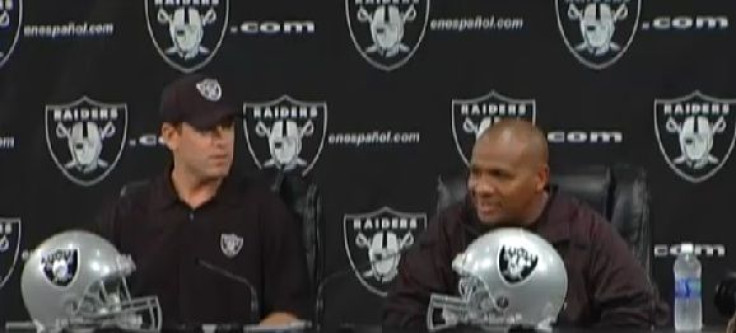 The Raiders organization is looking forward to the rest of the year with hope as it continues to keep its eye on a championship after acquiring virtually retired quarterback Carlson Palmer to captain the team's offense.
At a press conference on Tuesday, head coach Hue Jackson and Palmer fielded questions from reporters on how the decision was made, and what factors were considered in making the decision.
Jackson said he was still evaluating whether Palmer would start in the team's next game.
Jackson told reporters when quarterback Jason Campbell went down with an collarbone injury requiring on Sunday which required surgery, the team's leadership went through a list of possible replacements before settling on Palmer.
Jackson has a history with Palmer, whom he recruited to play at the University of Southern California. Jackson later was a coach with the Bengals, the only team that Palmer has played on during his eight years in the National Football League.
Palmer who had had chosen to retire from the NFL rather than continue playing for the Bengals unless they traded him would not discuss any details about why he made that decision, except to say it was time to "move on" for both the team and himself.
Palmer said late Monday night he received a text message indicating he was being traded.
He said that while he didn't know much about the Raiders organization, he knew it was dedicated to winning, where it had been and where it wanted to get back to. The Raiders last won a championship in 1983.
While Palmer's offensive statistics had been down in recent years, Jackson said other factors played a role in the acquisition.
"This is not about numbers. It's about the person. Because I know his heart. I know his passion. I know his dedication to the game," Jackson said.
"This guy can play and knows how to elevate players around him," Jackson said later on. "I think he's one of the best."
"What's gone on for Carson in Cincinnati and me is over. The future is now. The time is now and that's all I'm going to worry about," Jackson said.
Palmer was asked about trouble he had had throwing the ball deep downfield recently and if his arm had healed.
He said he had fully recovered from a 2008 elbow injury and could throw.
"Yes it has. That's my job to prove that I can do it and I'll do it," he said.
Palmer said that immediately after the conference he would begin to study the team and gain the knowledge necessary to become integrated with the offense.
Palmer said he "could not be happier for this opportunity," adding that he was "just excited to be here with this guy," acknowledging Jackson.
The deal was facilitated by Jackson's prior relationship with the Bengals, where he worked as a wide receivers coach. However Jackson noted that once talks began, multiple people in the Raiders organization spoke with counterparts on the Bengals.
Jackson said he was motivated for the year ahead.
"We're chasing a championship. I'm very excited for the future of the football team."
Published by Medicaldaily.com