Rape Awareness Campaign, Consent The D, Is Causing A Stir At DePaul University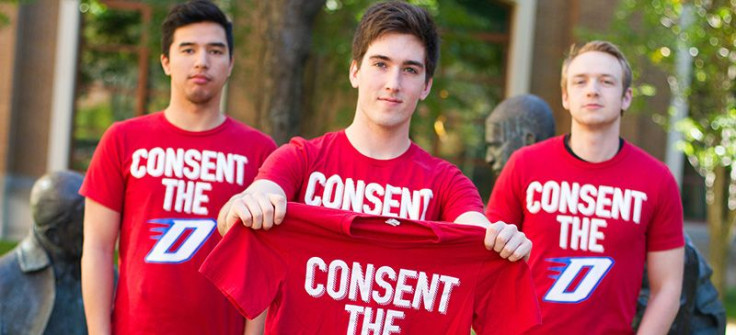 "Consent the D" is a non-profit, pro-consent movement a DePaul University student started to raise awareness about sexual violence — something there's no short supply of anywhere, but particularly on college campuses. Through Nov. 8, the movement hopes to sell a thousand, $15 canvas jersey tees that sport its name (a riff off basketball shirts that read "Fear the D") to generate funds for other non-profits fighting against sexual violence. It's long overdue, founder and current senior Randy Vollrath said. And yet, not all his peers would agree.
Scroll through the movement's Facebook page and a lot of the feedback is negative. There are students who find the movement appalling and aggressive (considering what the D is short for), while others believe Vollarth is trying to profit from activism women have championed for years. Other Facebook posts range from tips to both improve the movement and grammar. Though there are students showing up in support of the movement, too. Just ask Vollrath.
"We had some great early stage growth," he said. "There will be special events exclusively for people who have purchased shirts. We're cultivating a community around the cause. It's worth buying a shirt and following the page if only to be in on a big thing happening at DePaul."
We agree with Jezebel that involving men in rape awareness is both necessary and important in order for the number of (too many) occurrences of sexual assault to decrease. The White House was particularly adamant about this when they launched their second initiative earlier this year, It's On Us, in which you could have guessed means it's on all of us to stop sexual assault. In a press conference, Vice President Joe Biden cited research that found one in five women in college is sexually assaulted.
It's not always a stranger either. In fact, Occidental College released an outside audit of its sexual misconduct policies (as it's currently under investigation for mishandling sexual assault complaints), revealing victims knew their assailant in all 17 of reported cases. Emma Sulkowicz reported she knew her attacker, too — and she may have to sit alongside him when she graduates from Columbia University this year.
Sulkowicz has actually dedicated her senior project to protesting the way her university mishandled her, as well as other student's she's met, case. It's called "Carry The Weight," and it entails Sulkowicz carrying around a twin mattress until her alleged rapist is expelled from campus — an effort she conceded may not happen before graduation. Hundreds of Columbia seniors share Sulkowicz's anger and piled dozens of mattresses outside Columbia President Lee Bollinger's door, while also taping a list of his demands to his door. Mattresses can also be seen at NYU, Fordham, Brooklyn College, and Rutgers, the New York Post reported.
For better or worse, "Consent the D" is starting a conversation. It'll be interesting to see if Vollrath and its members consider their feedback, and how they will maintain momentum once their t-shirts are sold out.
Published by Medicaldaily.com