Rapping Army Medic Teaches Little Girl To Care For Injury With 'Cast Rules Jingle'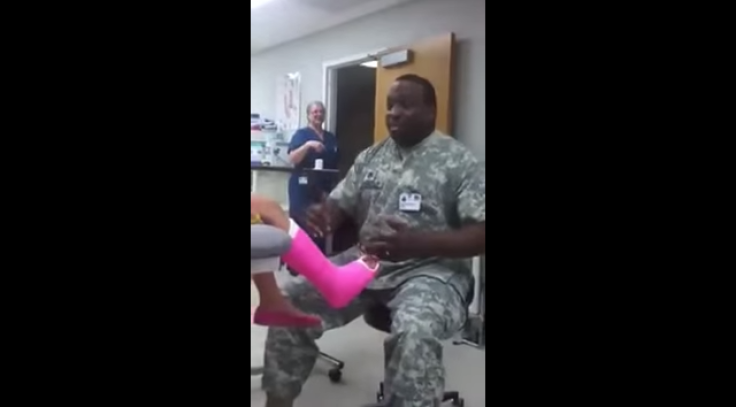 An 8-year-old with a broken right foot received some unique discharge instructions in the form of a rap. Army Staff Sgt. Shareef Stokely, based in Fort Drum, N.Y., decided to bust out the "Cast Rules Jingle" to ensure Jayden Bennett took proper home care of her injury.
It went something like this:
Rules to follow… about your cast. Rules to follow to make the cast last. Don't get the cast wet, don't stick nothin' in it. 'Cause if you did, you're the one who got to deal with it. Like Usher, girl you got it bad [...]

Don't come to me cuz I told you the rules. But you can come back if your phalanges turn blue. If the cast get wet, here's what to do. Take a blow dryer on a low setting – like one or two… to dry the cast off. Not too hot… like the rockets that blast off. Don't take the cast off [...]
Jayden's mother, Jessica, captured the medic's flow on her iPhone, and it's already gone viral on YouTube. "The medic was AMAZING,'' Jessica Bennett told NBC's Today show in an email. "He was actually singing some Disney tunes before he even started putting the cast on her just to make her feel more comfortable."
Watch the video below, and maybe you'll learn something.
Published by Medicaldaily.com