Rare Identical Triplets Born Without Fertility Treatment: California Couple Beats One-In-A-Million Odds With 3 Girls [VIDEO]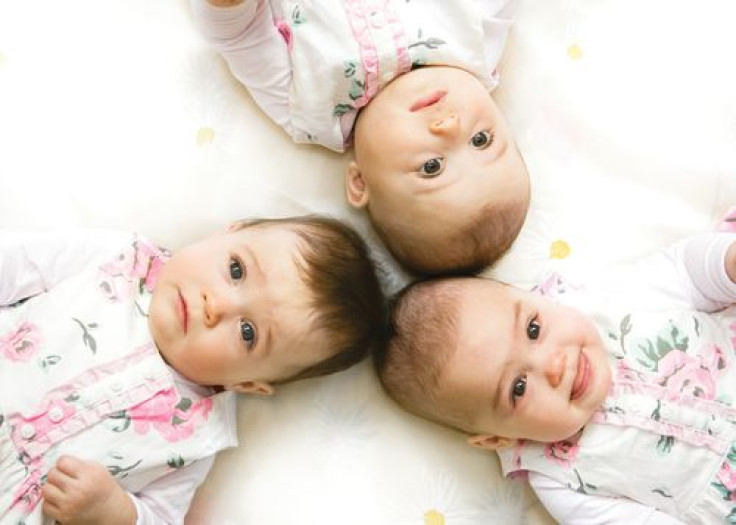 The chances of winning the Mega Millions lottery jackpot are one-in-a-million to a one-in-200-million, while the chances of spontaneously conceiving identical triplets is one-in-a-million. For a northern California couple, they successfully beat the odds — giving birth to a rare set of identical triplets, that is.
Proud parents Tom Hepner, 33, and Hanna Hepner, 29, had a lot to be thankful for this Thanksgiving, especially their three triplet girls, Abby, Brin, and Laurel Hepner who were born November 22 at Sutter Memorial Hospital in Quincy, Calif., The Sacramento Bee reports. The triplets were born the old-fashioned way without the help of fertility treatments.
"When we first found out, we just sort of laughed in that nervous way," Hannah told CBS Sacramento. "It's overwhelming to think of everything that's to come."
Identical triplets are monozygotic, due to the way they are formed. Womenshealth.gov says the single egg is fertilized by one single sperm which quickly and evenly divides into three separate zygotes forming identical triplets. The formation of these rare set of identical triplets means all three will share the same identical DNA, sex, characteristics, and features.
Although they will share identical traits, Hannah knows they will not just be triplets but individuals as well. "We understand that they are going to be individuals," she said. "We look forward to finding out who those individuals are and helping them along the way."
At birth, the Hepner girls individually weighed: Abby 3 lbs., 2 ounces; Brin 3 lbs., 11 ounces; and Laurel 4 lbs. The identical triplets remain at the hospital until all three gain weight and can maintain body temperature and eat properly.
"It is not unusual with identical triplets to have a difference in weight," said Dr. William M. Gilbert, medical director of Sutter Women's Services and founder of Moms of Multiples Center. "They usually don't share equal amounts of the placenta, so therefore one gets a little less nutrition than the other. When you have a difference in weight, the little one does better after they are born because the stress of being little matures your lungs faster."
Women who are pregnant with multiples and those with their newborns do face a series of health complications. According to the March of Dimes, 90 percent of triplets are born prematurely, before 37 weeks, with triplet pregnancies averaging 33 weeks. Typically, triplets don't have a chance to reach a healthy weight before they are born; they average 4 lbs. each.
Babies that are born under 5.5 lbs. are considered to have a low birth weight and often face difficulties breathing on their own, fighting infections, controlling body temperature and putting on weight. Most of all low birth weight babies are placed in a neonatal intensive care unit before going home.
Dr. Gilbert told CBS Sacramento despite the low birth weight, the triplets are doing better than expected and should be able to go home in just a few weeks.
"They're going to go to kindergarten, graduate from high school, bring home bad boys," he said.
For photos of the identical triplets, click here.
Published by Medicaldaily.com