Rare Skin Disease In Newborn Kiira Kinkle Makes Her Untouchable, Physical Contact Easily Causes Blisters, Abrasions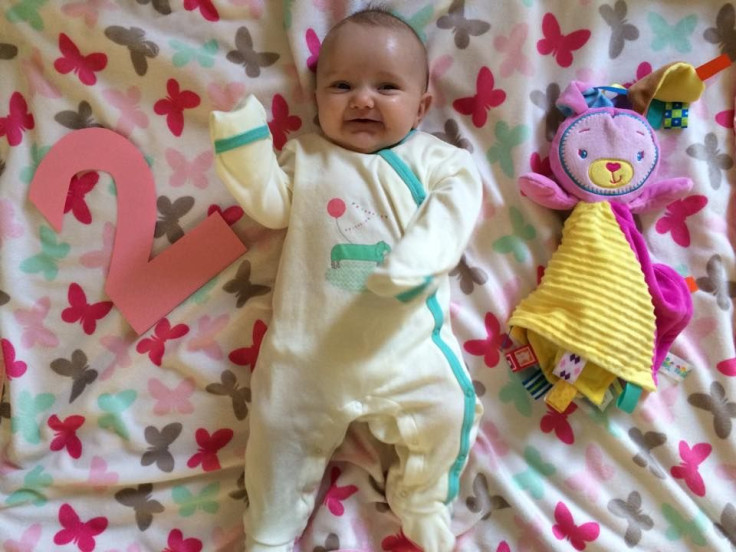 The birth of a child is often a precious moment for family and friends. Not only are we welcoming a new life into the world, but we're also anticipating the many joys they'll bring, from their innocent laughter to their first bike ride later on. For Sacramento, Calif. parents Kirsti and Jason Kinkle, the birth of their daughter Kiira was different.
A day after Kiiras birth on Oct. 12, doctors told her parents that she had a rare genetic skin condition known as recessive dystrophic epidermolysis bullosa (RDEB). The condition causes the skin to be extremely sensitive; a simple rub, scratch, or any sort of friction can cause the skin to break or blister. It's so rare that all forms of the condition affect only 6.5 per million children, according to the National Institutes of Health. "A clothing tag or rough fabric or even me picking her up under her arm can cause blisters," Kirsti Kinkle told KCRA Sacramento. "I can't hold her hand because it's constantly bandaged. There is no skin-to-skin contact."
There is currently no cure for RDEB, but the Kinkles say doctors at Stanford and the University of Minnesota are working on one. Until then, the only thing they can do is treat the symptoms young Kiira experiences every day. Unfortunately, this only means she's getting treatment for pain and itching, while her parents hope the bandages they wrap around each of her fingers and toes, as well as her hands and feet, will prevent the occurrence of any more blisters.
"I don't think they get it," Jason Kinkle told KCRA, speaking about his two other daughters. "They pray every night her 'owies' go away, but I don't think they know the severity of it."
What's particularly sad about all of this is that touch is one of the most important things parents can provide for a newborn. Studies have shown that physical touch reduces newborns' stress hormone levels, which in turn allows their brains to focus on other developmental processes, such as language and recognition of their own being.
The Kinkles hope that by exposing their story, they'll be able to raise awareness for the disease, which Kirsti says is the "worst disease you've never heard of." Through their website, KiiraKinkle.com, they're also hoping to raise money to assist in the $10,000 to $20,000 yearly cost of daily at-home treatments — their health insurance won't cover these expenses. They've already raised over 90 percent of their $50,000 goal.
Published by Medicaldaily.com