Rare Strep Throat Infection Nearly Kills Man, Turns Hands And Feet Black, Requiring Quadruple Amputation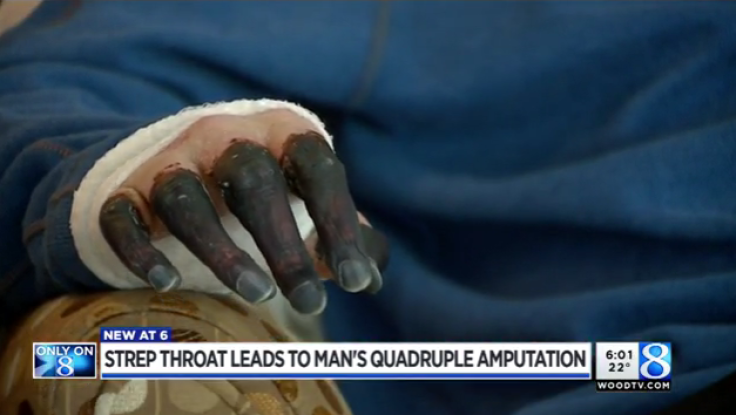 A Michigan man nearly died this winter after a strong strain of strep throat spread from his throat to his stomach; in the end, the illness cost him both his hands and feet. According to reports, Kevin Breen, 44, is one of only 32 people to have such a serious case of strep throat travel to their stomach. Doctors are now studying his case to see what went wrong, and how to better treat future patients.
A few days after Christmas, Breen was rushed to the emergency room for unbearable stomach pains, WOOD TV reported. CAT scans showed that his stomach was filled with pus, although doctors could not figure out why. In addition to his stomach problems, his major organs began to shut down. In an effort to save his organs, Breen's body redirected blood towards his organs and away from his hands and feet, causing them to blacken and die. Tests eventually showed that Breen had a very strong strain of strep throat that had travelled from his throat to his body.
Read: Autism Symptoms Subside With Strep Throat Antibiotic Targeting Gut-Brain Link
Thankfully, doctors were able to save Breen's life, but unable to save his hands and feet. Breen's limbs have turned completely black due to the infection, and have nearly no movement at all. He will undergo his first amputation this week.
Strep throat is a bacterial infection that usually causes inflammation and pain in the throat, Healthline reported. Common symptoms include fever, headache, chills, loss of appetite, swollen lymph nodes and trouble swallowing. The infection can occur in both children and adults, and is usually treated with an antibiotic.
Doctors aren't quite sure how Breen contracted such a serious case of strep throat, or why the common infection nearly took his life. According to WOOD TV, there are only 32 other cases of patients with strep traveling to the stomach. Of these cases, 30 involve women whose infections spread through their urinary tract.
"He was one of the sickest patients I have ever taken care of," said Dr. Elizabeth Steensma, an acute care surgeon at Spectrum Health Butterworth Hospital told WOOD TV. "The biggest thing to learn from this is, if you aren't feeling well, go be seen. If you are still having symptoms, go be evaluated."
Although most cases of strep throat can be cleared away with medication, in rare cases, the infection is known to cause more serious complications. For example, Healthline reported that strep throat can lead to post-streptococcal glomerulonephritis, an inflammation of the kidneys; scarlet fever, which happens when toxins created by the strep infection cause a scarlet-colored rash to develop on different parts of the body; and guttate psoriasis, which is a condition that causes small, red, teardrop-shaped spots to appear on the body.
The family has set up a Go Fund Me account to help deal with hospital expenses. If you would like to help the Breen family, please follow this link.
See Also:
Home Test For Strep Throat May Save Costly Doctor's Visits
Antibiotic Resistance: Daily Use Helps Bacteria Survive Treatment, Develop Multi-Drug Tolerance
Published by Medicaldaily.com