Rashad Johnson, Cardinals Safety, Loses Portion Of Finger; Will His Injury Cost Him A Game?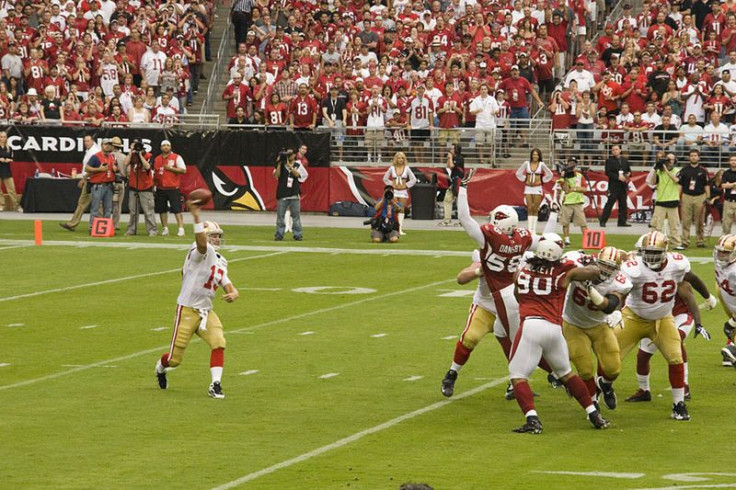 Arizona Cardinals safety, Rashad Johnson, suffered two devastating losses this past Sunday in New Orleans — a loss to the New Orleans Saints and the top of his left middle finger.
Johnson reportedly noticed the severity of his finger injury when he pulled his hand out of his glove while the fingertip was still in it, ESPN reports. He looked down and saw blood was coming out of his left glove with a good chunk of his finger missing from the first knuckle up. The National Football League (NFL) player speculates that the injury occurred while making a tackle on a punt return just moments before halftime.
The Cardinals safety returned to the game after experiencing a gruesome injury and did not get surgery until the postgame. The doctors were not able to reattach the finger, shaving the bone on Johnson's left middle finger and covering it with skin, reports Azcentral.com. The Cardinals say that the safety might be able to return to play for next Sunday's game against the Tampa Bay Buccaneers, but this all depends on how quickly the injury heals and the player's pain tolerance.
On Monday morning, Johnson was asked on Twitter to post a picture of his finger, but the NFL player didn't think anyone would want to see it, the Huffington Post reports.

Johnson isn't the only injured player on the Cardinals roster; outside linebackers Sam Acho and Lorenzo Alexander will miss the rest of the season due to injuries from Sunday's game, confirmed Coach Arians. Acho has a broken fibula and Alexander suffers a Lisfranc injury (a midfoot injury on his right foot), putting both players on the injured reserve list.
While the Cardinals spend time in Florida prepping for the Tampa Bay game, they will have some fresh new faces for Sunday's game.
"Injuries happen, this is the NFL," Arians said, Azcentral.com reports. "No one plays with the same 22 guys all the time. You hate for them to happen at the same position, but that's usually the way it happens."
Published by Medicaldaily.com