Rayden Kahae, Hawaiian Boy Born Without A Hand, Gets 3D-Printed Prosthetic And Calls Himself Iron Man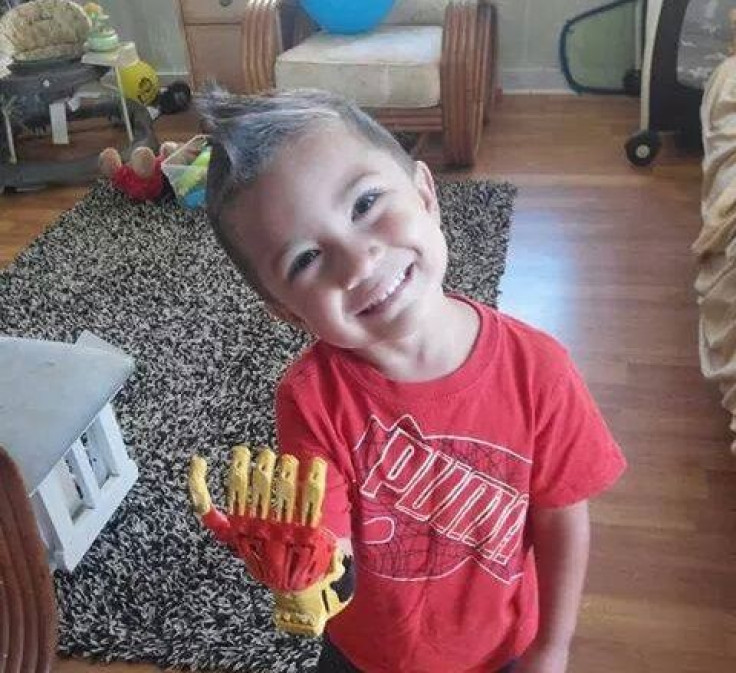 Although all parents should teach their children self-determination to ensure a brighter future, doing so is especially important for parents of kids with disabilities. It's hard raising a child who doesn't have a leg, arm, or hand, and there will certainly be difficult times where the child is self-conscious about their differences. Thankfully, 3D printing has advanced exponentially in the past couple of years, and many kids who are missing these body parts are among the first to receive 3D-printed prosthetics. One such kid is 3-year-old Rayden Kahae, who lives in Maui.
Rayden was born with amniotic band syndrome, a rare congenital abnormality that causes strands of the amniotic membrane in the mother's womb to wrap around parts of the fetus. In young Rayden's case, it inhibited growth of his right hand from the wrist. "He would never want to show it to people," Rayden's mom, Rayven Kahae, told the NY Daily News. However, he recently received a 3D-printed prosthetic hand from the 3D printing nonprofit group E-Nable, which made it to resemble the superhero Iron Man. The best part: It only cost $50 to build, and the family got it for free. "Now, he shows it to everybody," Kahae said. "He's so proud. He can catch a ball."
Perhaps the most heartwarming thing Rayden did, however, upon first receiving the prosthetic, was grab his own hand. "As soon as he put it on and was able to close the hand, his face just lit up," his grandmother Rulan Waikiki told Hawaiian news station KHON2. "I'm not sure if the video, you can hear it on there, but he does say, 'I can hold my own hand.'" As Rayden ages, the hand will be remade to fit his wrist, which controls the hand — the fingers close when his wrist moves down, and open when his wrist moves up.
You can see Rayden and his new hand in action below:
Published by Medicaldaily.com