Real-Life Barbie, Valeria Lukyanova, Gets Her Own VICE Documentary To Share Thoughts On Spirituality And Looking 'Unreal' [VIDEO]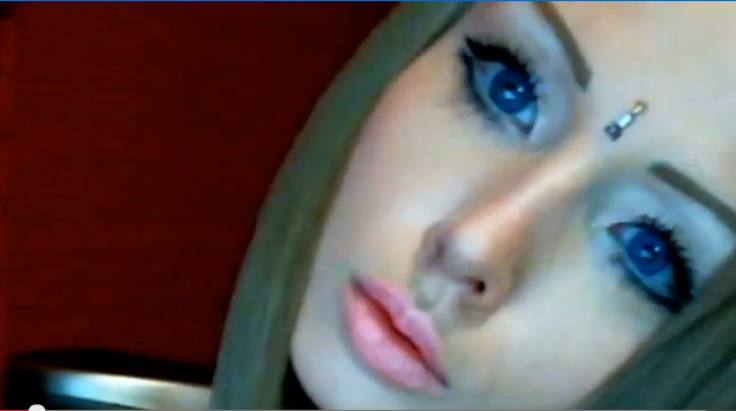 Valeria Lukyanova, a 23-year-old Ukranian model, has a new VICE documentary entitled Space Barbie to tell us all about her strangely unreal looks and spiritual beliefs.
The model took standards of beauty and eccentricity very seriously when she became a real-life Barbie for a photo shoot featured in V magazine in April of this year. As it turns out, she really does look like that in real life.
Forbes reports that in an interview, Lukyanova disclosed that her breast, waist, and hips measure in at 34, 18.5, and 34 inches respectively. Her tiny waist, large bosom, and enormous eyes, accentuated by her makeup, create her doll-like appearance. When asked about plastic surgeries she has gotten, Lukyanova insists that she naturally looks this way and avoids questions about any medical procures she may have undergone. "It's hard work, but they dismiss it as something done by surgeons or computer artists. [...] But I don't take them seriously. I'm even flattered! It's what success is like. I'm happy I seem unreal to them, it means I'm doing a good job," she told the Huffington Post.
The model also has her own YouTube channel where she gives makeup tips and spiritual advice. But, one has to wonder what sort of role model she is, condoning the goals of unattainable, and even unhealthy, body image, pounds of makeup, a life of make-believe. Forbes claims that Lukyanova has hatched a "Barbie-flu" epidemic, in which other girls are following her lead. Anastasiya Shpagina, 19, and also from the Ukraine, has fashioned herself a persona as a young girl named Anime. She told Forbes that she never leaves the house without her doll eyes painted on to accentuate her purple hair and fairy-like outfits.
One would wonder what sort of attention their overblown appearances garner. Shpagina tells Forbes that she does not have a boyfriend, or any prospects. She admits that she would like to have plastic surgery to enlarge her eyes, but currently relies on styling and makeup effects to achieve her look.
Lukyanova is a self-proclaimed psychic whose spiritual name is Amatue. In her documentary, she and her friends hold a séance in order to better connect to themselves. In the documentary, Lukyanova tries to explain her spiritual beliefs and psychic abilities. However, during her séance, she seems to become preoccupied with her appearance and the way she is coming off on film, and starts to direct the cameramen, instead of focusing on her spiritual task.
Lukyanova explains that she is comfortable with the Barbie comparison. "I like this comparison. It's wonderful to look like a doll," she said. "Even though people call me a Barbie, I never tried to look like a doll. I just like everything beautiful, feminine, and refined. It just so happens that dolls are based on the image of refined girls," she told The Daily Beast.
"When we think we've reached perfection, the degradation begins. I have a vast amount of work yet to do on myself."
Published by Medicaldaily.com